The torrential downpour hitting most of southern Alberta over the past week may have caused some tension for southwest Rocky View County residents with memories of the 2013 flood still clear in their minds.
Fortunately, according to the Alberta bureau chief of the Weather Network, Kyle Brittain, there were several factors working in the province's favour this year.
Brittain said Alberta's water table was fairly low due to it being very dry in southern Alberta, which means the ground could accept more water. He added that most of the precipitation in the mountains came down as snow rather than rain like it did in 2013, resulting in slower alpine run-off.
On top of those environmental factors, Calgary and the Bragg Creek area have considerably improved their flood protection infrastructure in the last nine years.
Several Redwood Meadows residents, just outside of Bragg Creek, shared what they went through in 2013. While they are prepared for anything, they weren't too worried this time.
Karen Massey said the Redwood Meadows townsite was put on emergency alert on Monday night, June 13, just in case an evacuation was necessary.
According to the Alberta government, the river flow in Bragg Creek came down from a high of 117 cubic metres per second (m3/s) on June 14 and 15 to around 39 m3/s on the morning of June 16.
The rainfall warning for the Bragg Creek area on June 14 expected up to 150 millimetres (mm) of rain or more falling west along the Foothills. In comparison, local amounts of up to 340 mm at stations in the upper Sheep, Elbow, and Bow River basins were recorded in mid-June of 2013, according to Alberta flood warning updates from 2013.
"As soon as we were put on alert, for those of us that experienced the 2013 flood, we know about trauma and we know how trauma kind of takes over," Massey said in an interview on Tuesday afternoon, when regional rainfall warnings were still in effect. "You can't think properly at that moment so we brought up our suitcases and we have them ready to load if things turn sideways overnight."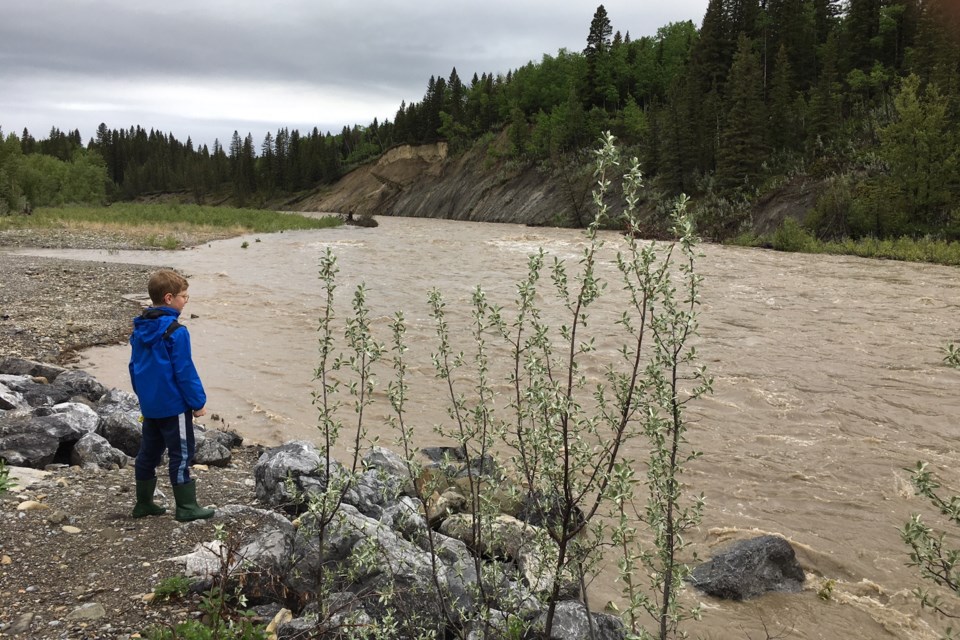 In 2013, Massey was evacuated without notice and spent nearly seven days at a hotel. At least this time, she said, more preparations had been made around the community with emergency equipment.
While flood infrastructure has improved since 2013, Massey pointed out that the top four feet of the berm along the river at Redwood Meadows is still dirt that could easily be washed away.
Construction of the flood barrier structures started in early 2021 in preparation for spring and the 2022 freshet, which is now fully operational, according to Rocky View County.
The flood barrier structures are earthen and landscape berms with concrete retaining walls for a total length of 4,062 metres along Bragg Creek. Additionally, 475 metres of riverbank in erosion-prone areas were stabilized through the project and funded by both the federal and provincial governments.
Bob Cook lives on White Avenue in Bragg Creek. He was not worried at all this week, adding he's watched the construction of the local flood mitigation project over the past four years.
As the weather warnings came out, he was walking along the new berm on the Elbow River.
"I was saying to my wife, it would kind of be nice to see if this thing works. I'd like to get a sense of how this berm works under high water," he said.
"So I checked the river every morning, and I have full confidence in how they built that, because we watched it day after day, month after month. There's a lot of rip rap and concrete there."
Cook's assessment of the multi-million-dollar project is all positive.
"The berm provides peace of mind. Some people aren't happy with the aesthetic of that, but when you see the rushing water, this was a good investment," he said.
A friend of his emptied out his basement in anticipation of rising water, which failed to materialize.
Cook also took a drive to Elbow Falls, which he calls a good gauge of the river's conditions. It didn't look as dramatic as he thought it might.
"But the kayakers will love it," he said.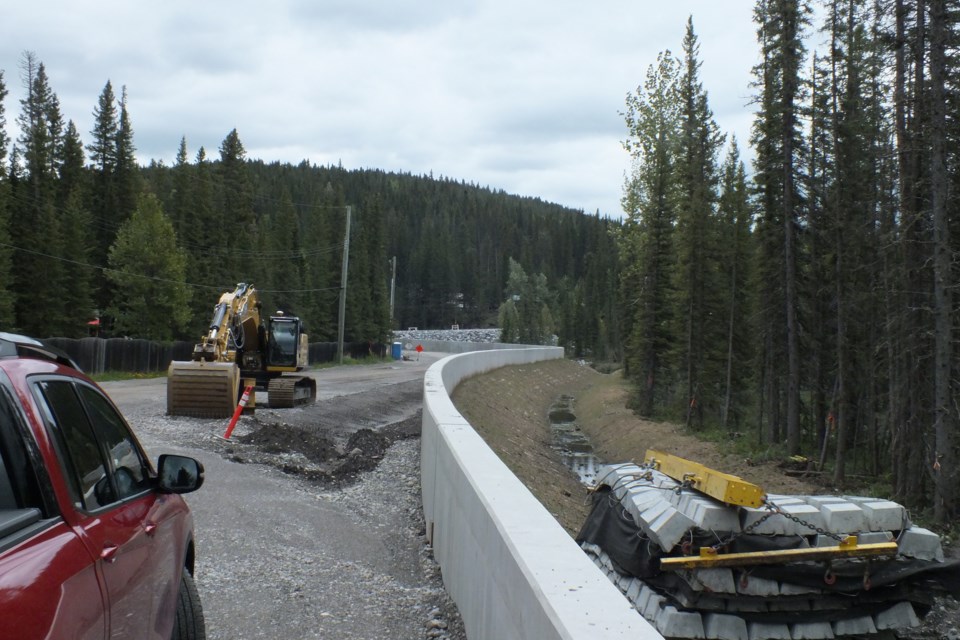 Massey worked alongside the SR1 Concerned Landowners Group prior to the approval of the Springbank Off-Stream Reservoir (SR1) in March 2021 in an effort to lobby for a flood mitigation project located upstream of the Bragg Creek and Redwood Meadows communities.
In her opinion, both Calgary and the smaller Foothills communities need flood protection and will eventually need water supply, which another project upstream could have provided.
"Our suitcases still remain open and we're ready to throw in enough clothing to live in a hotel as we did in 2013," she said, regarding this week's rainfall. "Those of us who experienced 2013, we're not fooling around with being prepared this time."
Another Redwood Meadows resident with a business located in Bragg Creek, Lowell Harder, said while the river looked angry this past week, it was nowhere near the volume of water they saw in 2013.
Despite the improved berm infrastructure, he said there is still a question if the rocks can hold and withstand the pressure of the water.
"There has definitely been a fair amount of work into shoring up the berm and making it higher," he said. "Whether or not the berm could withstand a 2013-level flood, I don't know. They say it can, but I don't know."
He added that Redwood Meadows also saw a lot of overland flooding in 2013 from groundwater, which he felt hasn't really been dealt with.
"For some residents in Redwood Meadows, myself included, we get impacted by the water table," he said, explaining that as the river fills up, the water table fills up, causing drainage issues for the townsite's properties.
He added if he wasn't running his sump pump, he likely would have had water in his basement this week.
"The PTSD stress is there, but we're holding fine with our water levels," he said on Wednesday.
A Boil Water Advisory was also issued for the townsite of Redwood Meadows due to the water treatment system being unable to cope with the deterioration in water quality. With the Elbow River volume increasing from 14 m3/sec to 100 m3/sec, the quality of water entering the treatment plant was reduced to a point that the plant has been unable to keep up, according to Health Canada.
The Health Canada notice added that residents should not drain their sump pumps into the local sewer system, as it is not designed to handle the extra volume. Instead, sump pumps should be drained outdoors away from foundations.
—With files from Howard May/Cochrane Eagle