Leaving their home country of Ukraine was not an easy decision for the Yakymets family, but their relatives in Crossfield are hoping to make the transition to Canada a little bit smoother this month.
Set to arrive in Crossfield on June 20, the Yakymets family is flying from Lviv in the hopes of a safer future in Alberta. With connections to the Budgeons family in Crossfield, and with support from the Crossfield United Church, they hope to eventually settle in Calgary.
"They'll be staying [with us] the first week and we're trying to line up an apartment for them in the city, hopefully close to downtown or close to good transit. It's been a challenge," said Grant Budgeon, who is a distant cousin of Vasyl Yakymets, the father of the family.
With a bigger Ukrainian community in Calgary, Budgeon added it will be easier to find that community support to aid them in their transition to Canada. Calgary will also provide more job opportunities and schooling options for their oldest son, 14-year-old Denys, he added.
The Yakymets family consists of young parents Marta and Vasyl, (both in their 30s) and two kids, Denys and Sasha, who are 14 and 3.
Under Ukrainian law, any man between 18 and 60 years old is currently required to stay in Ukraine to assist in the country's defence efforts against Russian invasion, which means Marta and her two children will be travelling to Canada alone.
"Marta wanted to get Denys here in time to register for school next year. She felt that was important for him," Budgeon said. "They decided the three of them would come on their own and hopefully Vasyl will be able to join them shortly."
Budgeon's wife Kathy added it must be tough for Marta, as her English isn't very good and she will be relying on her son, who has learned some English in school, to help translate.
"I can't imagine what they're going through," she said.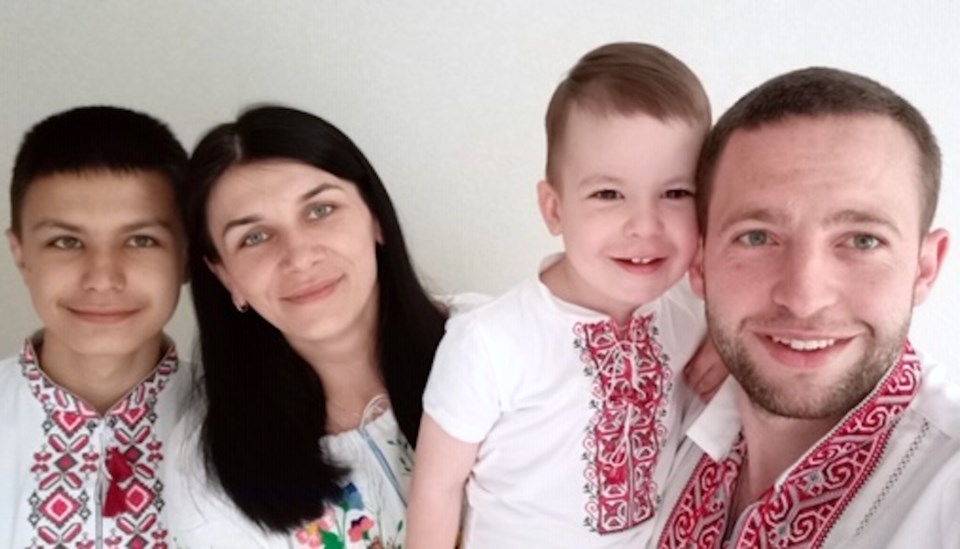 The Yakymets are currently living in Lviv, which is located in the west of Ukraine and considered a slightly safer location than the east.
They live not far from the airport, Budgeon explained, and when the war first started, they could see the airport and a fuel depot being shelled nearby.
"They do know people that have been killed, unfortunately," he said. "They sent us videos of just their daily lives, out with Sasha, and you can hear the air raid sirens in the background."
Budgeon explained that his mother's father and two uncles came from Ukraine in the 1920s, leaving behind two sisters. Vasyl Yakymets is the great-grandson of one of those sisters, making Vasyl a cousin to Budgeon.
His late-mother Myrna Budgeon flew to Ukraine roughly 15 years ago to meet her Ukrainian aunts and their families. Since then, Budgeon's daughters and their Ukrainian cousins became pen-pals.
Once the war with Russia broke out in late February, Budgeon's daughter decided to reach out again to find out how they were coping. After some conversations, Budgeon's daughter asked if any of them had considered applying for a Canadian visa.
"The rest of the family said, 'No, we're going to stick it out.' But Vasyl and his wife Marta started seriously thinking about it," Budgeon said.
"As things got worse, they felt maybe this was something that was good for them."
Budgeon said they don't know what the Yakymets' long-term plan is, but the short-term goal is to get everyone safe and make a living for themselves here in Alberta.
Church support
As a family, the Budgeons decided to offer their support and when talking to the Crossfield United Church, Reverend Dave Crawford felt compelled to join in on the efforts to raise funds for the family.
"Within our church family, we're raising funds for rent, groceries – just normal things that would accompany an official sponsorship but without that process," Crawford said.
Cheques made out to Crossfield United, earmarked for the Yakymets family, will help with rent, utilities, daycare, school fees, groceries, internet and phone bills.
Budgeon noted that expenses in Alberta are much higher than they are in Ukraine, and the Yakymets don't have a lot of savings to start their new life.
Crawford added there is an eagerness for his congregation to do what they can to help at least one family find a place of peace and safety for the time being.
"This poor young family, they've lost everything," Crawford said. "Which makes it even more heart-wrenching that they're split up for that reason. He may have to actually fight. He's not a military person but he may have to stay and fight. That adds a different level."
To welcome the family and raise awareness among church members, the United Church is planning a special Sunday service on June 26 that will raise money for the family and include some Ukrainian-oriented activities to show their dedication. Crawford added there is no pressure for the family to attend the service.
He hopes that through sharing the Yakymets' story, the larger community may feel moved to get involved in supporting this family and others.