A ranch in southeast Rocky View County is offering horse-drawn sleigh and wagon rides this holiday season, featuring traditional draft horses and sleigh bells in the snow.
The service is offered by Emerge Equine, a husband-and-wife business duo that provides equine services such as assisted learning and horseback riding programs from their home and farm, Legacy Ranch, near Langdon.
According to Mike Hopp, who owns Emerge Equine alongside his wife Linda Hopp, the idea of offering sleigh and wagon rides was born of a life-long love of heavy horses that can be attributed to his grandfather. Hopp said his grandfather taught him how to drive draft horses when he was just 12 years old.
"He loved doing wagon rides for his local community around Brooks, and he would have farmed with horses many years ago," Hopp said.
"It was something that was very much a part of his life, and I learned that skill from him."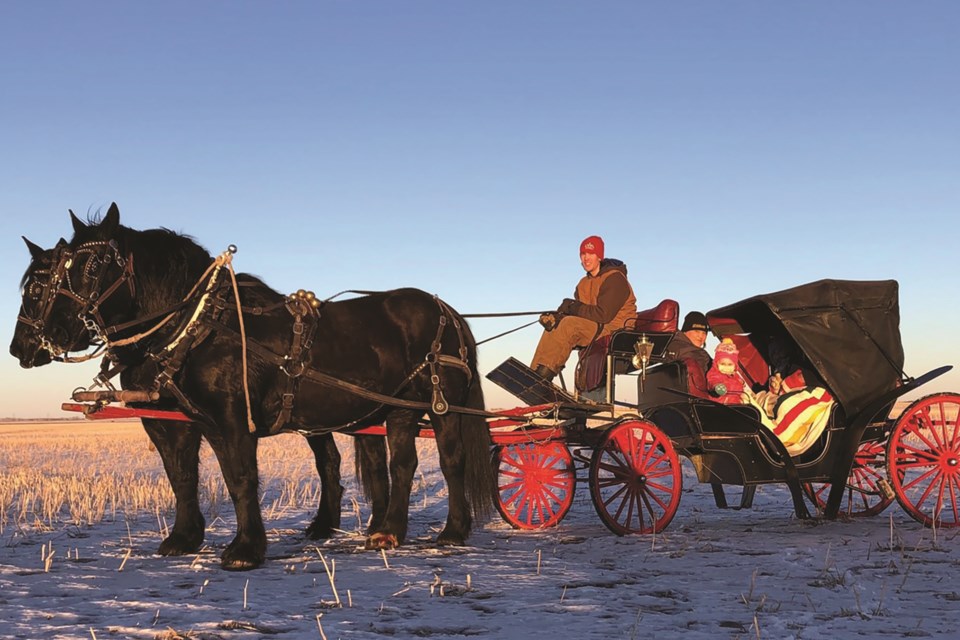 As a young adult, Hopp carried his love of heavy horses into the competitive field, and has since gathered more than 20 years of driving experience.
He said the social aspect of driving and his love of horses has motivated him to provide the experience to others, adding sleigh and wagon rides are a "unique experience."
"It's an age-old way of transportation," he said. "It's second nature for us – I've grown up around them – but not everybody gets to experience heavy horses and they just leave people in awe with their size.
"They're large and majestic, and just like great big teddy bears, a lot of times."
Given the festive nature of a horse-drawn wagon ride, Hopp said the activity is a great way for people to connect with one another this holiday season.
He added it is also a peaceful way to get out and enjoy the outdoors.
"So many people love the experience," he said. "I don't know if I've had one grumpy person leave the wagon – that's what I love about it, is [the] happy smiling faces and people asking about the horses and having a genuine curiosity."
He said while the sleigh and wagon rides are offered year-round, the demand for the service peaks in December, as people are looking for added ways to have some holiday-themed fun with their families.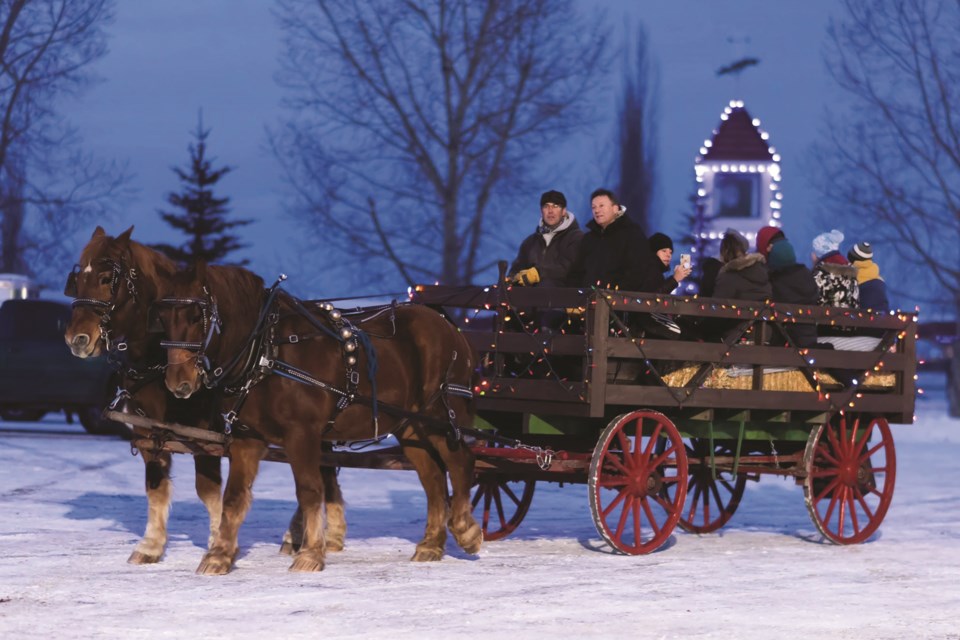 "You start rolling along the field with the sleigh, you hear the hoof beats of the horse in the snow, it just kind of puts people at ease," he said. "We have the sleigh bells on and people love that.
He said Emerge Equine began offering hour-long tours in Langdon as it is the community nearest to their home ranch, but the Hopps have since travelled to other nearby communities to offer the experience, too.
"[In Langdon], they would get their family together and it's such a nice way to go around and tour the Christmas lights in town."
They also offer the service at their ranch, which is where they do a majority of sleigh rides, as it is difficult to transport the sleigh long distances.
"We will leave and go to people's acreages if they have a large family event and do a few hours there, [or] we'll do a birthday party and other events," he said. "If it's a special event, they would need to reach out to us to discuss fees and transportation costs, but a lot of [standard pricing] can be found on the website."
Those who are interested in hiring a sleigh or wagon ride are encouraged to visit Emerge Equine's website at emerge-equine.com
Carmen Cundy, AirdrieToday.com
Follow me on Twitter
@carmenrcundy