Irricana voters had an opportunity to gauge the qualities and platforms of the three candidates running in the town's upcoming byelection at a question-and-answer forum earlier this week.
The informal Q-and-A was held on Aug. 23 and lasted approximately 90 minutes. During the event at Irricana's library, candidates Nathaniel Fleming, Stephanie Katelnikoff and Julie Sim outlined their ambitions in running for council, and answered questions from the roughly dozen people in attendance.
The forum, which was not a Town-sanctioned event, was also streamed online.
Irricana's byelection is set for Sept. 6. The vote will mark the second time local voters have gone to the polls this year, following a byelection in May that saw current mayor Jim Bryson elected to council. Fleming, Sim, and Katelnikoff also all ran in that byelection.
Questions on Aug. 23 pertained to what each candidate hopes to achieve if elected and how they'd commit to following up on those objectives; how they would improve communication between the Town and residents; their familiarity with Robert's Rules of Order; and local infrastructure issues, among other topics.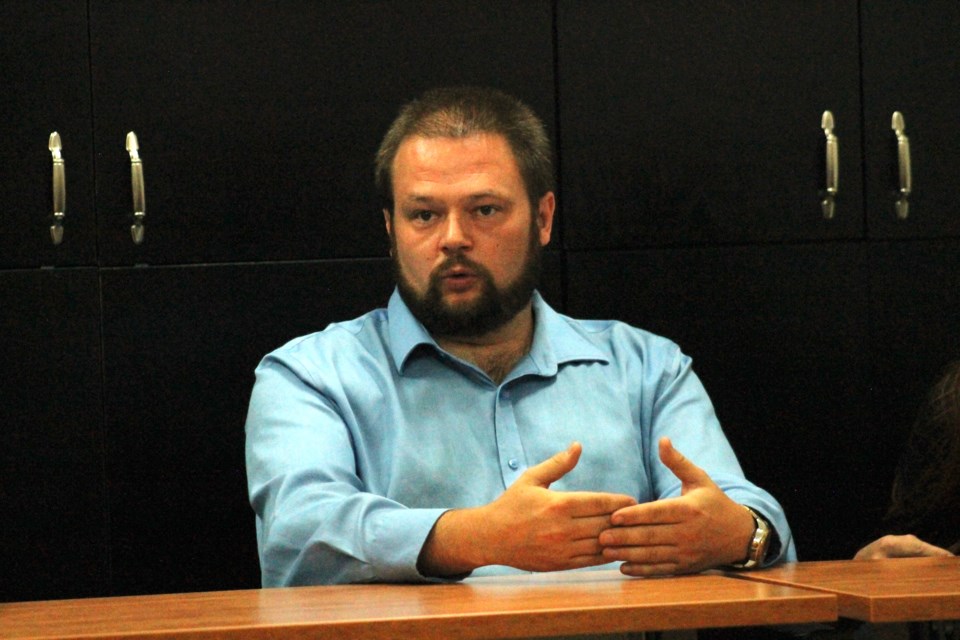 Early into the proceedings, Fleming brought up how this is his fifth time running for council, and he hopes to parlay his knowledge of the community to helping improve it.
"Instead of always putting out fires, I want to be proactive and look for positive things to build off of," he said. "We do have a lot of positive things in town… and we should be promoting and supporting the positives."
He mentioned how his goals if elected include resolving the issue of the crumbling Irricana Hotel, creating a municipal-run internet plan, and conducting a complete re-writing of the Town's bylaws.
"A lot of the bylaws are ancient, confusing, and don't make a ton of sense anymore," he said.
A business owner, Fleming also mentioned – though he acknowledged it's outside of council's scope – that he would like to get a local chamber of commerce started for Irricana's growing business community.
"That has nothing to do with Town council but I'd like to see it evolve," he said. "We've had a lot more development in Irricana than the last couple of years than people give us credit for. We've got more stores than we've had since I've ever been here. We have people actually interested in trying stuff in town instead of going to Calgary or Airdrie or Drumheller. Some great stuff is happening in town and I want to build on that."
Katelnikoff fielded two questions that were addressed to her directly, in particular her lawsuit with the Town of Irricana over a buried stormwater pipe on her property.
Having endured an antagonistic relationship with Town staff since then, Katelnikoff was asked by an audience member if there would be any conflict with her being on council when she is currently involved in a legal dispute with the Town.
"If I were to get on council, it's as simple as recusing myself from any vote that relates to me, because you're correct, it's a conflict of interest," she said.
After saying her main goal if elected is to remedy a "culture of animosity and broken trust" within the Town, Katelnikoff was also asked about some of her social media activity, which has been critical toward the municipality. She responded by saying she's tried to resolve the issues she's had with the Town from the outside, but that tactic hasn't worked.
"I'm fighting injustice, is what I'm fighting," she said. "That's why I'm here. Fixing it from the outside didn't accomplish too much. As a next step, I want to try fixing it from the inside-out. If that was construed some other way, I'm not sure what to do about that. I fail to see a nexus between my comments about trust and dishonesty, and my comments about fixing something from the inside-out."
Regarding the question about improving municipal communication, Katelnikoff said the Town should implement a best-practice policy to ensure residents' queries are responded to in a faster manner. She also said hosting a town hall would be highly beneficial.
"There's a lot of residents who have a lot to say and I think a town hall would be the most efficient way to communicate collectively what the residents want to communicate," she said.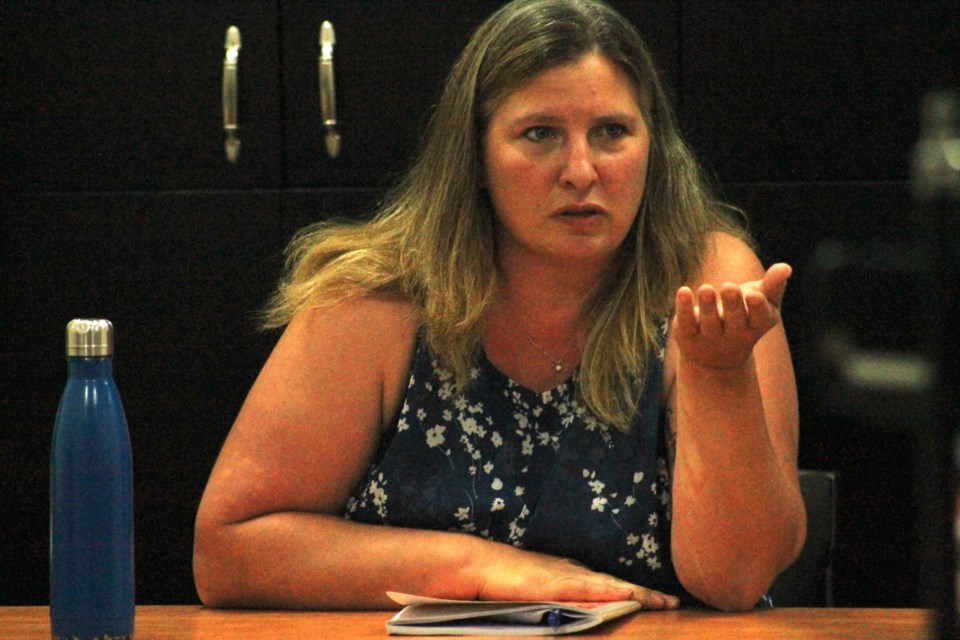 Also a local business-owner, Sim said her own motivation in running for council is to repair the relationship between the Town, the Irricana Lions Club, and the local ag society.
"The ag society and Lions do a ridiculous amount of things for this town," she said. "Any parades, this room, Canada Day things – all these things come from the ag society. The Town doesn't put them on.
"We need a close working relationship with these organizations that will benefit and give people some fun."
Sim also said she'd like to see the Town employ a staff member who is responsible for government grant applications.
"The money we spend on that wage is going to come back 10-fold with the money we get back from government," she said. "Losing out on grants is a huge issue and something I'd really like to [see fixed]."
In terms of what would make her a solid candidate for council, Sim said her sense of honesty and being "an open book" are her strongest qualities.
"I think as a council member, whether you're running as a candidate or once you're on council, you should be held to a higher standard," she said. "I believe in my life, personally, that I give people respect whether I agree with them or not – doesn't matter – and I expect respect back. If I don't get back, I don't deal with them. If you're going to disagree with me, that's OK, but [treat] me with respect or don't talk to me. That's my bottom line, and I think anything can be achieved with respect."