A grassroots initiative aiming to bring live music to the community of Bayside is continuing to flourish.
This year's iteration of 'Bayside Rocks' drew more than 200 spectators to the annual backyard concert, featuring rock cover band Paradise Lanes, over the Labour Day long weekend.
Event organizer and Bayside resident Heather Spearman said the concert – now in its third year – is continuing to catch on in the west Airdrie community.
"Every year is a little different – it's obviously weather-dependent and it typically falls on the [September] long weekend," she said. "I would say this year was our biggest one. The first year, we probably had 100, 150 people. The second year it dipped a little bit – it was colder.
"This year, I would say we easily had over 200 attendees, which was awesome."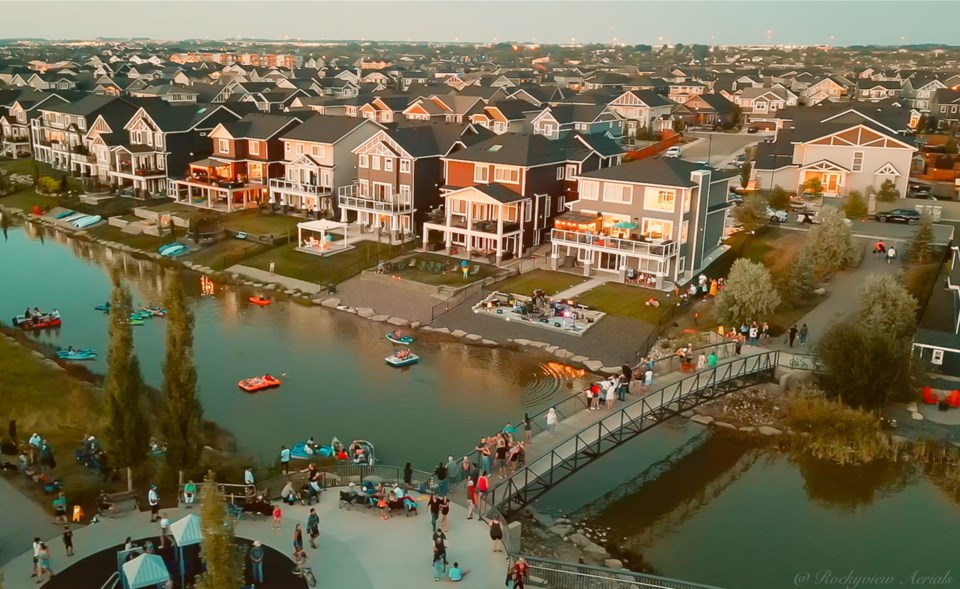 Spearman said the concept of Bayside Rocks emerged during the first year of the COVID-19 pandemic, when she and her husband would go for evening walks along the pathways in the canal-filled community. During their stroll one night, she said they heard live music coming from a Bayside resident's backyard. Going over to investigate, they discovered a small, socially distanced backyard concert underway.
Fast forward a bit, Spearman said on another one of her evening strolls, she came across a Bayside house with a backyard that butted right onto Bayside's canal network. She said the property's backyard seemed perfectly situated to host a live concert, which spectators could view from either a nearby bridge, across the canal, or even the canal itself on their kayaks or canoes.
She posted a photo of the property on social media, asking if anyone knew whose property it was.
"A few minutes later, the poor homeowners – who were probably like, 'Who is this weird lady?' – reached out to me and said, 'This is our yard, is there a problem?'" Spearman said.
After connecting with the family, Spearman said she asked the family if they'd be interested in hosting a socially distanced backyard concert for the community to enjoy, and they obliged. The inaugural 'Bayside Rocks' concert was then held in early September 2020, with approximately 100 attendees.
"It progressed from there and the homeowners are now actually some of my very favourite people in Airdrie," Spearman said. "They're good friends of mine now and have offered up their yard every year since. It's just a really special thing we've started in Bayside."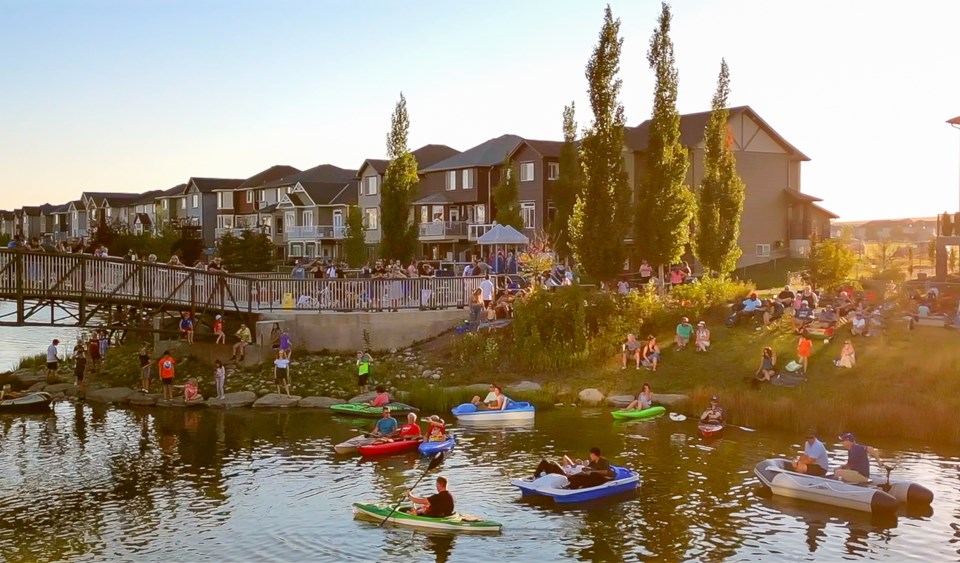 The two years since the inaugural 2020 concert have seen the community get more involved in the initiative. Spearman said local drone videography business Rockyview Aerial has documented each concert with a video, while businesses such as Moody's Mediterranean and Caffeinated Squirrel have supplied concessions. The concert is funded by an annual bottle drive that pays for that year's band.
"Even though the event itself is the thing that brings the community together, I think a big part of it is the people who help – with the bottle collection, getting the word out, and working together toward a common goal," Spearman said. "It goes beyond Bayside and gives people the opportunity to get out."
As far as what the event's future holds, although she admitted she would love to see a large music festival hosted in Airdrie one day, Spearman said she hopes Bayside Rocks can stay small enough to maintain its grassroots feel.
"It was essentially created to bring the neighbourhood of Bayside together," she said. "Do I hope to see a huge music festival in Airdrie one day? Maybe I do – that would be an amazing economic driver. We know music festivals in Canada can have an ROI of $21 to the dollar.
"I'm a huge advocate for having those big cash influxes, but in terms of Bayside Rocks, it's primarily meant to be essentially for Bayside [residents] to come together, get to know each other, be good neighbours, grow that bond and give people something to remember and make Bayside a wonderful community."