This month's 'Qs with the View' interview feature is with Airdrie Minor Football coach Tyrell Rohl. A long-time resident of the city, Rohl has coached local football teams since the mid-1990s, leading Airdrie's athletes at the atom, peewee and bantam age groups.
The Airdrie City View recently chatted with Rohl about how he got into coaching football in Airdrie, his lengthy coaching career, and how he feels the popularity of the sport is continuing to grow. The interview has been condensed and edited for clarity.
City View: How long have you coached football in Airdrie?
Rohl: I started coaching in 1998. At the time, my dad was the head coach of the Airdrie Storm bantam team, when it was still called the Airdrie Storm. I just kind of transitioned from playing to coaching. The only reason I even started coaching was because I was playing at George McDougall, and the Storm practices were right after George Mac's practices ended, and I didn't want to walk home.
I lived on the east side of the highway – literally a stone's throw away from Bert Church High School. For me to head home from George Mac [was inconvenient] so I decided to just hang around and help out my dad. It blossomed from there and I actually found out I liked coaching more than I liked playing.
City View: So you grew up playing football in Airdrie, as well?
Rohl: I've been here since 1983 or 1984, so I was a local Airdrie kid. My dad was big into football when I was growing up and he played seven-man flag football in Calgary, so I was around the sport from day one. I was seven or eight years old when my dad taught me and my two younger brothers how to play football. We'd go to the local park and there'd be other kids at the park. They'd come over and start playing with us. We slowly built up a list of names and phone numbers so we could call guys and let them know we'd be out playing.
Back in the day, there was no organized football in Airdrie except for high school football, so my dad kind of created our own mini-pick-up league. That's what I learned to do before a bantam program finally came to Airdrie in 1995. I was just lucky that I learned how to play football with my dad from age eight to 12.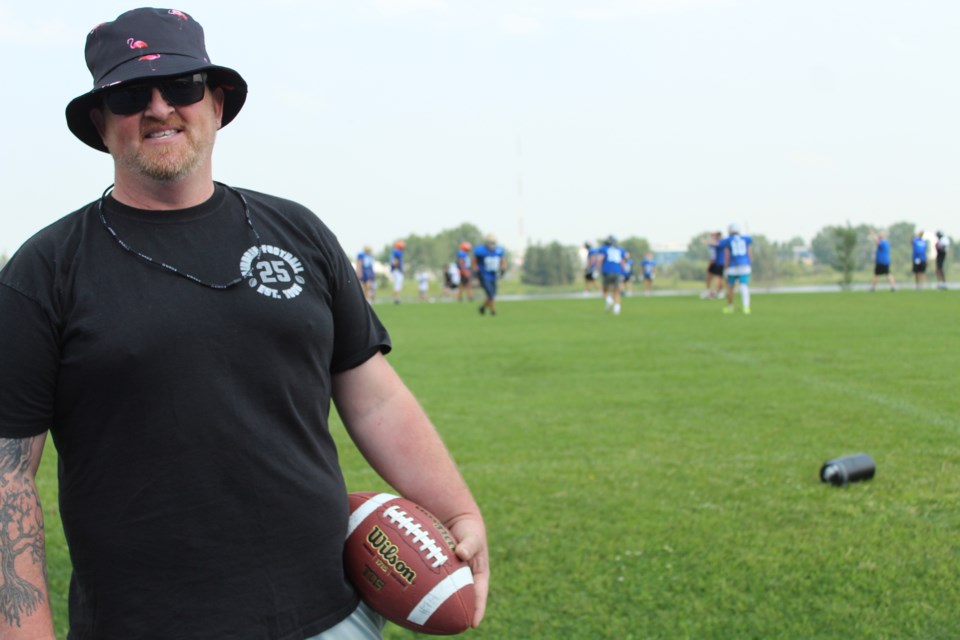 City View: What do you love most about football?
Rohl: That's always a tough question to answer. As a player, it was more about getting to be with my friends and having fun. When it came to becoming a coach, when I was younger, it was about wanting to still compete. I knew physically that I was never going to play the game at a high level, but I could coach, and it was an opportunity to still be involved with the game and be able to feel like I was competing and passing on the knowledge I did have at the time.
As I got older, it became about giving others the opportunities I didn't have by using the knowledge I collected over the years to pass onto the next generation. Since then it's transformed more into a fatherly role, away from my own family. It's like I have my home family and my football family. It's about being able to give back to the community and give kids the opportunity I didn't have growing up.
City View: How has football grown in Airdrie over the years?
Rohl: We've got a lot of really good people in Airdrie right now who are doing some really cool stuff. We have Chris Glass and his team working with the Airdrie Field Turf Project Society, and hopefully getting us field turf in the future. That will grow the game even more for us because it will make the game safer. You've got my younger brother Nolan and the stuff he's done down at the grassroots level, along with [promoting] better helmets, safety and education. Yes, this game is dangerous and we know that, but he's educating people on the leaps and strides that have been made to make the game safer for kids. As far as growth has gone, education has been huge. As long as that keeps up, good things will happen.
I won't lie – population helps too. As Airdrie continues to grow, we'll get more and more kids every year wanting to play football. When I was playing, we'd be lucky if you had more than 30 guys show up for a bantam team. Now we have a situation where we have 60 atom kids show up, 50 guys for peewee and bantam had 60 guys show up last year.
City View: What do you like most about Airdrie Minor Football?
Rohl: The group of coaches. I love the players and that's what keeps me coming back every year, but being older – I'm the oldest coach now – it's the group of guys I get to work with every day. I mentioned Chris Glass already, but then there's Steve Kemp and Coach Scratch. Other than Chris, I coached these kids when they were coming through. They're all guys I was lucky to know when they were younger. Now, I get to coach with them everyday and we bounce ideas off each other to grow the sport together. The leaps and bounds that have been made in the last five years with Airdrie Minor Football have been huge.
It's taken 22 years to get to this point, so it's really cool to see where we're at now. that's my favourite part – the camaraderie with the coaches and the direction this program is heading. We're on a rocket ship right now and it's being shown in Airdrie. We're starting to make noise in this province and people are starting to notice and turn their heads.