Not only is this the place for the best new and used vehicles, parts and service, Davis Chev firmly believes in being a strong community partner that gives back and provides each access to auto innovations such as hybrids, electric vehicles and charging stations.
"The biggest changes over the last decade involve our growth and the evolution and refinement of our people and processes," shares Smaha. "When we started, we were a small team. Today it is great to see the quantity and quality of the people we have been able to attract and retain. Our business has become more sophisticated and at times we grew so fast we couldn't keep up!"
He continues, "One thing we all expected was the growth of online shopping as predicted by industry experts. We have found, however, that while the internet is a great tool to start your car research, our customers still like to come in, talk to a person and see the product. However, we were engaged online as an early adopter with our online service and scheduling tools."
The 10th anniversary celebration takes place on Saturday, July 9.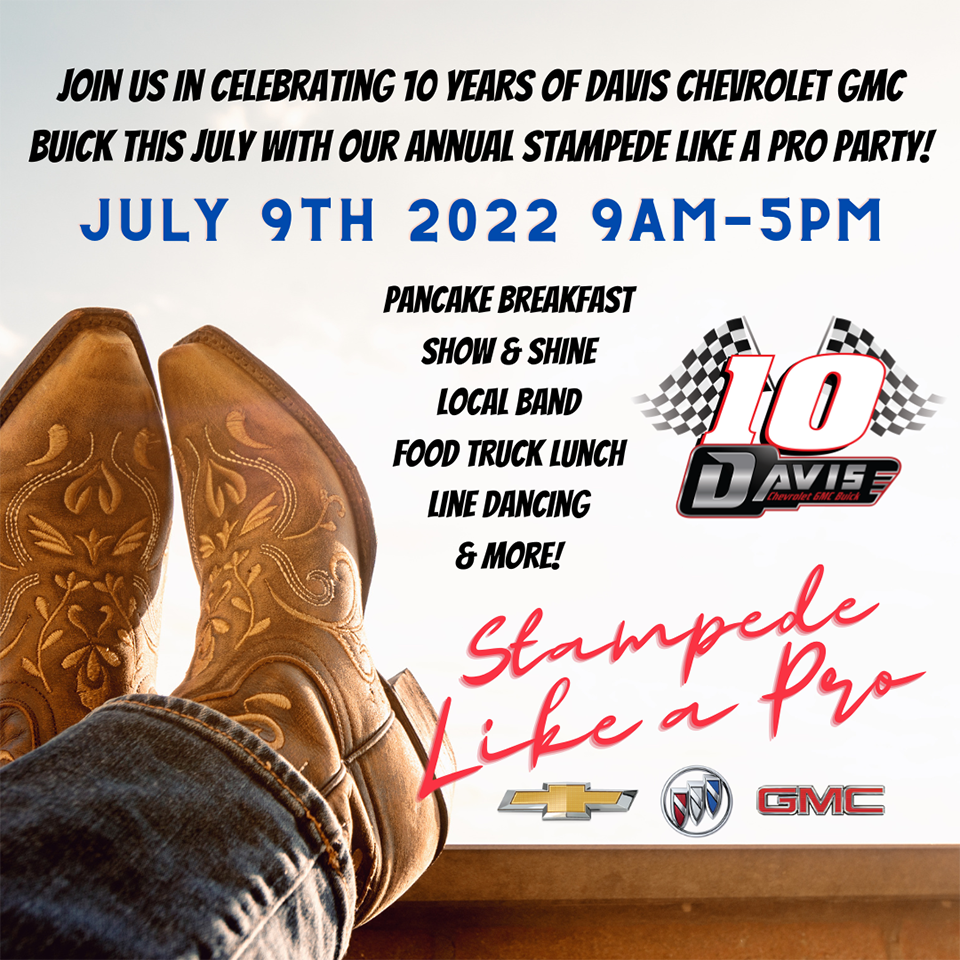 Things kick off with a by-donation pancake breakfast put on by the Boys & Girls Club of Airdrie. Money donated at this breakfast goes back to the club to support its operations. Tim Hortons has generously donated coffee and hot chocolate.
Throughout the day enjoy a show and shine with the Time Travellers Car Club. Not part of the Club but have a car to show off? No problem! Come on down, park in the designated area and be part of the show. Voting and prizes occur in the afternoon.
The theme for lunch is the Stampede; in addition to a food truck lunch there is line dancing, a carnival high striker, live music and games. At the end of the event two lucky guests will have won an electric scooter from Re-Volt Powersports. Air 106 is on hand to broadcast the event live and play those hits you know and love.
In addition to all the fun, the showroom, parts and service departments are open for business.
"It's all about honouring and thanking our customers and it's our celebration day to invite the community," says Smaha. "Everyone is invited to join us and enjoy the day."
Davis Chev looks forward to serving the community for another 10 years – and beyond – with outstanding customer service and hands-on access to the best makes and models from Chevrolet, GMC and Buick. Visit the virtual showroom to build and price the vehicle of your dreams. Get an instant cash offer on your trade in. Use the convenient online service booking tool on their website. Talk directly to a service representative for your new or used vehicle. No matter what your automotive needs, there is a reason why Davis Chev has stood the test of time.
Learn more here about the brand and keep up with the exciting anniversary celebration news by following their event on Facebook.