Installing new exterior doors has always been one of the most profitable improvements in terms of ROI, comfort and security. But such a replacement project comes with many challenges, pitfalls and considerable investments, so knowing exactly what works best for your house is vital.
Ecoline is one of the leading Calgary exterior doors experts, so we asked them to share their insights and the latest industry trends when buying & installing new entry doors for your house.
Steel or Fibreglass Doors?
You might be confused why only these two are mentioned here, and no wood doors come on top of the list. Well, gone are the days when wood exterior doors were the best units to install for your front entry.
Fibreglass doors are best when it comes to energy efficiency. These units are made of a rigid insulation core lined with fibre-reinforced polymer. Fibreglass doors are long-lasting and reliable – capable of withstanding massive loads without getting cracked, shrunk, dented, broken or rotted. Moreover, these models can perfectly mimic the wood appearance, flawlessly complementing your exterior and boosting aesthetics;
Steel doors are your go-to option if you need ultimate durability and decent energy efficiency but have a limited budget. These units are cheaper than fibreglass doors but ensure maximum security of your front entry. Moreover, steel doors can be painted into many custom colours, so you can always complement your exterior with a unique shade to make it stand out.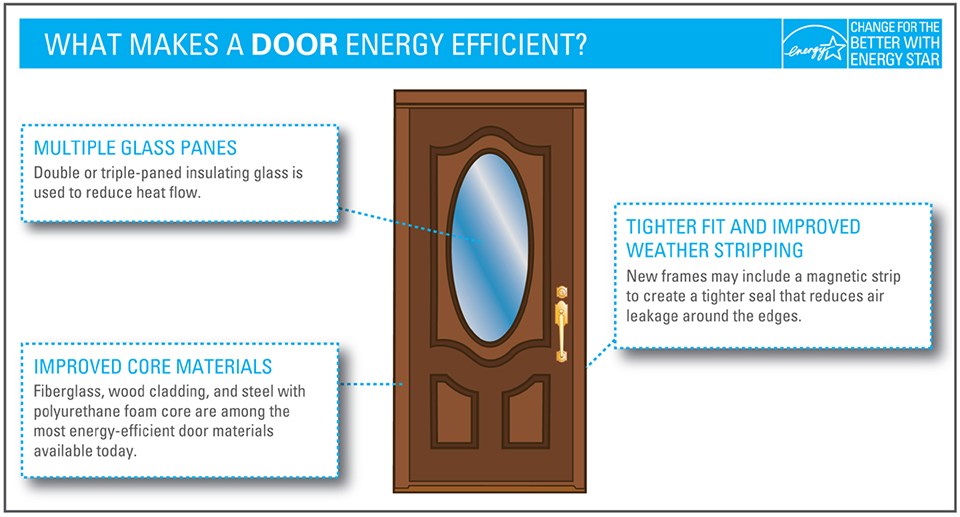 Right configuration is key
Single or double doors? One or two sidelights? Or maybe you want to install a transom to get more natural light into your space? All these elements are vital to get the best fit for your house.
Single entry doors are classic units that will match almost any house design. They do not require much changing to your rough openings, and homeowners have the most extensive choice here regarding shapes, styles, colours and overall aesthetics;
Double doors are bigger units that might require considerable structural changes in your front entrance. But when installed, they look terrific, resembling French-series doors that you will definitely adore. Keep in mind that the price will almost double here.
Exterior doors with sidelights or transoms provide the most natural light and visually enlarge your front entry. These design elements significantly boost aesthetics but might lower your privacy and energy efficiency if you choose an inappropriate glass style, so consult with the experts before opting for this door configuration.

Colour, glass and hardware
Deciding on the right colour, glass type, and hardware is crucial to create the final look of your doors.
White, brown and black entry doors are an all-time classic that will work well with any house design. But custom shades are getting more popular today. For example, Ecoline provides its clients with an extensive palate of standard colours. Still, if you want something unique, just provide a colour sample, and they can basically scan it and mix the colour for you.
Glass exterior doors are gorgeous, but you must decide whether to go with double or triple glazing and how much privacy the glass should ensure.
Quality handles, locks, hinges, screen or storm doors are all vital elements to consider if you want maximum security and smooth operation. Moreover, they should match the overall colour scheme you choose, do not hesitate to customize your new door according to your preferences and house design to get the most out of your home improvement.
Planning a door replacement project? Reach out to Ecoline Windows Calgary!
Address: 10905 48 St SE, Unit 151, Calgary, AB
Phone number: (587) 871 4436
Facebook | Instagram