Pioneer Acres, a museum located just outside of Irricana that memorializes early prairie life, officially opened the Grain Academy exhibit on May 14 after a lot of work went into putting it together over the past two years.
The exhibit was handed over to Pioneer Acres from its original home at the Calgary Stampede in 2020.
Artifacts and exhibits of the Grain Academy document the production and transportation of grain from the early pioneering days to modern times. The renewed exhibit at Pioneer Acres features a dissected working grain elevator model, an old grain car from 1906, and a model train completely rebuilt over the last two years.
The exhibit dates back to 1981, when it initially opened in Calgary's BMO Centre.
During Pioneer Ares' grand opening on May 14, Jim Anderson, the former executive director and curator with the Wheat Pool Grain Museum Society, said renovations and upgrades to the BMO Centre in Calgary meant the Grain Academy's lease was terminated.
The society approached a dozen organizations to find a new home for the exhibit, according to Anderson, and they found Pioneer Acres had a building readily available and was able to move forward immediately.
The Grain Academy artifacts, displays, furniture, audio visual equipment, library files and more now take up one of Pioneer Acre's buildings.
"Over the 38 years of existence in Calgary, the grain academy hosted thousands of school groups, numerous university classes, national and international tourists, senior citizen groups, rural and urban Albertans and many other groups and individuals," Anderson said.
"I wish Pioneer Acres every success as they continue to preserve the story of grain and the history of our early pioneers."
At the event May 14, Whitney Issik, Alberta's associate minister of culture and the status of women and MLA for Calgary Glenmore, thanked everyone for their hard work in bringing the Grain Academy reopening project to fruition.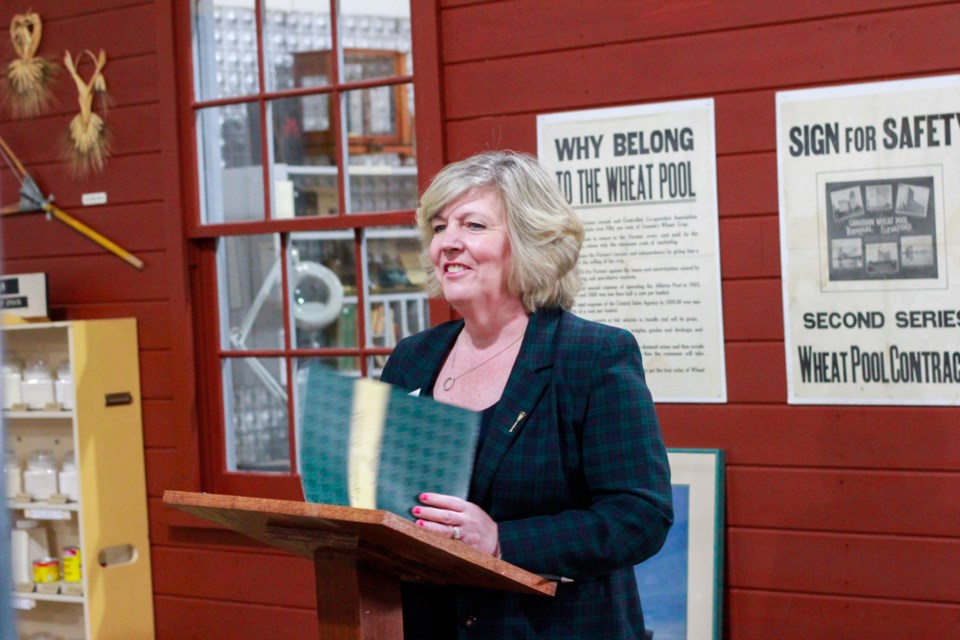 "I'm really happy to be here because I'm actually a fifth-generation Albertan and I think it's so important that we keep our history together and curated for those who come after us to learn from and understand our history," she said.
She noted that farming and ranching communities are the heart of Alberta and boasted the UCP government is committed to supporting the development of Alberta's agriculture, agri-food, and forestry sectors.
As part of Alberta's recovery plan, the government is working to attract more than $1.4 billion of new investment, create 2,000 new jobs by 2023, contribute $933 million of investment to modernized irrigation district infrastructure, and increase water storage in southern Alberta. Issik added they are working to grow primary and value-added agriculture exports by 37 per cent to a projected $16 billion by next year.
"My hope is that this grain academy will continue to teach many more generations about the vital role of agriculture and the role it plays in our economy and daily lives," she said.
Rocky View County Mayor Don Kochan congratulated Pioneer Acres on the grand opening of the Grain Academy.
Visitors can see Pioneer Acre's newest edition and everything else the museum has to offer from Thursday to Monday from 9 a.m. to 5 p.m. The museum is located north of Irricana, off Township Road 274.