The new Emergency Services Building in Langdon officially opened on June 4, and Rocky View County celebrated the occasion with an official ceremony.
The new-and-improved fire hall in Langdon boasts 15,000 square feet of space on 1.5 acres of land.
"We're very proud of the building. It's a beautiful facility and I think it's going to serve the citizens of Langdon, and RVC in general, for many years to come," said RVC Fire Chief Randy Smith. "[It will] provide room for growth and it allows us to maintain that really effective volunteer force."
The previous fire station had very humble beginnings, as it was built in 1992 in an adapted grader shed. That 30-year-old station has now been replaced by the new station for $9.3 million, according to the Province of Alberta.
Fire crews in Langdon serve a large area in the southeast corner of the county, which means quite an array of equipment is required.
"We had equipment stored outside and we even had some stored at some local farmers that were kind enough to store some of the equipment for the firefighters," said RVC Coun. Al Schule, councillor of Division 7, which encompasses Langdon.
Smith added that storing all the equipment under one roof is a huge improvement and means the Langdon firefighters are able to muster and deploy much quicker, having everything ready to go for the volunteers.
The station is strategically placed in the centre of the hamlet for easy access to the highway and a quick response time.
Langdon's emergency response time is already consistently within four minutes, which is exceptional for a volunteer force, according to Smith.
After Balzac and Bearspaw, the Langdon station is RVC's third busiest station, he noted, receiving between 400 and 450 calls every year and increasing.
"We're really fortunate people live and work there so we're able to utilize the volunteer force, even though the call volume is fairly high," Smith said.
The new building is large enough to handle all the volunteers, which ranges between 32 and 40 members, and can be used as an operations centre.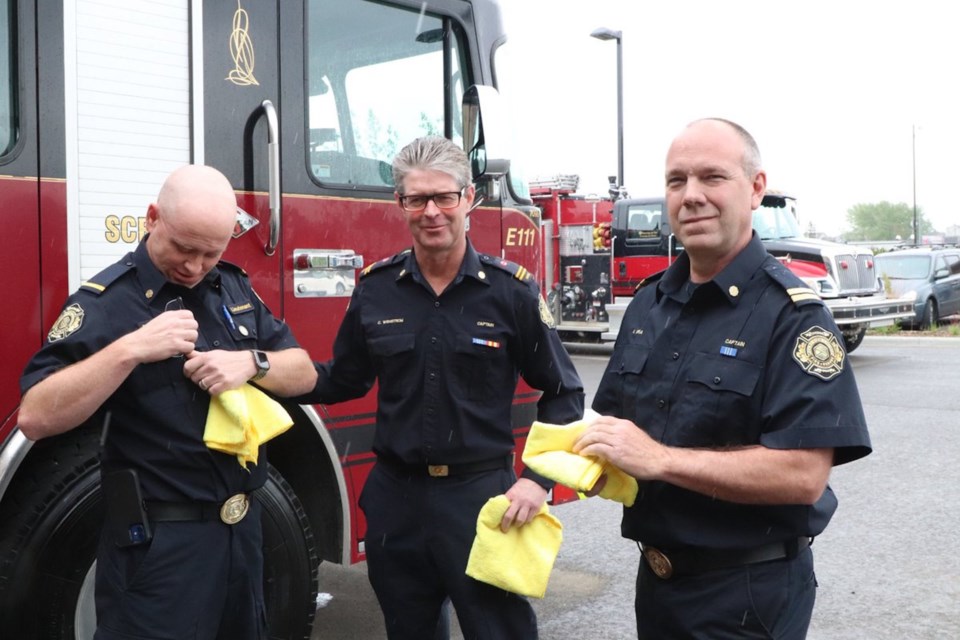 "It's a much better workspace for the volunteers," Smith said. "Now we have a training area for them, both indoor and in the parking lot."
Not only does the new station provide ample storage space for apparatus and fleet/equipment and training space, but it also serves as a satellite office for the area councillor, County administration, and RCMP officers.
"It's much more than just a fire hall," Smith said. "It's a multi-purpose building that houses RCMP, so we have a community policing office there."
County administrative staff will be at the station to help people with any requests and RCMP will now conveniently be able to provide any services for residents as well.
Instead of Mounties driving back to an RCMP office in Strathmore, Schule said they can be more visible in Langdon and do their paperwork in the hamlet.
"It should give them more time to do what they're supposed to be doing instead of driving back to the office," he said.
Schule added the project was planned for a few years, approved by RVC council in December 2018, and was much needed in the ever-expanding community.
Smith and Schule both pointed out that Langdon is constantly growing – the hamlet boasts a population of more than 5,000 residents – and it won't be long before its population doubles.
"It's really looking into the future for that community and having that facility that will keep pace," Smith said.
"I'm just ecstatic about it, it's fantastic," Schule added, noting the ceremony on June 4 was well attended and organized.
Minister of Municipal Affairs Ric McIver, Bow River MP Martin Shields, and MLA for Chestermere-Strathmore Leela Aheer attended the ceremony as well.