Bragg Creek Wild, a wildlife protection advocacy group, has made it easier to report wildlife sightings for its Citizen Research Wildlife Mapping project.
Citizens and visitors can now fill out a Google form every time they spot a wild animal in the Bragg Creek area.
The project, led by Dave Klepacki from Experience Journeys, began in 2021 and the data has been used to establish patterns in wildlife movement and figure out certain hot spots for animal activity and road crossings. From January to September 2021, 126 sightings were reported.
While the nitty-gritty of the data will be kept fairly private to prevent people from misusing the data to find wildlife instead of protecting them, the information has aided community efforts to keep roads safer and animals protected.
"We're very mindful in the way we present the data so that it does not create harm to the wildlife," said Renee Delorme, founder of Bragg Creek Wild.
The data showing which areas have higher recorded wildlife activity help aid local projects to make roads safer.
Delorme hopes to keep discussions with various levels of government open in order to encourage people to drive safely through the wildlife corridor around Bragg Creek. She explained that the West Bragg Creek road and Wintergreen road have been designated as an official Wildlife Corridor. There are several other roads in the area that the organization hopes will be identified as additional Wildlife Corridors in the future.
In response to Bragg Creek Wild's efforts, Rocky View County (RVC) installed signs to identify the Wildlife Corridor and to indicate when the rutting and fawning seasons start – a time of year when motor vehicle and animal collisions tend to be higher.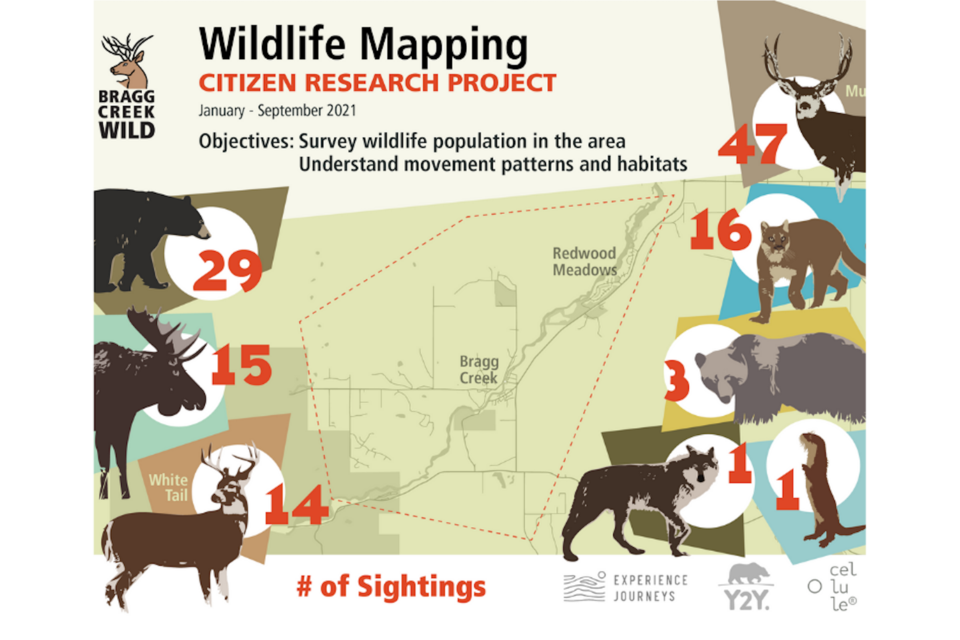 Everyone involved in the project loves the area, Delorme said, as do the wildlife.
"The big question becomes if we have to change over time, how can we do that in a way that does not harm wildlife and the wild habitat? And for that, we need to understand where we live first," she said.
Residents initially reported their wildlife sightings via community Facebook pages and quickly started recognizing the animals that frequented the area, Delorme explained.
"All that information was reported in and we could start to see patterns of movement, which was very important," Delorme said. "One thing was that people became more aware of the wildlife in their neighbourhood and who they co-exist with."
Collecting this data also helps residents understand the populations of animals they are sharing their homes with.
"Suddenly they're not just a wild animal, they are an animal that we recognize," Delorme said.
All those patterns have identified precise hot spots on local roads and indicate where animals tend to cross more often. This information is important for Bragg Creek Wild as they move forward in working with the County and provincial government on projects to educate drivers or establish animal crossings.
"It can tell us potentially how our human presence and human activity being residents and visitors can impact wildlife movement," Delorme said.
Finally, the data provide insight on which areas animals are accessing for food and water to aid future development projects in the community.
"Breaking the connections between those habitats becomes really a big issue for the wildlife because if they don't have food or have access to the river to drink then they starve," Delorme explained. "So this is to understand where the more sensitive wild areas are that need special consideration in regards to human activity, ranging from recreational activities to development."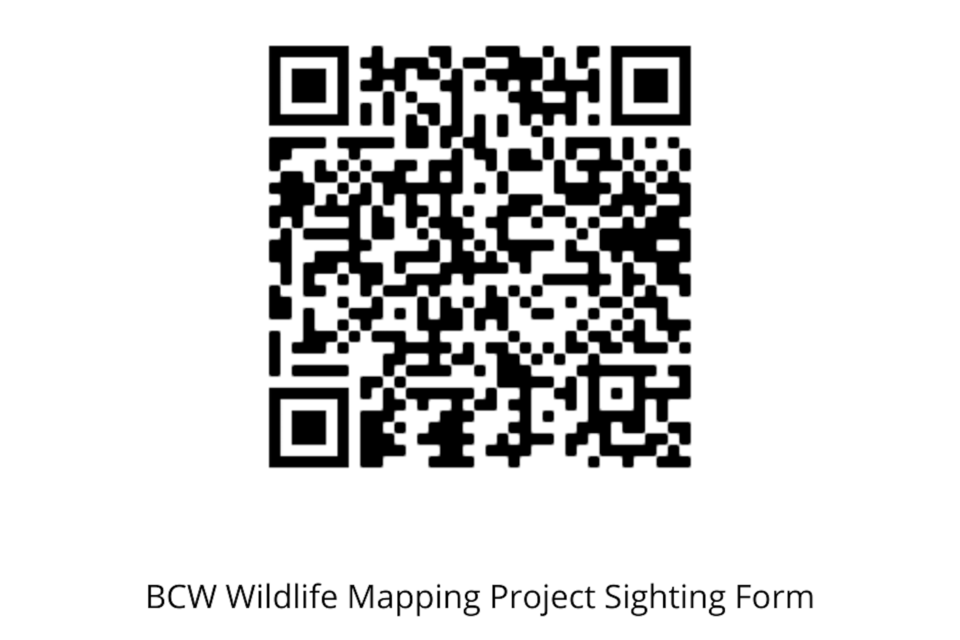 Bragg Creek Wild is partnering with the Bragg Creek Ladies Auxiliary on May 28 for a clean-up day in the Bragg Creek area. The two organizations will call on volunteers to help clean the provincial park and other areas of the hamlet.
Delorme also hopes to recruit volunteers to help clean Bragg Creek Provincial Park throughout the summer to prevent harm to wildlife.
"The bears come and they're the ones that are the first victims of wardens coming to trap them because they're a threat to humans as we keep feeding them garbage," Delorme said. "So we want to avoid that and we have already started a month ago to clean up Bragg Creek park."
In addition, a webinar called Spring into Wildlife: Staying Safe Across Seasons in Kananaskis is available for streaming at 7 p.m. on May 5, in collaboration with Alberta Parks. The webinar, available via a link posted on the Bragg Creek Wild Facebook page, will inform the public on the effect of pets on wildlife and how to keep wildlife safe during the spring, when many animals are giving birth.
To report a wildlife sighting, people are encouraged to visit braggcreekwild.ca to fill out a form, or they can find it on the Bragg Creek Wild Facebook page.