A late goal salvaged a point and maintained the Springbank Phoenix's unbeaten start to the 2022 high-school boys' soccer season on May 5.
The Bert Church Chargers took a 1-0 lead at Monklands Park, and seemed destined to escape with the three points on their home turf until Springbank player Kaden Lopez scored following a corner kick in the final two minutes to tie the match at 1-1.
"It was such a nail-biter," said Springbank co-coach Danielle Hughes after the game. "It was hard-fought, for sure. They worked really hard and we're really proud of them."
The tie means Springbank is still unbeaten and in first place of the Rocky View Sports Association (RVSA) with a 2-0-1 record. Prior to the match-up with Bert Church, the team had started the season by beating the Bow Valley Bobcats 13-0 and the Chestermere Lakers 1-0. The team has scored 15 goals and conceded just one in the opening three games.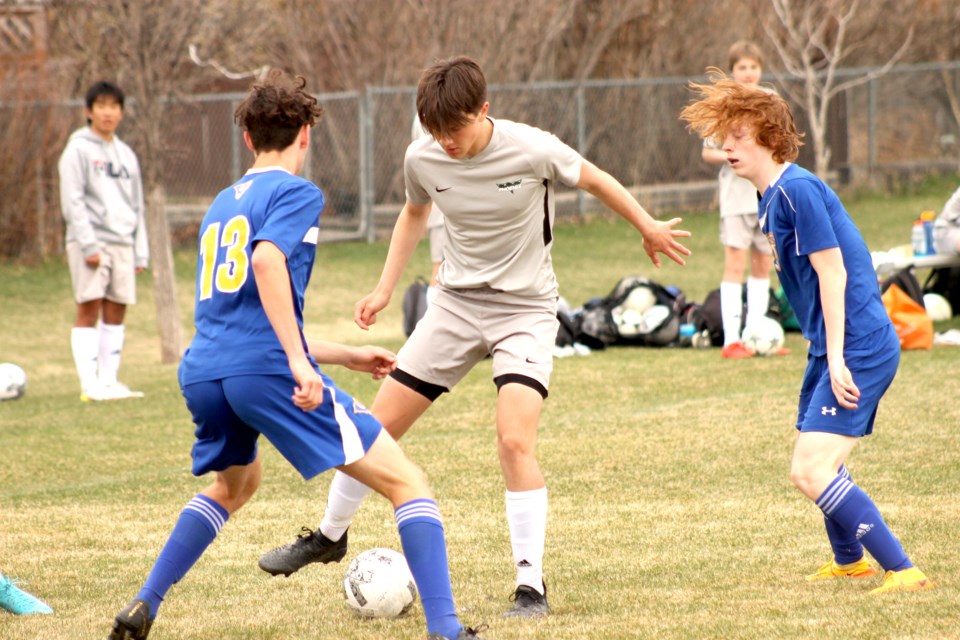 "We're just so proud of the guys," Hughes said. "They're great players, great young men, and great representatives of or school. I'm proud to stand on the sidelines with them."
As usual, this year's Phoenix roster comprises a mix of recreational and competitive club soccer players. Hughes said there's also a wide demographic, with players from all four grades on the team.
"We're fortunate that we have a great soccer community around Springbank, with the Park for All Seasons right next door," she said. "We're fortunate that as a community, we have a strong soccer base, both for our boys' team and our girls' team."
Technically, Springbank is the RVSA title-holders for boys' soccer, having beaten Bert Church to claim the divisional banner in 2019. The 2020 and 2021 seasons were both cancelled as a result of COVID-19.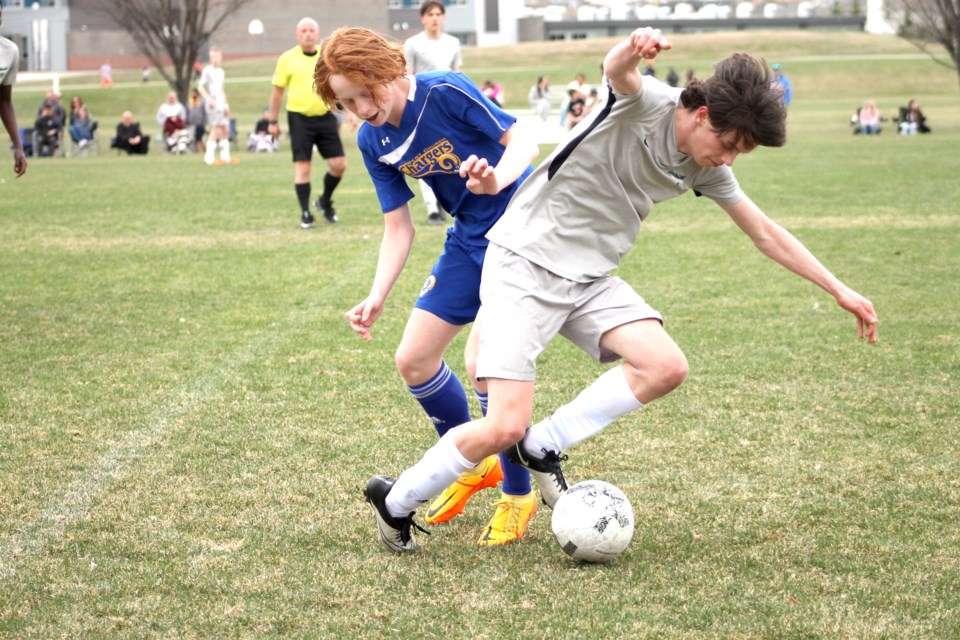 But Hughes – who is coaching the Phoenix for the first time this season, alongside fellow Springbank teacher Shaylynn Tell – noted only a few players from Springbank's championship-winning side three years ago are still on the roster.
"This is their first time in a few years getting to play for the school team, and for some of them, the first time getting to play at all," she said.
While it's still early on in the season, Hughes said it seems likely the Phoenix will be competitive in the RVSA this spring. Having yet to experience the bitter taste of defeat this year, she added the players are "hungry" for continued success.
"There's nothing like that feeling of winning. Now that they've had a taste, they only want more," she said. "But what I think makes the players we have special is that not only do they want to win, but they want to do it fairly. They're playing smart and they're playing well, but they're also playing with integrity."
The Phoenix will return to the pitch May 10 to take on the W.H. Croxford Cavaliers at Monklands Park. The Airdrie-based school is also unbeaten this season, with a 2-0-0 record.
For a full schedule, visit rvsa.rockyview.ab.ca