A competitive soccer player from Rocky View County has capped off her collegiate career with a national bronze medal.
Mackenzie Georgsen, of Langdon, was a member of the SAIT Trojans women's soccer team, who recently placed third at the 2021 Canadian Collegiate Athletic Association (CCAA) national championships at Humber College, in Toronto.
"I'm definitely emotional, excited, and amped to bring a bronze medal home for SAIT, and to represent them," said the 20-year-old holding midfielder, who grew up playing for Chestermere United FC, as well as the Chestermere High School Lakers.
"For myself, I didn't exactly know what to expect going to nationals and how well we were going to do against the other teams, but to bring home a bronze medal was amazing, so I'm feeling very good."
Georgsen scored one of the Trojans' three goals in their bronze-medal win against the Fanshawe Falcons on Nov. 13, getting her head on the end of a corner kick and redirecting the ball into the net.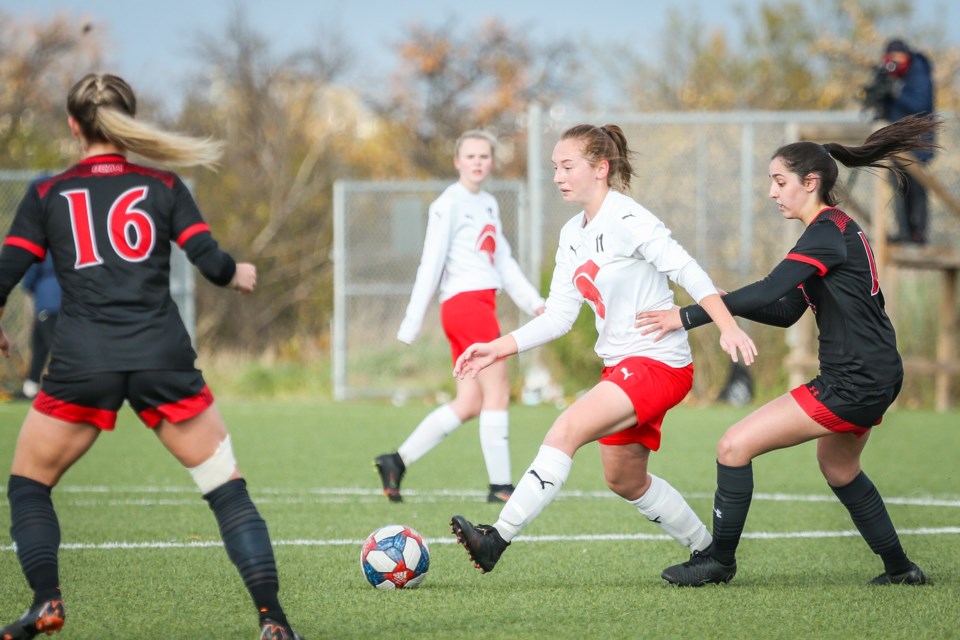 The header marked the Langdonite's second goal of the CCAA national tournament, after she had previously scored against the Capilano College Blues in the previous game. SAIT went on to win against the Blues in a penalty shoot-out following a 2-2 draw to earn a berth in the bronze-medal match.
The 2021 season marked Georgsen's second campaign with the Trojans, after joining the Calgarian squad in the fall of 2019. She got off to a roaring start in her post-secondary footy career, recording four goals and five assists in her first five games.
But the onset of the COVID-19 pandemic in March 2020 put Georgsen's second season with the Trojans in jeopardy. With the pandemic preventing sports from being played Alberta-wide, she could only watch on as the 2020 season was cancelled.
As her academic program at SAIT was only for two years, Georgsen said she thought that meant her playing days with the Trojans were over.
"I was taking a diploma course for the architectural technologies program, so when the pandemic hit, obviously, school was structured differently and soccer was completely cancelled, which was quite devastating," she said.
"Knowing at that time I wasn't going to be coming back to SAIT – I was graduating from my program – it was definitely upsetting and devastating that I couldn't play another year and be even more successful collectively and individually."
But in the spring of 2021, Georgsen said she decided to pursue a certificate program to extend her time at the Calgary-based college by another year, allowing her to see out a second season with the SAIT soccer team.
"I didn't really know what my plan was and a last-minute decision I had was that I didn't really want to start my career yet, so I applied for the management and leadership certificate at SAIT," she said. "It's a one-year thing, so I decided to do that and play another year of soccer."
It was a decision that clearly paid off. SAIT's women's soccer team went on to record an unbeaten 6-0-0 season in 2021, before securing their first Alberta Colleges Athletic Conference (ACAC) championship in 19 years on Oct. 30, when the Trojans beat the NAIT Ooks 1-0 for the ACAC title.
"We obviously had a 6-0 record going from the regular season [into playoffs] and playing against NAIT, we just came out on top and were ready to compete," Georgsen said. "We knew it was going to be a very good game, and obviously a close one, at that. But we realized after winning that we hadn't won since 2002...so it was pretty awesome to get our name on that trophy and represent SAIT."
Despite playing as a holding midfielder, Georgsen was a key member of the Trojans' attack in 2021, scoring twice in five regular-season games, in addition to chipping in with a goal and an assist in the ACAC playoffs and her two goals at nationals.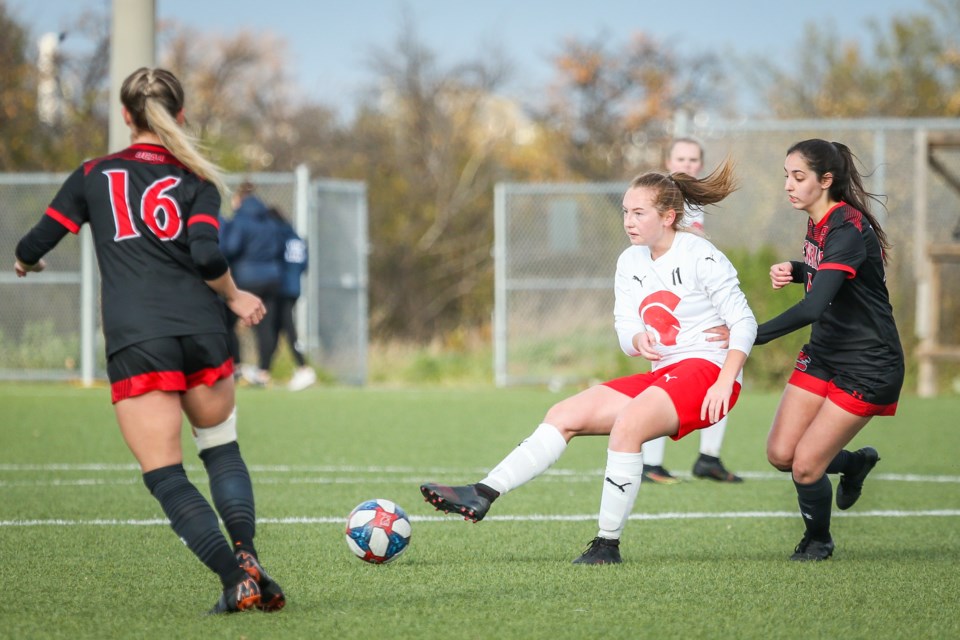 She said she has felt privileged to be a member of SAIT's soccer team, adding the experience has made her more confident.
"I think I've not only learned to be that much more confident and comfortable with who I am and who I want to be in this life, but it just shows I want to work hard," she said. "When you're training all the time and trying to juggle school, I think that's taught me a lot about how fortunate I am to have gotten to play for a college-level soccer team."
Now that her playing days with the Trojans are behind her, Georgsen said she is both reflecting on her time with the team and looking forward to her future career.
"I never thought in a million years that I'd get to play college soccer," she said. "In my first year, I decided to try it. I didn't know if I was going to be able to juggle it with school because I was going to SAIT to get an education, and that was my top priority.
"Not only will I come out of SAIT with a diploma and a certificate, but ever-lasting memories. It's taught me so much and I'm very honoured and appreciative to have had this experience in my life. I'm beyond thankful for the girls, my coaches, my family and friends for supporting me."