In a fitting gold-medal final between the league's two powerhouse teams, the Cochrane Cobras overcame the Springbank Phoenix 5-2 on Oct. 21 to claim the Rocky View Sports Association (RVSA) girls' soccer championship.
The win over their closest division rival at Monklands Park in Airdrie means the Cobras girls' soccer team achieved the four-peat, having clinched the RVSA banner in 2019, 2018, and 2017 as well. Due to COVID-19, there was no season in 2020.
After 90 minutes, Cobras Head Coach Carolyn McLeod said she was relieved to hear the final whistle.
"Springbank is a strong team and we knew it was going to be a tough game and a hard-fought battle," she said. "We're happy, obviously, to be on the winning side.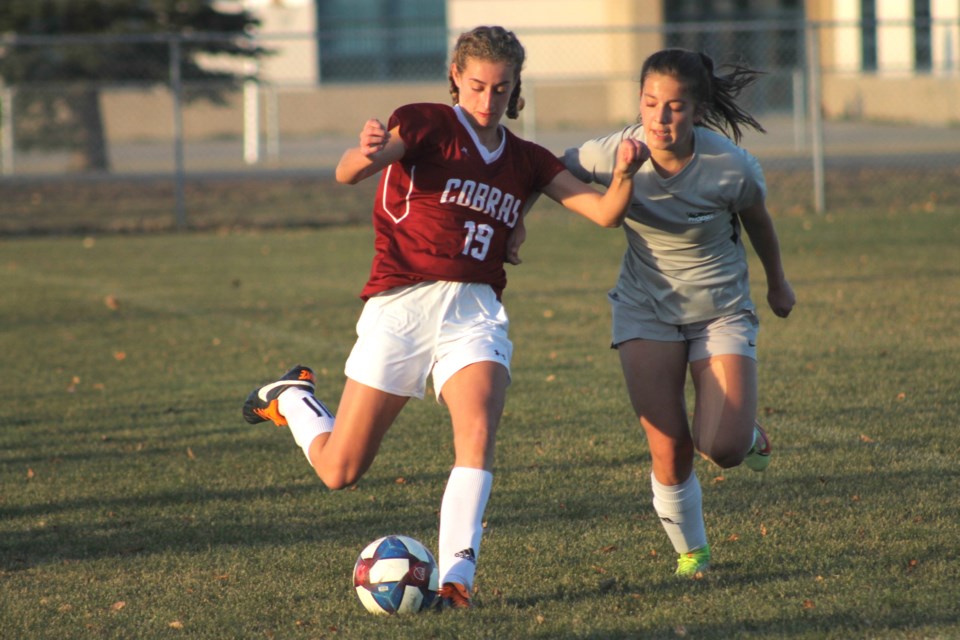 "For some of the senior girls, this has been a long time coming, waiting to come back here and get the win."
Cochrane took a 4-2 lead in the first half, and managed to add one more goal to their account in the second interval. Shea White and Amy Schmidtke each scored a brace for the Cobras, while Mel Bosse added the other.
For Springbank, the goals came from Maria Bird and Annika Russell in the first half.
According to McLeod, the Phoenix were a fitting opponent for the Cobras in the division final, as Cochrane and Springbank dominated every other team in the RVSA this season. Cochrane, who ended the RVSA season with a 9-0-0 record, if exhibition games are included, scored 67 goals in 2021, while conceding just seven.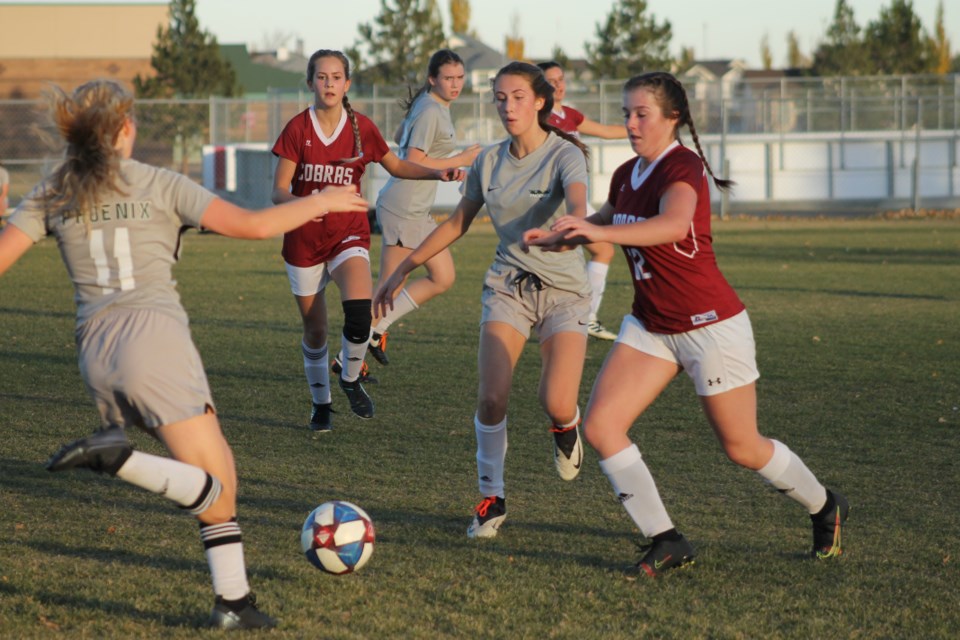 According to RVSA archives, the two schools have split the last 16 girls' soccer championships, with Cochrane winning 14 banners and Springbank claiming two.
Springbank was similarly dominant, with their only defeats in the RVSA this season coming at the hands of Cochrane. The Phoenix finished with a 7-2-0 record, scoring 78 goals and conceding 12.
McLeod said the strength of the two programs stems from the high number of club players on each team who play competitive soccer year-round.
"We've had some really strong teams over the last few years," she said. "We were really sad to not have a season [last year], because we actually had an incredibly strong team. We had a number of Grade 12s who have gone on to play university soccer.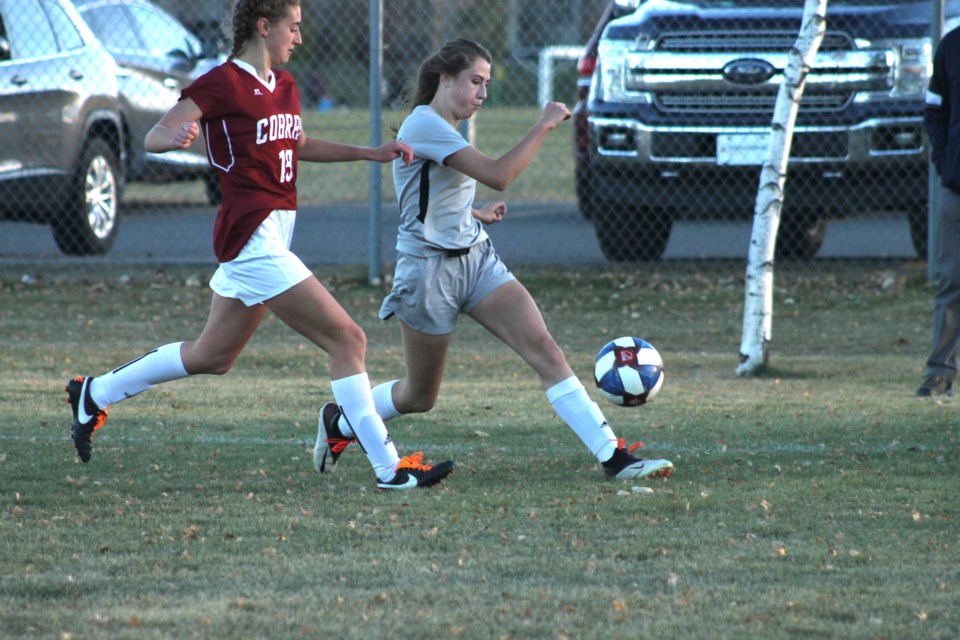 "But we have some really good 9s and 10s who are coming up. These girls are coming up through soccer programs, whether it's in Cochrane or with Blizzard or Chinook [in Calgary]. They're dedicated soccer players, so it's fantastic."
Avery Masch, a Grade 9 central midfielder on the Cobras, said she enjoyed her first season playing with the team.
"It's always nerve-wracking playing with new girls, but they're so fun to play with and always so welcoming," she said. "There's never any negative energy.
"We were a bit nervous coming into this game, but right away, we're always really bubbly and ready to go, no matter what the outcome is. It was a great win today."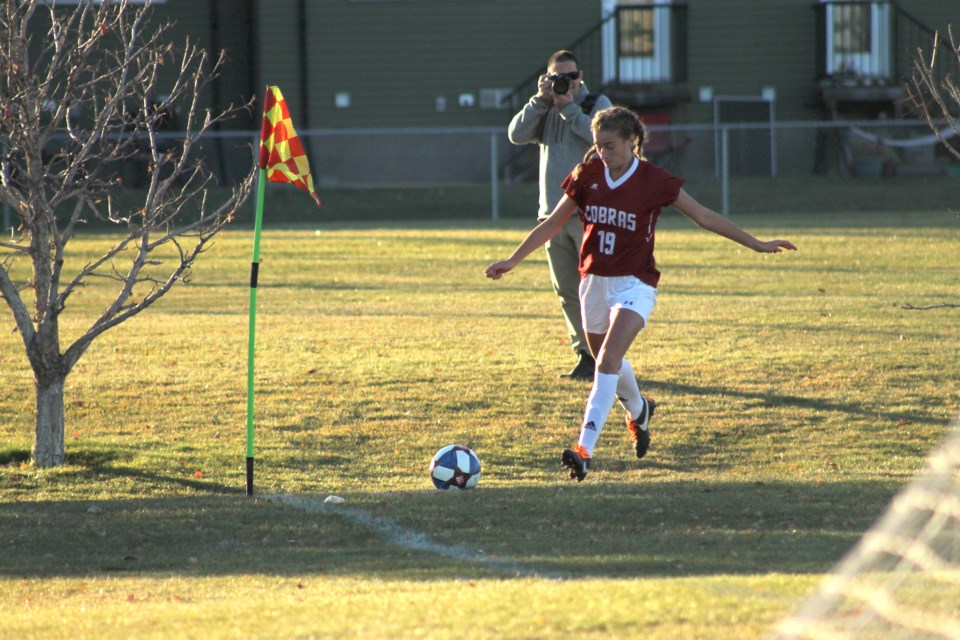 While they were disappointed to come out on the losing side, Springbank head coach Heather Magana said her players put forward a spirited effort in the championship game.
"The girls played their hearts out and gave it what they could," she said. "We just didn't get the touches we needed in the places we needed."
Magana said Springbank did not field a single Grade 12 player this year, and half the team's roster was comprised of Grade 9 students. She said the team's youth bodes well for next season and beyond.
"The next few years, we'll be a pretty strong and probably dominant team," she said. "Cochrane has a really well-spread out team over their grades and we'll see them again next year."
On the adjacent field, the Bow Valley Bobcats clinched the bronze medal with a 4-0 win over the W.H. Croxford Cavaliers.
While the RVSA season is wrapped up for another year, the South Central Zone championship is set to take place in Okotoks on Oct. 22 and 23. Both Cochrane and Springbank will contest for the zones banner, against teams from Okotoks and Canmore.