Cochrane High School's volleyball teams enjoyed a successful night on Nov. 9, with three of four Cobras squads winning Rocky View Sports Association (RVSA) divisional banners.
The school's senior boys' and girls' squads both repeated their 2021 banner success, while Cochrane's junior varsity girls also brought home the RVSA title. The JV boys finished runners-up after a lengthy five-set match against the George McDougall Mustangs of Airdrie.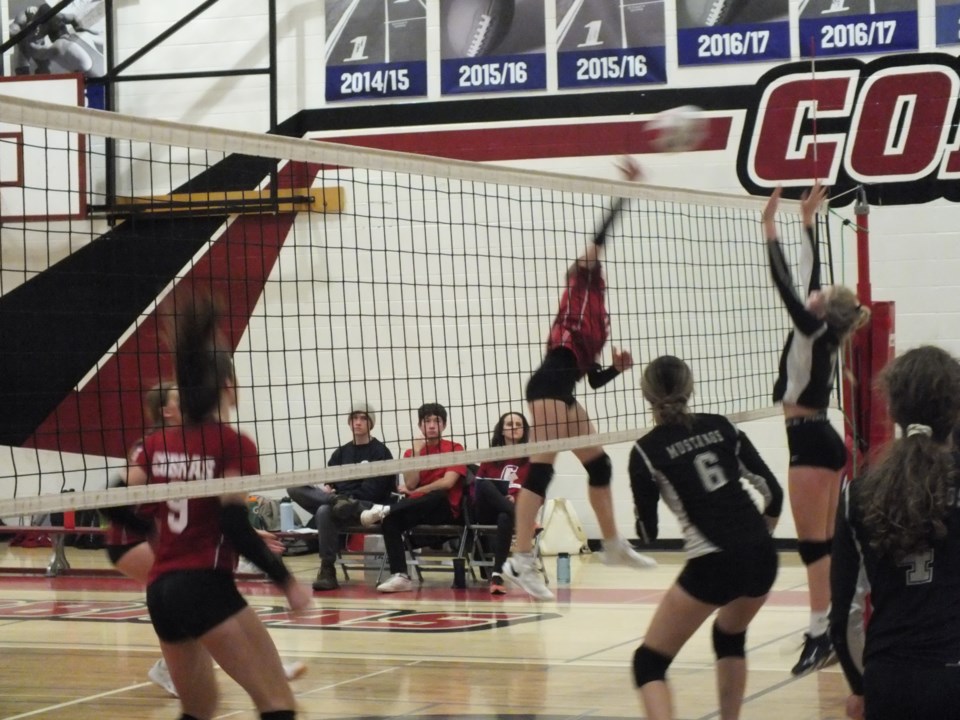 In the senior boys' title-deciding match at Cochrane High School, the Cobras outlasted the visiting Mustangs in five sets (25-19, 25-21, 16-25, 24-26, 15-8) to secure the banner.
"We took the first two sets pretty comfortably," recalled Cobras head coach Daniel Hasiuk, crediting the players' resiliency for propelling them to victory over George McDougall.
"We lost focus and it turned into a five-game nail-biter. The last game, we were fairly dominant and took the fifth set quite quickly."
The Cobras' victory on their home court means the team went unbeaten in RVSA action this fall, winning all eight of their matches during both the regular season and playoffs.
It also was their fifth straight divisional title – a streak dating back to 2017. (The 2020 season was cancelled as a result of the COVID-19 pandemic).
"We've been fairly dominant within the division for a while now," Hasiuk said. "I came in in 2019 and I think before that, they did pretty well. And of course, our girls' program is super dominant, as they all play club when they're not playing high-school."
With divisional playoffs done and dusted, the Cobras' senior boys' team will shift focus toward the upcoming 3A South Central Zones championships next weekend. For the senior age groups, the winner of the zones tournaments will progress to the Alberta Schools Athletic Association's (ASAA) 3A provincial championships the following weekend.
Last year's Cobras senior boys went out in the quarterfinals at provincials, finishing fifth overall.
Senior girls overcome Phoenix
The senior girls' Cobras team beat the Springbank Phoenix to reclaim their own RVSA title on Nov. 9.
Head coach Esther Sieben said the match went to four sets against their main divisional rival (25-21, 26-28, 25-17, 26-24).
"Springbank's a competitor and I've known that – we've had such a good rivalry ongoing for the last few years," she said. "They've always kind of been in the mix. When you get to a level like Springbank, they know how to win and know which games are important. They will succeed because of their experience of being at provincials all those years."
Sieben is crossing her fingers the senior girls' most recent banner win will provide the players confidence as they prepare for zones next weekend.
Cochrane High will be hosting the 3A South Central Zones tournament Nov. 18 and 19. Sieben said she hopes Cochranites will come out in droves to support the squad as they push for a spot in the ensuing provincial championships.
"We're very excited to be hosting and have home-court advantage," she said. "We would love to see everyone out – anyone who is in middle-school volleyball or who plays club. Anyone who has love of the game, I'm sure they'll get to see some good volleyball this weekend."
Last year, the senior girls' finished runners-up at the 3A provincials. With six players from last year's roster still on the team this fall, Sieben said the Cobras have a point to prove.