The W.H. Croxford Cavaliers senior girls' volleyball team bumped, set, and spiked their way to a silver medal on Nov. 20 at the South Central Zones 4A championships in Okotoks.
After finishing in second place in the five-team round robin with a 3-1 record, the Cavaliers ousted the Holy Trinity Academy (HTA) Knights in four sets in the semi-final to book their place in the gold-medal match. However, Croxford's quest for the 4A Zones title – which also acted as a qualifier for the upcoming provincial championships – came to an end in the final, following a defeat to the host Foothills Falcons.
"We played a really good four-set match with them, back and forth," said Croxford's head coach, Jared Fuller. "We played really good, but Foothills played phenomenally. We were matched up quite similarly in skill, and just needed a couple of breaks to go our way, and they didn't at the right time."
Despite beating Foothills in the round robin, Croxford came across a much tougher opponent in the championship game, according to Fuller. Backed by their home crowd, Foothills jumped to a two-set lead, before the Cavaliers kept their hopes alive by winning the third set 25-19.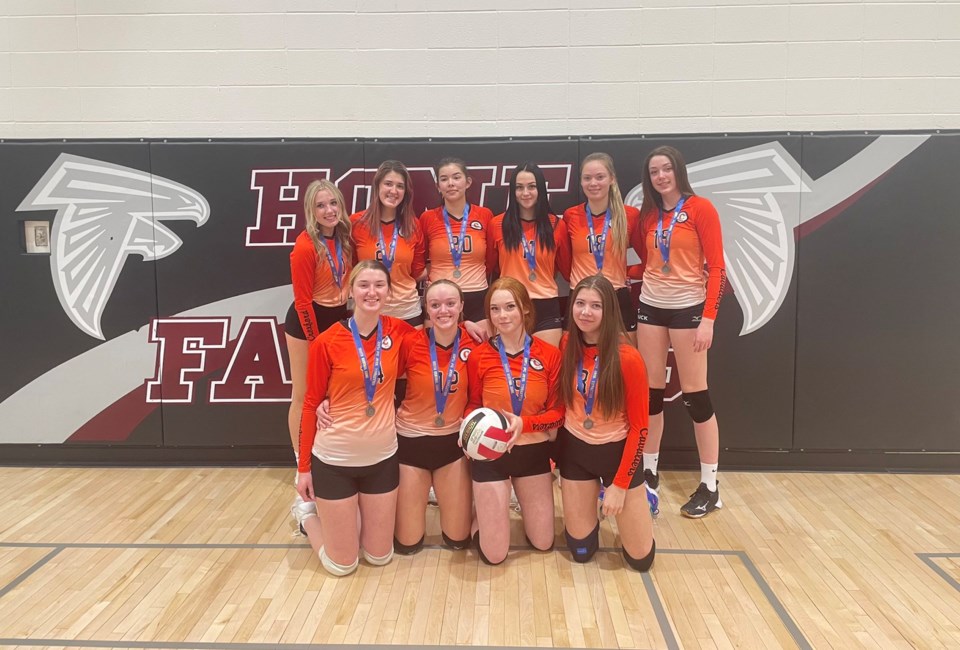 The fourth set saw the Falcons develop a 21-17 advantage, but the Cavaliers rallied back, and narrowed the score to 23-21. A big hit by Falcon Grace Baker and a pair of Croxford miscues at the net paved the way for the 25-22 win for Foothills, whose victory will send them to this weekend's Alberta Schools Athletics Association 4A provincial championships.
Even though they fell short of what would have been Croxford's first-ever Zones championship in volleyball, Fuller said the squad was pleased with the silver-medal showing. He added this year marked the Cavaliers senior girls' team's first time competing at Zones.
"We're happy with second – there's nothing wrong with that," he said.
"It sucks getting second twice in championship games, but I guess you had to beat all the other teams to even get there. It would have been nice to win one of them, but maybe next year, that will be what the cards have for us."
According to Fuller, 2021 was the Cavaliers senior girls' volleyball squad's strongest ever season since the school first formed a team in 2015. In the regular season, Croxford finished second in the Rocky View Sports Association (RVSA) with a 5-1 record. In the playoffs, they made it to the RVSA championship game, before losing to the unbeaten Cochrane Cobras (who also won the South Central Zones 3A tournament this past weekend).
"It's good to see the foundations of culture are starting to grow," Fuller said.
"I don't even think we'd ever made it past the first round of playoffs in Rocky View before, so it's been a great year in terms of success."
Grade 12 outside hitter Daisy Olsen agreed with her coach, saying the Cavaliers formed a strong bond this year.
"We definitely did a lot better than I was expecting. Second is pretty good. I definitely was impressed with all of our players.
"We really came together as a team and I think that was improtant for us to grow as a team, together. That really helped us be more comfortable with each other and run more plays against other teams."
Olsen, who said she hopes to play post-secondary volleyball as well, added this year's Cavaliers roster boasted plenty of players who also play for competitive club teams, which gave the team added experience.
While she looks forward to the future, Olsen added it's "bittersweet" for her high school volleyball career to be over.
As for the Cavaliers' other volleyball teams, Fuller said the senior boys team did not attend their Zones tournament, the junior varsity girls' team went out in the round robin, and the junior varsity boys' team finished fourth.
Mustangs claim bronze
Over in Strathmore, the George McDougall Mustangs senior boys' and junior varsity boys' volleyball teams both finished their South Central Zones 4A tournament with the bronze medal, while the Mustangs senior girls' team also finished with the bronze at their Zones tourney in Canmore.
Tim Massé, the head coach of the Mustangs senior boys' team, said his squad had a strong round robin, and afterward came up short in a tough semi-final against the Springbank Phoenix – a team that proved a formidable foe for George McDougall all season long.
"We went three games with them and just couldn't pull it out," he said. "It was tight the whole time and [they're just] one of our rivals this year. We beat them, we beat us, and it kind of went back and forth."
After their loss to Springbank, Massé said the Mustangs swept the host Strathmore Spartans in the bronze-medal match, while the Cochrane Cobras beat the Springbank Phoenix for the Zones 3A banner.
"Cochrane had an exceptional season – they worked hard and had more parts of the puzzle, so they did a good job," Massé said. "They're off to provincials on Thursday."