Local arm-wrestling champion Stacey Foster once again represented Airdrie at Canada's national arm-wrestling championship, bringing home two silver medals.
Foster and two teammates from the Airdrie Armwrestling Club each placed in the top five of their class and division in what coach and president of the club Stew Foster (Stacey's husband) called the largest national championship Canada has ever held.
"Competition was super stiff because it was the national championship and it's the largest national championship we've ever had," Stew said. "We thought it was good in Edmonton the last time we had it pre-COVID and I think there were [around] 440 competitors. But this year in Winnipeg, we had 574 entries. It was insane – ranging in kids from four or five years-old right up to competitors in their late 70s."
Stew said competitors don't just come off the street and get to go to nationals, but have to be seasoned pullers in order to participate in a tournament of that caliber.
"It's the show. You see lots of new people entering in the more local circuit tournaments, but if you're going to the show, you've been pulling for a while," he said.
Arm-wrestling has been around in Canada for about 44 years, according to Stew, and he has been involved in the sport nearly the entire time. While he's now semi-retired, the multi-time world champion continues to coach and referee.
Returning to the national stage following a two-year hiatus due to COVID-19 was great, Stew said, as the Airdrie pullers were able to see many of their friends involved in the sport.
Stew took on coaching his wife Stacey several years ago, and she has now competed in five national championships herself.
During the 2022 national championship, Stacey competed in the ladies Masters division 70-kilogram (kg) class and took home two silver medals for left and right hand.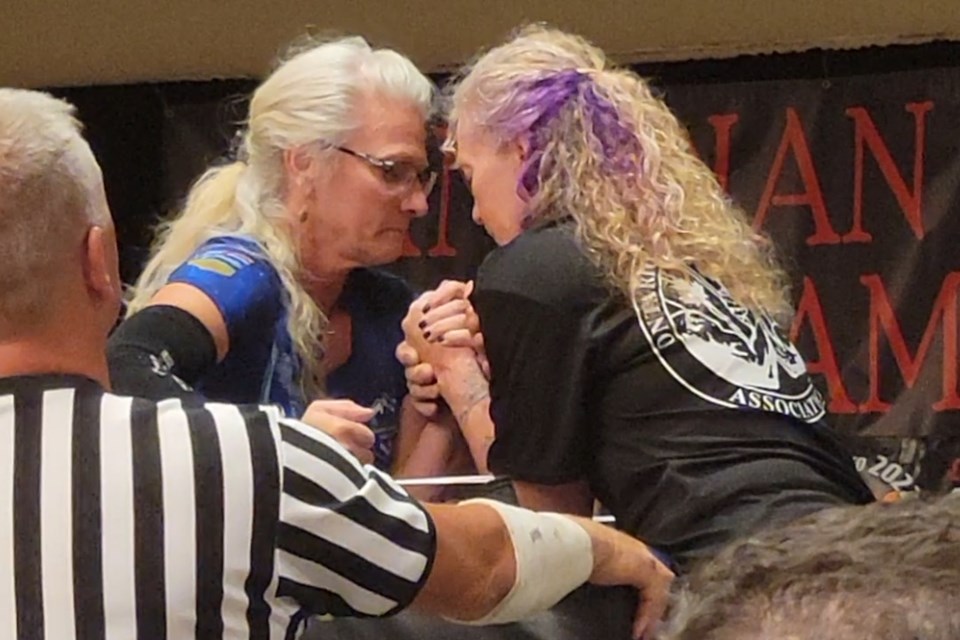 Her Airdrie teammate Dale Kotyk competed in the men's Masters pro division 90 kg class in the right hand, taking home third.
Kotyk originally planned to compete in the left hand as well, but due to a work injury – he crushed his left thumb only four days before the team left to compete in Winnipeg – he couldn't compete with his left hand.
The third competitor from the Airdrie Armwrestling Club was Brad Prins, who competed in the Men's Grand Masters division and brought home fourth place in the right hand and fifth place in the left hand.
"He's fairly new. He's only been arm-wrestling for about three years now and it's his first trip to the nationals," Stew said. "[I was] so impressed, the class he was in was so stacked. I mean stacked with previous provincial, national, and world champions."
Stew explained the pro open is up to those 40 years of age, the masters division is from 40 to 50 years old, and the grand masters division is from 50 to 60 years old.
"Then we're also starting a senior grand master [division], which is 60 and over, which is where I'm at," he said.
He reiterated that the level of athletes at the national competition is extremely high, with all of the competitors toting provincial titles. About seven or eight weeks ago, his wife Stacey, took home six first-place medals from one tournament, he added.
Throughout the pandemic, members of the Airdrie Armwrestling Club continued training together if health restrictions allowed at Stew's home gym, which he retrofitted to include tournament-sanctioned arm-wrestling tables. Many of the athletes continued their training on their own at home, as well.
"I've built equipment for a lot of guys in our club and I built equipment across Canada," Stew said, adding he's been a welder by trade for more than 40 years.
"I've built arm-wrestling tables with side attachments where you can attach weight or rubber bands to condition your arms."
The table helps strengthen specific muscle groups used for sideways movement in arm wrestling that aren't necessarily targeted in weight lifting, Stew explained.
The World Championship was also cancelled in the past few years due to COVID-19 and it's unclear whether they will go ahead this year.
The Airdrie Armwrestling Club is heading to their next tournament in Thorsby on July 16, followed by a Lethbridge tournament in September, and Mayhem in the Mall at West Edmonton Mall in November.
Stew invites newcomers into the club and encourages kids to start their arm-wrestling careers as well.
Contact Stew at stewf60@gmail.com or reach out via the club's Facebook page at facebook.com/groups/265420970499250/