Homelessness in Airdrie does not look like homelessness in larger cities. Walk around Airdrie for a day, you likely won't spot any panhandlers, or see tents pitched in public parks.
The city's proximity to a large urban centre is likely the main reason for homelessness' lack of visibility here. It's assumed most unsheltered people in Airdrie would eventually make their way to Calgary, where they would be able to access more resources and support.
That doesn't mean the issue does not exist in Airdrie, though. Homelessness – more specifically under-housing – is certainly a reality in Airdrie, even if it is not always out in the open.
That was the key takeaway of a delegation at Airdrie City council on March 7. Presenting to council, Community Links senior support worker Mandy Drachenberg and support services manager Trudy Wilson spoke about the social services agency's rising number of clients who are struggling with shelter or housing-related issues.
Their presentation delved into what Drachenberg and Wilson called a "framework" for assessing Airdrie's under-housing situation. They highlighted the factors that are contributing to a recent rise in homelessness in Airdrie, and what Community Links and other non-profit groups are doing to support individuals who are either homeless or at risk of becoming homeless.
Early into the presentation, Drachenberg explained there is a wide spectrum that encompasses under-housing. She noted that seeing people in acute homeless situations – sleeping in their cars, pitching tents in parks, squatting in vacant buildings, etc. – is rare in Airdrie, but not unheard of.
"What we do see a lot though, are community members who are at risk of homelessness and/or are under-housed," she said. "We have people living at a campground in campers or trailers. We have people staying in low-cost hotels, couch-surfing, or living in situations that are quite unsafe, or in inadequate spaces."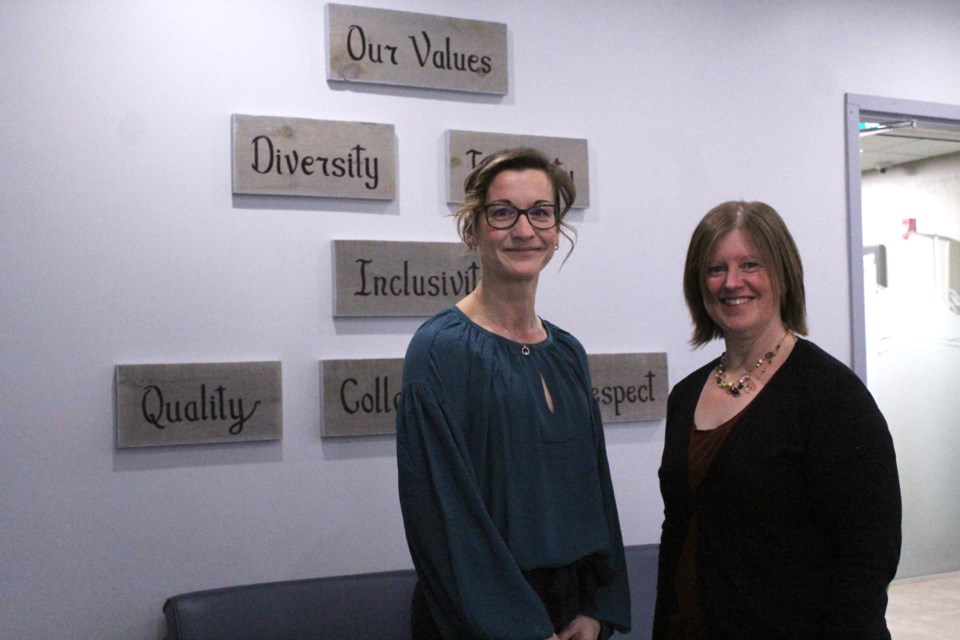 Drachenberg added there are many reasons someone in Airdrie could end up in these types of scenarios. She said some low-income couples separate, or one parent passes away, and then the other person cannot afford to sustain a family or pay rent on their own.
An increasingly common reason is when a family is forced to move after their landlord opts to sell their home, and they are unable to find a similarly priced rental.
"We see a lot of families who have been given 90 days' notice to move out because the landlord is selling the place they're living in," Drachenberg told council. "The market is pretty hot for selling right now, so a lot of people come to us because they're at risk of losing their home and don't know where to go."
Wilson mentioned how the COVID-19 pandemic and its ensuing economic lockdowns made matters worse. She noted many people who approached Community Links for help last year were laid off in 2020 and were struggling to afford rent on meagre support benefits. Or, they managed to continue working but were on reduced hours, or they were working in a different field that did not pay as well.
Reiterating Drachenberg's comments, Wilson added many at-risk people in Airdrie may not be considered homeless, but are nonetheless in unstable situations, whether that means crashing on their friends' couches, sleeping in vehicles, or bouncing from apartment to apartment.
"We really did want to bring to people's attention this idea that in Airdrie, we do see quite a significant population of people who, although they have shelter, we would suggest that shelter isn't necessarily adequate or always safe," she said.
A commonality is that for many of these clients, this is the first time in their lives they have needed to seek this kind of help, according to Wilson.
"Part of coming is that they don't know where to go because they haven't faced this situation before," she said. "They come looking for guidance in terms of where to start."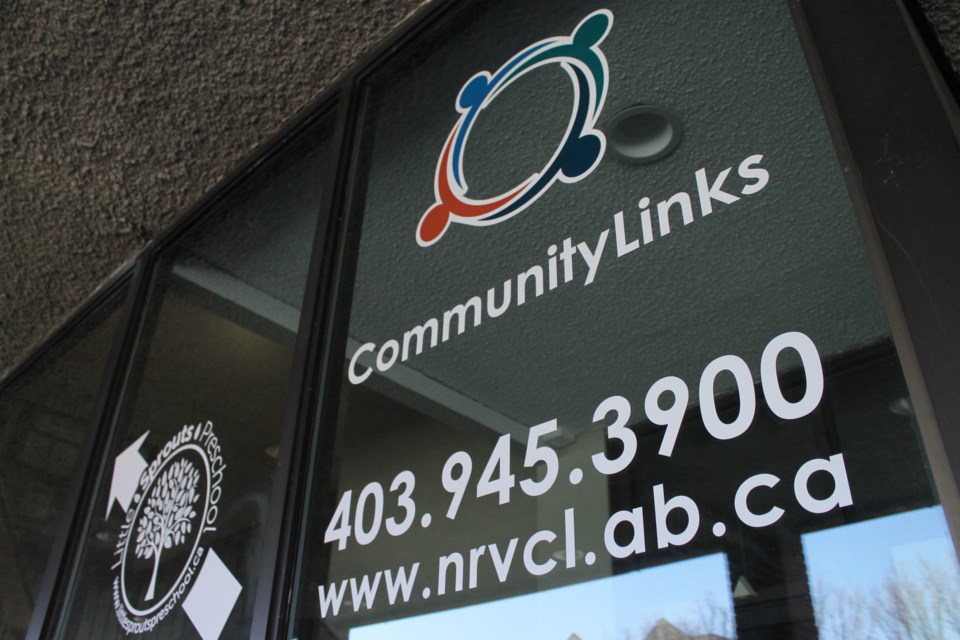 A growing issue
Community Links' presentation to council also included local statistics on under-housing. Wilson noted 55 Community Links clients were experiencing acute homelessness in 2021, while 98 others were referred by the agency to emergency shelters or support facilities in other communities.
According to Community Links' data, 252 clients were either under-housed or at risk of becoming homeless in Airdrie and were accessing basic needs and housing supports from the non-profit as a result.
Wilson stressed these statistics are not concrete data, as they specifically refer to Community Links clients. She said that means the real number of Airdrie residents suffering from under-housing or homelessness could be much higher.
After the presentation, Drachenberg and Wilson spoke more about the issue of under-housing in Airdrie. They told the Airdrie City View that even though most Airdronians won't typically see homeless people out in public, that doesn't mean there aren't residents struggling to secure shelter – or "living rough," as Drachenberg worded it.
"We do in fact see people living on the streets," Drachenberg said. "For someone who is perhaps not involved or working in the field like we are, you may not necessarily see it. It doesn't happen in broad daylight, necessarily, but we know there are certain parks in the city where, overnight if you were to stroll through, you would see people setting up their overnight stays. It is a fairly large number."
The situation is exacerbated by record inflation and the rising cost of living, Wilson added, noting everything from the cost of groceries to fuel to rent is on the rise.
In terms of demographics, Wilson said Community Links sees a wide spectrum of clients struggling with under-housing in Airdrie. Some comprise families of four or five, while others are single men or women. A considerable percentage are seniors living on fixed incomes who do not qualify for subsidized housing.
As a social services agency, Community Links is committed to helping people in these situations. Wilson said clients who are in particularly emergent circumstances can access the charity's most fundamental supports, such as clothing donations, food hampers, backpacks stuffed with everyday items, or emergency funds to help in the short-term.
Beyond that, Wilson said Airdrie's lack of transitional housing or local facilities for the unsheltered means a big part of Community Links' mandate is to refer clients who are struggling to agencies and support services in other communities, be it Calgary, Red Deer, or elsewhere.
"For us, it's really about assessing where they're at, what supports they already have in place, what might be available, and making sure we get them that information and help refer them to the right places," Wilson said.
Advocacy is another way Community Links strives to help the homeless, she added, such as lobbying for additional affordable housing.
Affordable housing
An issue that has plagued Airdrie for many years is the city's lack of below-market, subsidized, or affordable housing options. Affordable housing is defined as housing with a rental rate that is at least 10 per cent below the average market rental rate.
In 2017, City of Airdrie staff conducted a needs assessment of the city's housing supply and determined just 0.3 per cent of Airdrie's housing stock was considered "below-market" rentals. That fell well below a national average of six per cent, according to the report.
Two local housing management agencies that are trying to increase Airdrie's stock of affordable housing units are Airdrie Housing Ltd. and the Rocky View Foundation.
Despite Airdrie's rapid population growth in recent years, the city's affordable housing situation from 2017 hasn't improved very much. According to Airdrie Housing Ltd.'s 2021 housing update, the city had an inventory of just 44 affordable housing units last year.
In an interview for this story, Mayor Peter Brown used the term "completely inadequate," when asked how he felt about Airdrie's current affordable housing inventory.
"We can go back three or four years ago, we had a fairly substantive study done on affordable housing units," he recalled. "At that time, we were in need of close to 1,000 units, and I'm certain it's a lot more now."
The mayor added he's been working on determining how the City can enhance Airdrie's existing affordable housing portfolio, and how the municipality can best contribute to preventing local homelessness and under-housing.
"There are people who are on the brink, living paycheque to paycheque," he said. "The cost of housing is skyrocketing, the cost of everything is going up, and it's putting more and more pressure on families and individuals. It's certainly a large concern for a lot of us in the community."
Brown said one way the City can improve the situation is by fighting for better recognition from higher levels of government. He added when lobbying for provincial or federal support, Airdrie can often be cast aside as a Calgary bedroom community – despite now being Alberta's fifth most populous municipality, with approximately 74,000 residents.
"I think we're making in-roads, but I'll be honest – it's been a struggle," he said.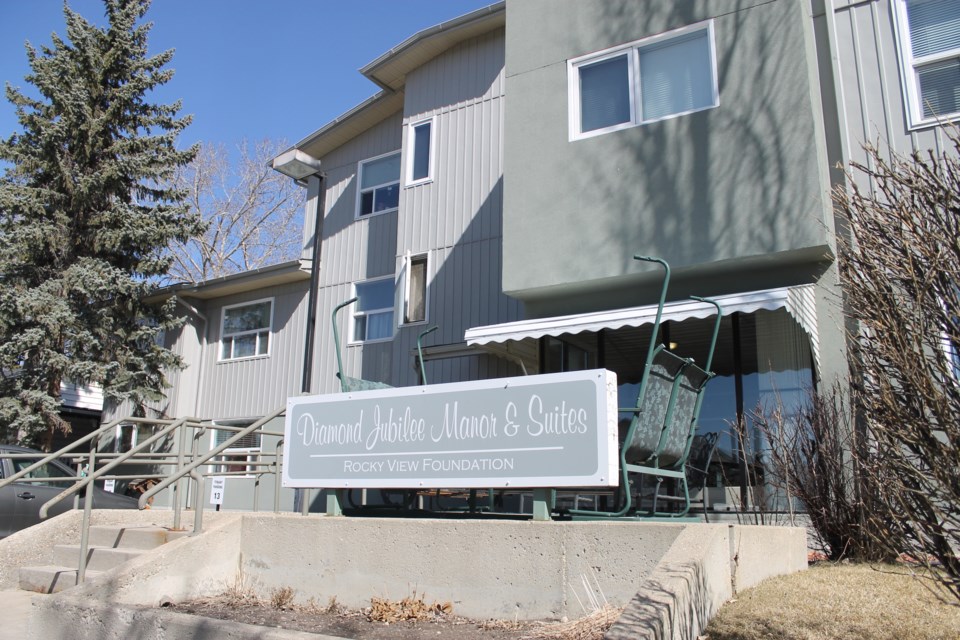 Senior housing
When it comes to affordable housing options for senior citizens in Airdrie, the Rocky View Foundation currently offers 12 market-rate rental apartments and 20 subsidized rental units for senior residents. The units are in the Diamond Jubilee Manor and Suites – a three-storey housing facility located just off Centre Avenue, near Airdrie's downtown.
Rocky View Foundation Chief Administrative Officer Carol Borschneck said in addition to operating the Diamond Jubilee Manor, the foundation also manages supportive senior's lodges in Crossfield and Cochrane, all of which are in high demand.
She said a shortage of affordable housing for seniors is "a significant problem" in Airdrie, and there is usually a wait list of 70 to 100 seniors for either the Diamond Jubilee Manor or the Rocky View Lodge in Crossfield.
"We receive telephone calls from people inquiring about housing, some who are living with their children and grandchildren," she said. "They're in stressful situations. Some are living with family members in a cold basement – not a finished basement – in conditions that really are not appropriate and comfortable."
One Airdrie senior who has come to discover the challenges of securing affordable housing firsthand is Pam (last name withheld), a 70-year-old retiree who is currently wondering where she will go next.
An immigrant from the Carribbean, Pam said she made her way to Ontario in the 1980s to pursue higher education. After studying hospitality management at a Toronto-based college, she worked for eight years in the head office of a hotel, while also raising her children on her own.
But a desire to make more of a difference in her work led Pam to shift gears. In 2000, she migrated west to Calgary, where she said her daughter had moved to start her own career. Pam went back to university and studied psychology, with the goal of obtaining a job in the human services field.
Once she graduated from university, Pam became a case manager for the Calgary Mustard Seed's housing department. She also became a crisis counsellor for the Kerby Centre, adding she enjoyed the positive impact her work had on her clients. During that time, she said she became an outspoken advocate for marginalized people and housing issues, and was even nominated for an award by the Mustard Seed.
"When I came home from work everyday, I felt I had done something for someone else and had made a difference," Pam said. "It was very fulfilling for me, because I know at the end of the day, I could [appreciate] where they were coming from, where they were, and where they were going. I opened the door for them to go where they wanted to go."
Illness in the fall of 2019 meant Pam had to stop working. And with the arrival of the COVID-19 pandemic some months later, she said she hasn't returned to work since.
Without the same income as when she was working, Pam said she eventually moved in with her daughter in Airdrie. But according to Pam, her daughter's husband lost his job amidst the pandemic, and the couple has opted to sell their home.
Pam said at this point, she's not sure where she will go next.
"I'm looking for a place so I can have my own environment and my own little comfort zone to continue what I want to do – but I can't get a place," she said. "That's my problem right now. Market rent, I don't want to spend so much so that I don't have enough to support myself otherwise."
Through Community Links, Pam has applied for an affordable housing unit. But she said she recognizes the wait is a potentially lengthy one, and there is a lot of uncertainty.
"But market rent is pushing people out of regular housing," she said. "It's so expensive, and the other obstacles are [that] I have to have a guarantor because my credit went down when I was sick, because I wasn't working.
"I think there should be more options for people who are in my situation," she added. "You want to make it, because someone has to have somewhere to live. You can't just bounce around and go nowhere."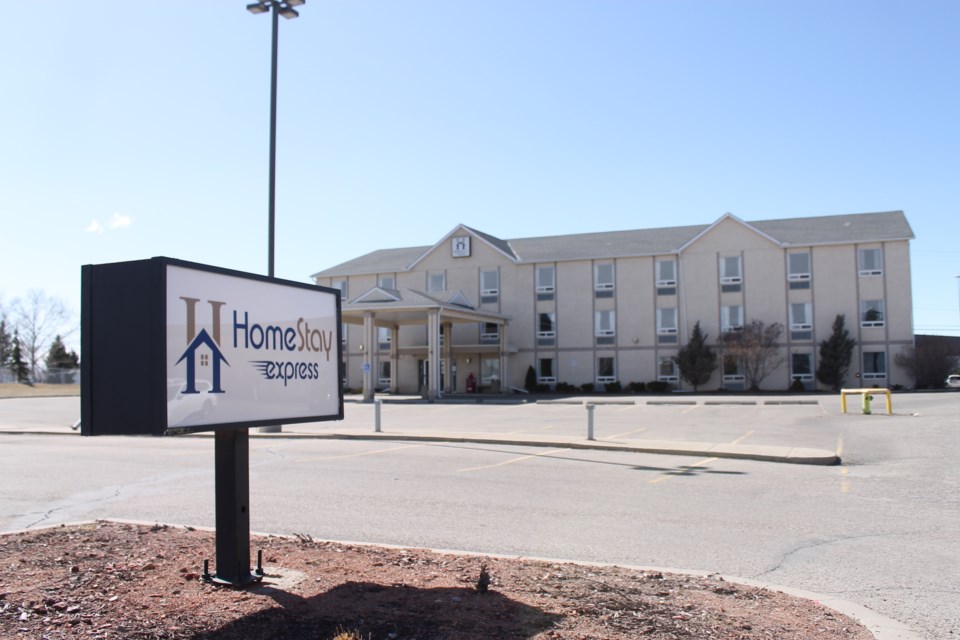 Solutions on the horizon
During the first two years of the COVID-19 pandemic, two Airdrie hotels went into receivership – the result of economic challenges faced by the hospitality industry, during a time when so few people were travelling or staying in hotels.
The two hotels that shuttered were the Hampton Inn and Suites in East Lake Industrial Park, and the HomeStay Express (formerly Super 8 Motel) along East Lake Boulevard, just across the street from Genesis Place Recreation Centre.
While disappointing to lose two local businesses, a silver lining of the hotels' closures has been the opportunity to re-purpose the buildings and convert the rooms into affordable housing suites. The Rocky View Foundation acquired the Hampton Inn and Suites facility, with plans to bring nearly 100 supportive senior housing units to fruition, while Airdrie Housing Ltd. acquired the HomeStay Express, with plans to add 31 additional units to the organization's affordable housing stock. In May 2021, City council approved Airdrie Housing's request for bridge funding and debenture financing from the municipality, totalling $3,359,840.
The completion of the HomeStay Express project would mark a 73 per cent increase to Airdrie Housing's affordable housing portfolio, noted the agency's 2021 report.
"Airdrie Housing rental rates are typically between 25 and 35 per cent below market," said Airdrie Housing Ltd.'s managing director, Shelley Sweet, in an email. "With the addition of the hotel conversion project at 815 East Lake Boulevard, we will be adding some studio units to our portfolio that will have affordable rents to target those on very low incomes and potentially at risk of homelessness."
While Borschneck said the Rocky View Foundation originally anticipated a 2021 opening for its seniors' housing suites at the Hampton Inn and Suites building, the project has unfortunately suffered some setbacks.
"We've hit a few snags, so I can't say exactly [when they'll be done], but later this year," she said.
"Right now, we're working on getting the kitchen installation. One of the problems we're running into is materials supply. Things like kitchen equipment is four months away after ordering them. We're running into issues like that."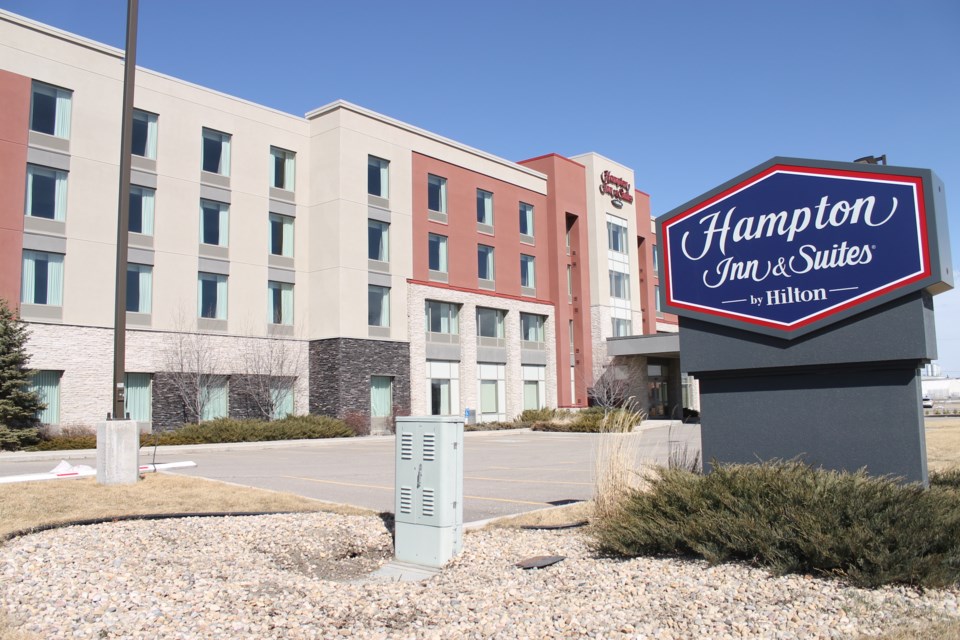 Airdrie's municipal government is also trying to better address the affordable housing situation. Last June, City council endorsed the creation of a Below-Market Housing Strategy for Airdrie.
According to a presentation to council in June 2021, the process of developing the strategy includes providing a full range of housing options, a robust and well-rounded approach, a "one stop shop" for housing clients, and proactive planning.
In terms of a timeline, an interim report stated the Below-Market Housing Strategy is envisioned to occur through four "progressive stages" over the next 20 years. Stage one includes defining the strategy and establishing a clear foundation and framework for its successful implementation, which is expected to be complete by 2023.
Mayor Brown said the City's approach to preventing more under-housing will need to be collaborative. He brought up the possibility of forming inter-municipal partnerships with the likes of Rocky View County and the Town of Cochrane to tackle the affordable housing problem.
"We want to do a more in-depth study to understand how we can best approach the situation and get that raw data so we can have the resources ready to support those individuals or families," he said.
"We're talking about aligning with other local governments, not-for-profit housing providers, [and] social agencies."
A lack of data
Adding to Airdrie's growing issue of under-housing is a lack of concrete data when it comes to assessing the under-sheltered population in Airdrie. While many municipalities conduct regular point-in-time counts to determine an accurate estimate of a homeless population, Airdrie does not currently participate in such data-collecting initiatives.
Brown, Wilson, Drachenberg, Borschneck, and Sweet all stated more local data would be helpful when it comes to identifying service needs and long-term planning to prevent homelessness.
"Having some formal statistics and having an official homelessness count would be a good starting point to really see what the facts and the true numbers are," Drachenberg said. "We don't have the specific numbers, but it appears the need [for affordable housing] is at least five times as high as what we can offer. We don't have the 100 per cent data to back this up, but it definitely appears that application requests coming in for affordable and subsidized housing far outweigh what is available."
Sweet agreed, adding that further clarity would help stakeholders take a broader approach to tackling under-housing in Airdrie.
"In order to even begin to address the issue, there is considerable data collection that needs to take place so that decision makers can accurately understand the scope of the problem," she said. "Without accurate data, the pathway to address the issue is not clear. Ideally it likely requires a coordinated approach between several stakeholder groups and the City."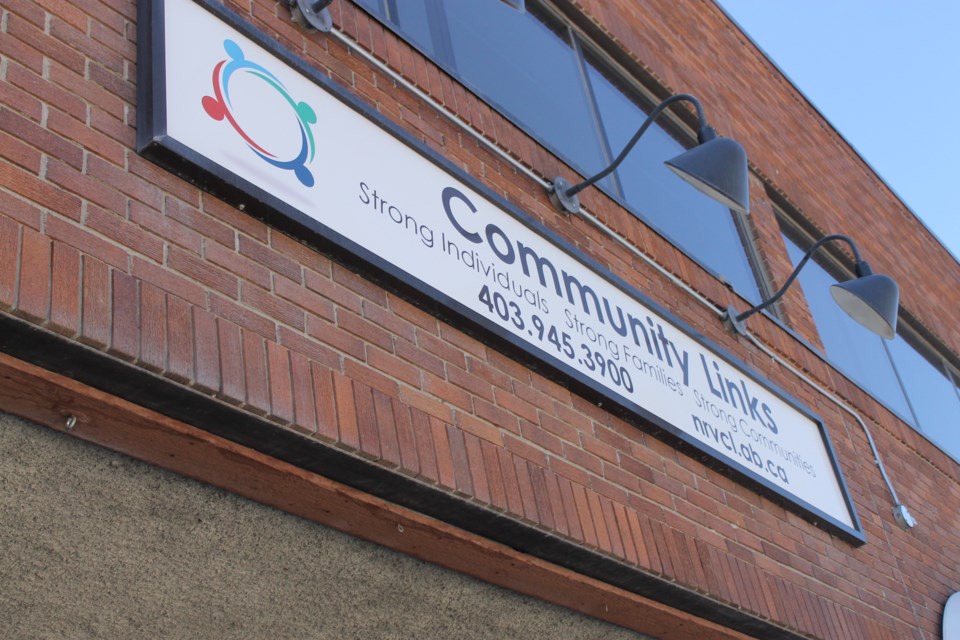 Next steps
With a Below-Market Housing Strategy in development and approximately 130 more affordable housing units on the way, a short-term fix to address under-housing in Airdrie is certainly coming.
But given the demand for affordable housing that exists already, it's reasonable to expect Airdrie's housing issues to continue to amplify.
"We're really fortunate that there are affordable housing units coming," Wilson said. "And I think the hope is that those units will become available timely. But there's always a delay in the purchase to development to those things becoming available.
"I think there's just that "in-the-meantime" place before those things become available. We've seen, probably since Christmas with the housing shift, that a lot of what would have been privately affordable housing is now less available. That's really taken a hit for people who have had those secure, long-term rental places."
Taking the ever-rising cost of living into account, Drachenberg added the situation will likely get worse before it becomes better.
She said it's important to remember that under-housing can affect anyone at this point, and that it's important for Airdronians to be open-minded and not judgmental when they see people struggling.
"As we know, the economy's inflation means everything is becoming more expensive and possibilities are limited in finding work or finding housing," she said.
"We're working with families who were doing just fine and then something happened – the loss of a partner for some reason or loss of employment – and all of a sudden, they find themselves in a dire situation. We need to be supportive of one another."