Southwest Rocky View County residents taking a stroll on the trail along Highway 22 from the Bragg Creek Community Centre to East Park Place can see over 60 miniature art masterpieces among the trees, all created by local students.
Banded Peak School collaborated with artist Lucy Curtis, an artist and member of Bragg Creek Wild (BCW), to create a unique art project this past school year that celebrates the habitat and wildlife of the Bragg Creek area.
"It's important to do something positive to help raise awareness of the rich and diverse habitat in which you live," Curtis said. "Individuals in the world can make a difference and then the [students] walk past that exhibit every day and see the difference they actually made."
After a few years without a school art day due to COVID-19 restrictions, Curtis stepped up to organize this year's art walk project.
Curtis said the project brought BCW and Bragg Creek's local public school together in a project that helps the environment in a positive way.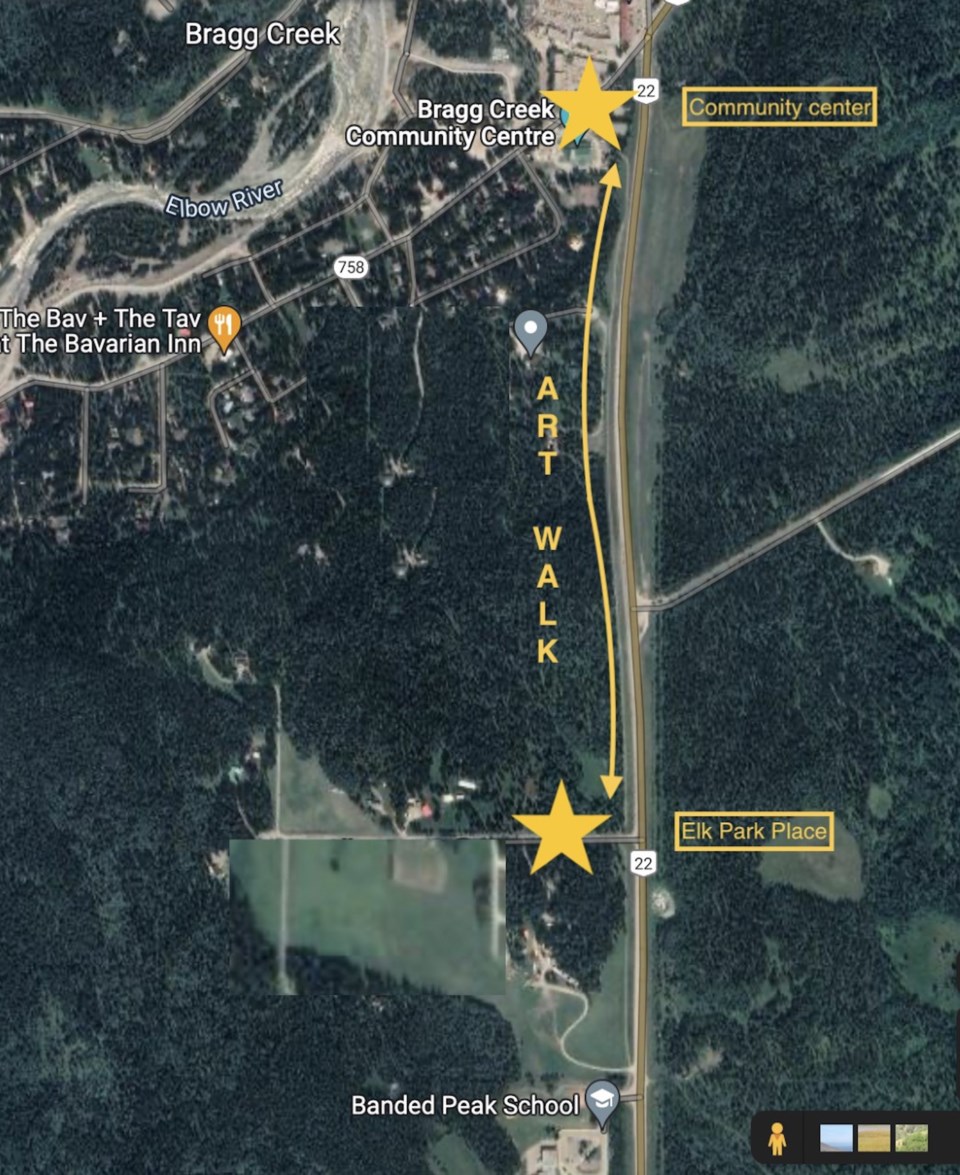 "I'm an artist and you have to look at your skills – I can't solve the science problems we have but I can help by using my skills. I think that's all we can do, is look to ourselves and ask: what can we do to help protect our habitat and our wildlife and where we live?"
The artwork was created by Grade 7 and 8 students, and centred around BCW's foundational theme of 'Wildlife and people living in community.'
Curtis said not every student is academic, but some are incredibly talented in other areas that aren't always showcased in a traditional classroom setting.
"I think it's really important in our schools to provide opportunities for those students to shine and to really build self confidence and to have something out in public," Curtis said.
Aside from giving students an artistic showcase opportunity, the project also teaches them about the environment and how to protect it.
Each art piece is painted on local wood canvases cut by community member John Spurrel from trees felled as part of the berm construction project in Bragg Creek.
BCW looked to salvage the trees that had to be brought down to make way for the Bragg Creek berm, and Spurrel helped to donate each cut piece to be used as canvases, Curtis explained.
"We cured them through the few winter months and then spoke to the children. We said, 'We really want to do something about community – a celebration of community and a celebration of habitat and the beautiful habitat we live in here and the richness,'" Curtis said.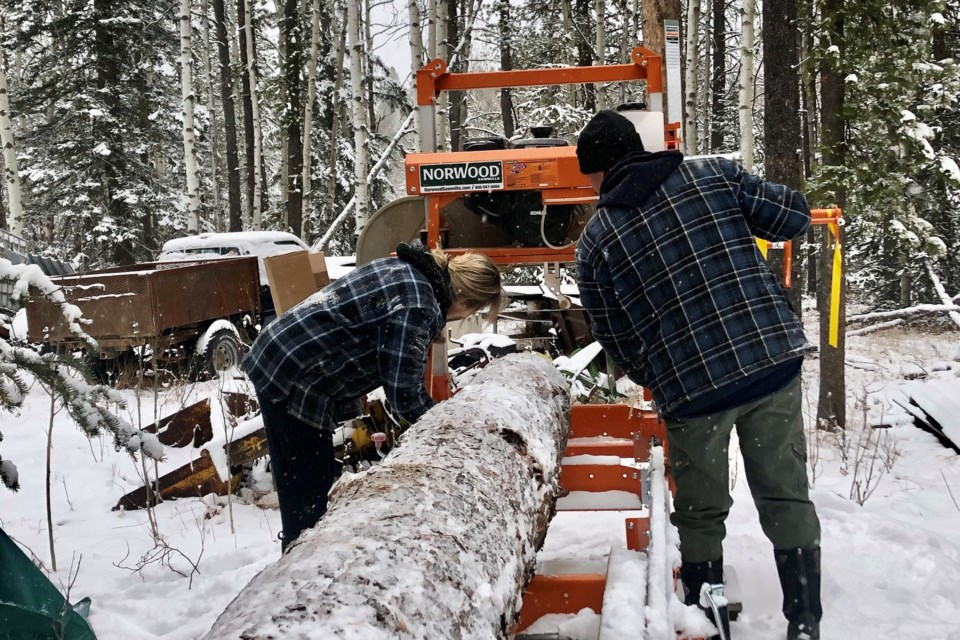 Each student came up with a unique design to create or paint with the help of Curtis and other local artists. Curtis then got permission from local landowners to install the art along the trees and found a way to install them without damaging the trees.
Local artist David Zimmerman also got involved in the project and donated several of his own pieces for the art walk.
The art pieces will be on display along the path until July 16, when they will be moved to the community centre during the Bragg Creek Days festivities.
David Zimmerman's art pieces are up for auction online until July 16, at which point he will sign them. The online silent auction closes on July 16 and proceeds will benefit Banded Peak School, Bragg Creek Wild, and the artists.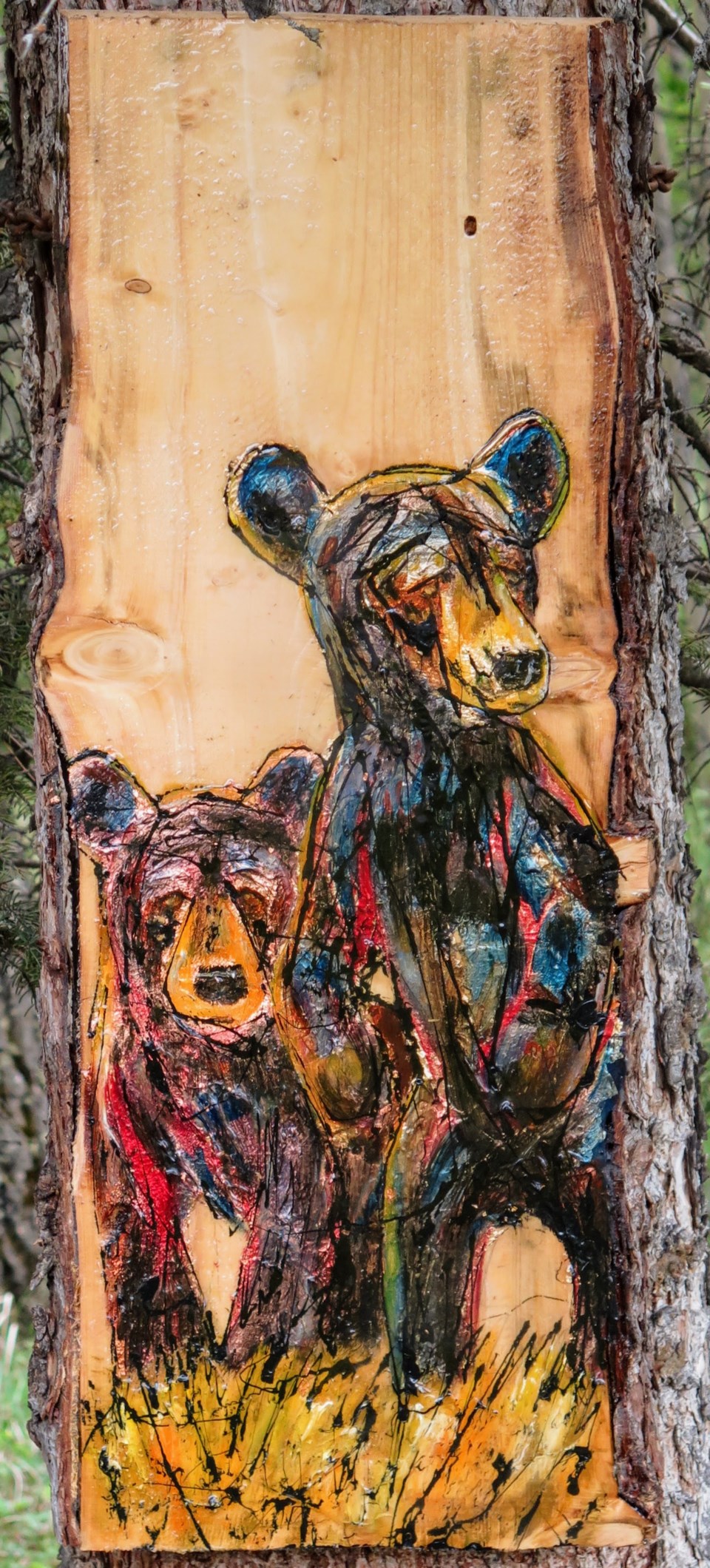 Curtis said BCW is an organization that is always looking to protect the environment alongside big development projects, such as the Bragg Creek berm.
"How do we do this while maintaining these wildlife corridors, how do we protect the berm while making sure deer can still get down to the water without breaking their legs on the rocks? It's about working with people," she said, adding that for the kids to be part of this project provides them with a sense of positive action.
To view the silent auction for David Zimmerman's works, go to braggcreekwild.ca/silent-auction-2022