Nobody likes paint scratches on a car, especially if it's new. Unfortunately, a few paint chips and scratches are probably inevitable over its life. Don't fret, though. You can avoid costly body shop repairs and remove many light scratches and imperfections yourself.
Here's a look at five popular DIY auto paint scratch remover and repair kits.
Light Scratches vs. Deep Scratches
Before you get started, it's essential to evaluate the scratches or blemishes you'd like to fix. Most light scratches and scuffs leave surface marks on the clear coat that don't bore into the paint. Deeper scratches dig in below the surface and strip away the paint. Some may run all the way down to the metal. Run your fingernail over the area. If your nail catches in the scratch, you may need a professional to repair it and apply some touch-up paint.
If your nail passes smoothly over the scratch, you can likely tackle it on your own with the appropriate paint scratch removal or repair kit. Be sure to wash the affected area before using any of the following products. Also, don't use an electric polisher or buffer as these could damage the paint on the car. Always follow the instructions and safety precautions on the product you choose for proper application and scratch removal.
Meguiar Ultimate Compound G17216
Meguiar is a trusted brand that offers a suite of helpful car care products. Meguiar Ultimate Compound G17216 "cuts fast" to remove swirl marks, scratches, water spots, and oxidation. The abrasive agents in the 15.2-ounce bottle are formulated to work quickly without scratching the paint's surface. You can rub the product in by hand or use a dual action polisher like Meguiar's MT300 Dual Action Polisher. The company demonstrates how to use its polishing tool in a step-by-step YouTube video.
Turtle Wax T-234KT Premium Grade Scratch Repair Kit
Turtle Wax is a classic car care brand known for its products that deliver a sparkling shine. The Turtle Wax T-234KT Premium Grade Scratch Repair Kit has everything you need to tackle scratches in one bundle. The kit includes three color-coded restoration pads—each has a different grit, one 4-ounce paint clarifying compound, one 4-ounce spray lubricant, and one clear coat finish pen. This kit works best with light scratches. Deeper scratches may require additional touch-up paint.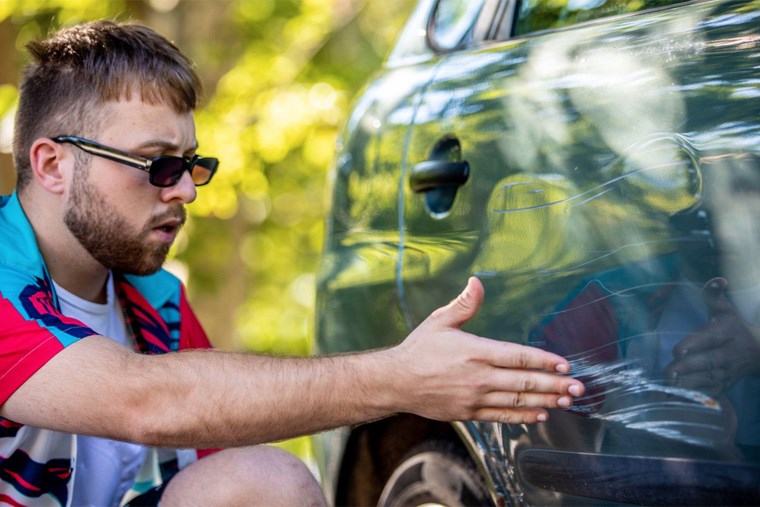 3M Scratch and Scuff Removal Kit
The 3M Scratch and Scuff Removal Kit is another complete kit that offers an easy solution for light scratches and scuff marks. It comes with one packet of 3M Rubbing Compound, a 3M Scratch Remover packet, a 3000-grit abrasive pad, and one foam applicator. You can complete the process by hand—no tools are required. The kit contains detailed instructions, and you'll want to read them before you start.
First, lightly rub the abrasive pad over the affected area, apply and wipe off the rubbing compound, and repeat with the scratch remover. When you're finished, the shine and gloss on the paint should be restored—all without having to make a time-consuming, expensive trip to the body shop.
Carfidant Ultimate Scratch & Swirl Remover
Carfidant's Ultimate Scratch & Swirl Remover is a popular scratch removal solution. It's a bestseller in polishing and rubbing compounds. The patented formula's premium chemicals tackle inevitable slight scratches and imperfections that occur over time in various environmental conditions. The 8.4-ounce bottle also comes with a buffing pad. It's safe on all paint colors and finishes, and you can apply it by hand or with an orbital polisher. This solution also removes water spots and oxidation and restores vehicle shine.
Shine Armor Revive Scratch Repair
Designed to deliver detail shop results in a DIY bottle, this product not only targets large light scratches and swirls, but also handles those irritating clusters of tiny scratches that appear around door handles, trunk latches, and more. Shine Armor Revive Scratch Repair is a bestseller in chrome and metal polishes. It contains no fillers or waxes, and you can rub it on by hand to remove imperfections and restore the vehicle's bright shine.
With a bit of elbow grease and time, these products can help you deal with light scratches, small chips, swirls, and other paint imperfections without racking up a significant body shop bill.

This story was made possible by our
Community Partners Program
. Thank you
Davis Chevrolet
for helping to expand local news coverage in Alberta.
Learn more
.