The world's first all-electric supertruck
If the brand new GMC Hummer EV is any indication, the days of gas-guzzling supertruck are numbered. As the world's first zero emissions, all-electric supertruck, it has the power and technology of tomorrow that will give you an unparalleled driving experience today.
Read on for our breakdown of what makes the GMC Hummer EV one of the most exciting vehicles hitting the market.
The next generation of electric power
If you think the GMC Hummer EV can't go where you want, think again. A full charge takes you 560+ kilometres in the EV3X model. The new supercharging technology will give you 160 kilometres range with just 10 minutes of charge.
The power you need to go anywhere
Hummers are known for their power and the GMC Hummer EV delivers. Each supertruck comes with two engines that work together for up to 1000 hp and 11,500 lbs of torque. Front e-lockers and virtual rear lockers optimize traction for extreme off-road dominance, while the independent front and rear suspension ensure you always have a smooth ride no matter where you go.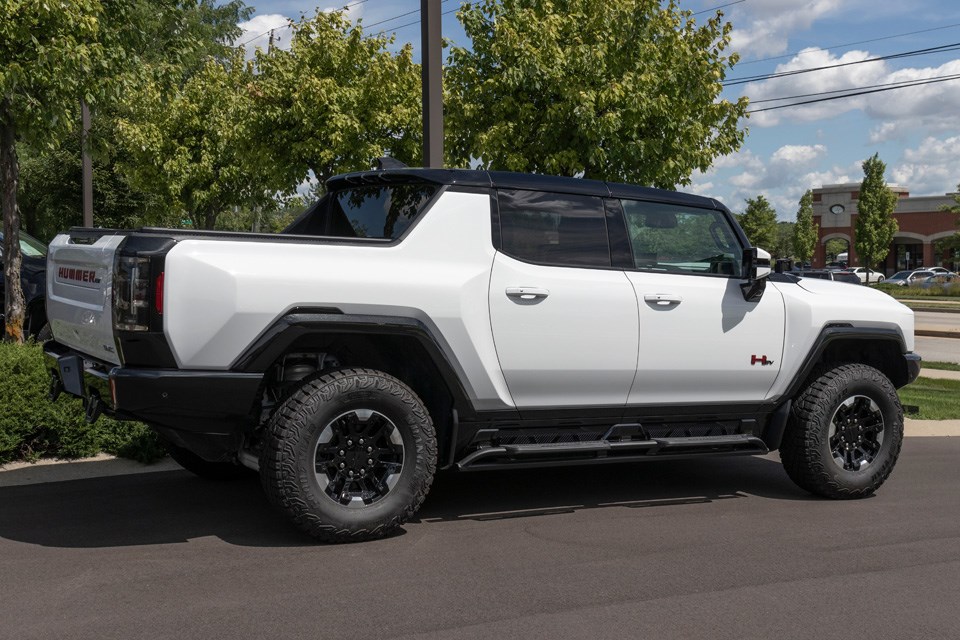 Easily one of the most exciting features that take full advantage of the engines is the available Watts to Freedom launch control mode. This driver-selectable feature focuses the propulsion system's power that lets it get an estimated up to 0-60 mph (0-97km/h) in just three seconds. The actual launch is fully immersive as well. The vehicle lowers by two inches for a lower centre of gravity, during which interactive controls, unique sounds through the Bose speakers and screen animations will start. Once you take off, you'll never look back.
Features that make your drive extra enjoyable
Speaking of immersion, the GMC Hummer EV also has features to make your ride smoother and more enjoyable while keeping you in control on top of the latest in EV technology and power. Features like a Bose sound system, available transparent sky panels and luxury interior give you more of everything that makes your drive an adventure, with the added comforts you've come to expect.
The vehicle's driver assistance Super Cruise makes every ride more enjoyable. This advanced system offers hands-free driving with automatic lane changing throughout a network of divided and compatible roads.
If you want the true cutting edge of trucks this season, then you'll want to look at the GMC Hummer EV. The world's first all-electric, zero-emission supertruck combines the power and off-road capabilities you expect from Hummer with the luxury and technological advances you want with electric vehicles.

This story was made possible by our
Community Partners Program
. Thank you
Davis Chevrolet
for helping to expand local news coverage in Alberta.
Learn more