Because you'll spend a considerable amount of time in your car, it's essential to make the right choice.
To help narrow your options, we've compiled a list of things to consider when choosing a vehicle that will give you many miles and smiles on the road.
Needs vs. Wants
What you need in a car—and what you won't—don't always match. For instance, you might want a flashy sports car but need a family-focused SUV. Making and comparing a list of needs and wants is an important first step in figuring out which vehicle is right for you. Consider these important points as you make your list.
Number of passengers.
Are you using child seats?
Amount of cargo space needed for hauling, hobbies, luggage, and groceries.
Driver leg and headroom.
Commute time and distance—longer might require a car with better gas mileage.
Primary type of driving—on the freeway, around town, rough terrain.
Local climate—in areas with lots of snow and ice, you might need a vehicle with all-wheel drive.
Do you plan to tow anything?
Safety must-haves—backup camera, lane assist, blind-spot assist.
Parking constraints—narrow driveway, small garage, street parking.
Option wish list—GPS navigation, leather seats, power and/or heated seats, sunroof, running boards (for a truck), exterior and interior colors.
Once you've addressed these points, you'll have a list of essential criteria to share with your car sales associate.
Budget
Setting a budget for your vehicle purchase is critical because you never want to buy more car than you can afford. Important financial questions include:
Do you need a car loan?
What is the highest car payment you can afford? Your monthly payment should not exceed 15% of your net monthly income.
What kind of credit do you have? Loan and lease lenders may charge higher interest rates for a low score.
Will you put any money down?
Do you qualify for any kind of vehicle discount? Some automakers, like General Motors, offer employee discounts on vehicle purchases that also extend to their family members.
Remember, that racking up too many hard credit inquiries can temporarily impact your credit score as you shop for car loans.
In calculating car-related expenses, you should also include car insurance costs and an estimate of how much you spend on gas each week or month. Make sure the total cost stays within your vehicle budget.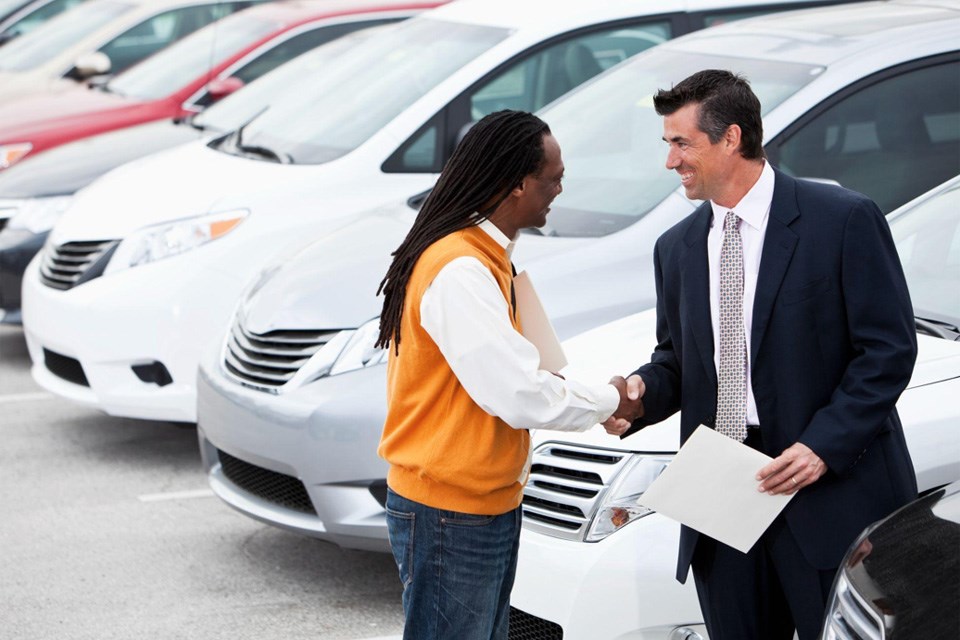 Buying vs. Leasing
If you don't drive many miles and prefer lower payments, you should explore car leasing options. On the other hand, if you have long commutes, drive for a living, or know that you're going to put lots of miles on a car, buying a vehicle might be best.
Also, leases restrict the number of miles and length of time you have a particular car. Lease companies can also charge you for any unrepaired damages, dings, scrapes, or dents when you turn your car in. Besides a lower payment, lease benefits include driving a new car every few years. Most repairs are under warranty, and you don't have to deal with trade-in allowances.
Find and Compare Cars that Meet Your Criteria
You're armed with your needs and wants, and you've established a budget. Now, it's time to search for matches. For years, shopping for a vehicle meant going to a dealership and roaming the lot to look at available inventory—and you can still do that. But, you can also search online with car finder tools to cut out travel time between dealerships.
Take a Test Drive
Whether you found potential vehicles online or by exploring a local lot, you should always test drive a car before you buy it. That way, you can see if you like how it handles, identify any negatives (like a bad blind spot, cramped legroom, or not enough power), and make sure it checks off the needs and wants on your list.
If possible, pick three or four potential choices and arrange to test drive each model. You owe it to yourself to try several options—who knows what you might miss if you buy the first car you see?
Review and Decide
Once you've driven the vehicles, weigh how each felt, compare the cost of each against the must-haves on your list. The best vehicle for you should surface. Try not to let emotions influence your purchase. Instead, focus on your criteria and the pros and cons of each model. A clear winner will eventually emerge.
Overall, buying a vehicle is a significant process. If you do some research and follow these tips, finding the perfect car for you will be easier than you think.

This story was made possible by our
Community Partners Program
. Thank you
Davis Chevrolet
for helping to expand local news coverage in Alberta.
Learn more
.