Window tint is one of the most popular vehicle upgrades, and with so many benefits, it's easy to see why. There are numerous products available in every price range, and finding the perfect tint for your ride has never been easier.
While all tint options will make your windows darker, each kind has specific advantages that might make it better for your particular needs. We'll give you all the details on car window tinting and what makes each product unique. From DIY options to professional tinting, you'll find a practical and stylish option no matter what you drive.
Know the Laws First
Window tint laws vary by province, and it's essential to educate yourself on the rules before you start shopping around. Alberta has specific laws for each type of vehicle glass tint and tint placement. Make sure your window tinting stays within these laws to help keep you safe and avoid penalties - you may incur hefty fines if you don't follow the rules.
Window tint products have improved dramatically over recent years, and you can still enjoy the benefits without blacking out your windows. Look for lighter options if you don't want to worry about being ticketed for your windows.
Types of Window Tint
For years, dyed and metallic window tint film were the only options available. Recent technological improvements have seen ceramic, crystalline, and carbon options burst onto the scene offering specific benefits to drivers. Here's a breakdown of each tint type and why it might be suitable for your ride.
Dyed Tint Film
This is the most basic tinting product and one of the most common DIY options due to its wide availability and low price. The window film is dyed and helps absorb heat from the sun to keep your vehicle's interior cool. Dyed films are available in many different levels of darkness, so keeping your tint legal should be easy.
Metallic Film
Unlike dyed films, metallic tints contain tiny pieces of metal that block and reflect sunlight. These films are popular because of the highly-reflective look the shading provides. Metallic films can block UV light more than dyed films and increase the strength of your glass.
Crystalline Tint
If you're looking for the benefits of tinting without darkening your windows, crystalline products are the perfect fit. This option blocks UV and infrared radiation, keeping your interior cool without darkening your windows. DIY products are available, but they'll cost you quite a bit more than dyed and metallic options.
Carbon Tint
If you're looking for a step above dyed and metallic tints, carbon tint films provide a sharp look while reducing UV and infrared radiation - keeping your ride cool and protecting your interior from sun damage. Carbon films won't fade or damage in the sun like dyed and metallic film, so it might be worth the extra upfront cost.
Ceramic Tint
Often considered the holy grail of tinting, you'll get superior UV protection and a ton of other benefits with ceramic tinting. Small ceramic particles in the film block radiation and strengthen your glass while still allowing electronic signals to pass through. This will eliminate WiFi and Bluetooth disruptions inside your ride due to window tint and take the frustration out of connecting your favorite devices. Ceramic tint won't fade or wear in the sun, making it a great long-term purchase for your vehicle.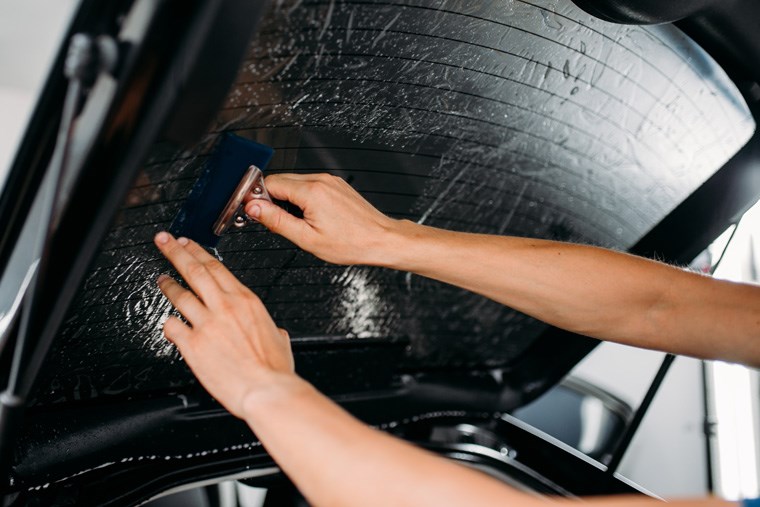 When to Call a Pro
These products are available directly to consumers, but that doesn't mean you should tackle the project independently. If you're sticking with a lower-end tint, applying the film yourself will keep costs down, and you won't be out a lot of money if it takes a couple of tries or needs to be replaced sooner than expected.
More expensive options like ceramic and carbon films might need to be installed by a professional. These films will last longer and cost you more upfront, so getting it done right the first time is extremely important. Many shops specialize in window tinting and can do expert installations in less than a day.
Narrowing down the best option for you can be challenging. If UV protection isn't as important or you just want an entry-level tint to start, dyed and metallic films provide a cheap and easy option. Higher-end tint materials like carbon and ceramic films are built to last and offer excellent protection for you and your ride. With so many advantages, upgrading your wheels with window tinting is a no-brainer!

This story was made possible by our
Community Partners Program
. Thank you
Davis Chevrolet
for helping to expand local news coverage in Alberta.
Learn more
.