Almost every cannabis user enjoys its intoxicating effects, but many enthusiasts also seek out the plant for various medical benefits. Perhaps the most storied of these effects is as a sleep aid. A long-held stereotype of cannabis is that too much will have you calling it a night long before you're ready.
And while it's true that over consumption can make you drowsy, not all strains are created equal when it comes to making you sleepy. Here are the best cannabis strains to help you wind down after a long day and fall asleep fast. While the list is indica-dominant, there are also some valuable hybrids when it comes to aiding sleep.
Kosher Kush
Often considered one of the most potent indica strains on the market, Kosher Kush has heavy sedative-like effects and a flavorful terpene profile. Most users report feeling relaxed, and sleepiness is another common side effect. Try smoking some Kosher Kush about an hour before bedtime for the best results.
Northern Lights
One of the most popular strains ever created, Northern Lights is a cross between the classic Afghani and Thai strains. Myrcene is the most prevalent terpene found in Northern Lights and will give you a calming and relaxing high. While "couch lock" isn't as common in this strain as it is in other pure indicas, it's one of the best strains to use before bed.
Ogre
When your lineage comes from Sensi Star, you know you're dealing with a top-shelf strain. Ogre has a very pungent smell and typically contains high levels of THC. Medical users have reported relief from insomnia with this strain, and with a myrcene-dominant terpene profile, it's a perfect choice for restless sleepers.
Remedy
As the name implies, this strain is mostly CBD and a popular choice among medical users. If you're looking to use cannabis as a sleep aid without the intoxicating effects of THC, this is the perfect strain for you. Many users see relief from stress and anxiety and feel more relaxed after a session with Remedy.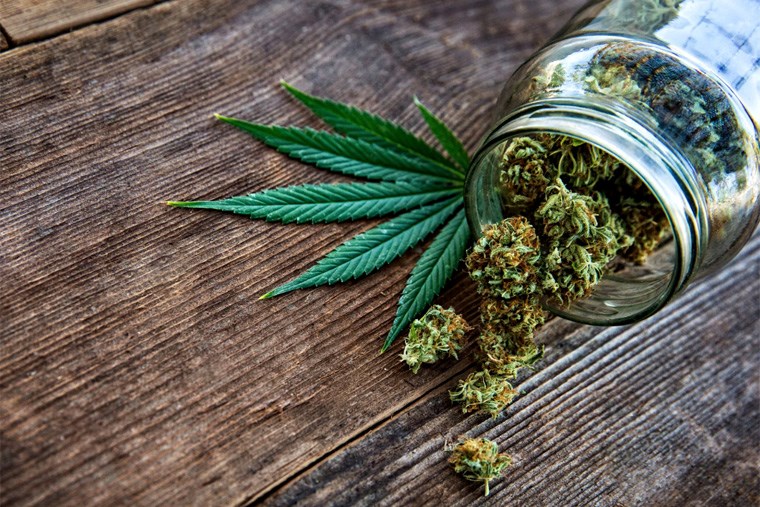 Grape Ape
Another wildly popular indica, Grape Ape crosses multiple strains, including Afghani, making it a distant cousin to Northern Lights. One of the tastiest indica strains available, Grape Ape will put you in a relaxed state and can keep you asleep all night long.
Wedding Cake
Perhaps the most popular strain in the U.S. over the last few years, Wedding Cake has given rise to countless hybrid strains that consumers can't get enough of. With calming effects and delicious flavours, it's a top choice for enthusiasts everywhere. This hybrid strain is limonene-dominant, so you'll want to give it plenty of time to kick in. Toke on Wedding Cake after dinner to be in the perfect state of mind by bedtime.
Harlequin
Another CBD-heavy pick, you may feel some effects from THC with Harlequin, but they're generally very mild, and the CBD will help keep things mellow. Many medical users report help with pain, stress, and anxiety with this strain. One of the most relaxing CBD varieties, Harlequin will help you wind down after a long day and ease stress along the way.
The same weed strain can often have different effects on different people, so it's important to experiment and find what works best for you. Using other natural sleep aids with cannabis can help you wind down fast and stay asleep longer. Try one of these strains on your next restless night, and you'll likely be snoozing before your head hits the pillow.

This story was made possible by our
Community Partners Program
. Thank you
Canna Corp.
for helping to expand local news coverage in Alberta.
Learn more
.