As temperatures rise, potential hazards such as flooding, wildfires and severe weather are on the minds of many homeowners. But for Lorri Laface, deputy director of Emergency Management for the City of Airdrie, these concerns are a priority year-round.
"To be a municipality, you have to plan for emergency – and in a city of our size, it has to be a pretty robust plan," she said. "How we approach emergency management is from an all-hazards kind of viewpoint."
Using a provincial database of dozens of possible emergency scenarios, Laface said her department assesses each risk to examine the likelihood of that particular type of event taking place in Airdrie – and what the impacts of each would be.
"Some are obviously greater than others. And, historically, some have happened and some haven't," she said. "But we look at developing our plan around all of those…. We train for them, we prepare procedures to help ourselves, should any of those occur."
While each branch of emergency services, Airdrie RCMP or the Airdrie Fire Department, has its own set of standard operating procedures or guidelines in place to respond to various situations, the municipal Emergency Management Plan acts as an overarching document to address more non-routine instances – situations that are "greater than the average" call.
"We review it from front to back every single year and we develop our training from that plan," she said. "It's not just set up for a fire, it's not just set up for a flood – it's something that we can look more holistically at anything that could happen, and that's how we use it."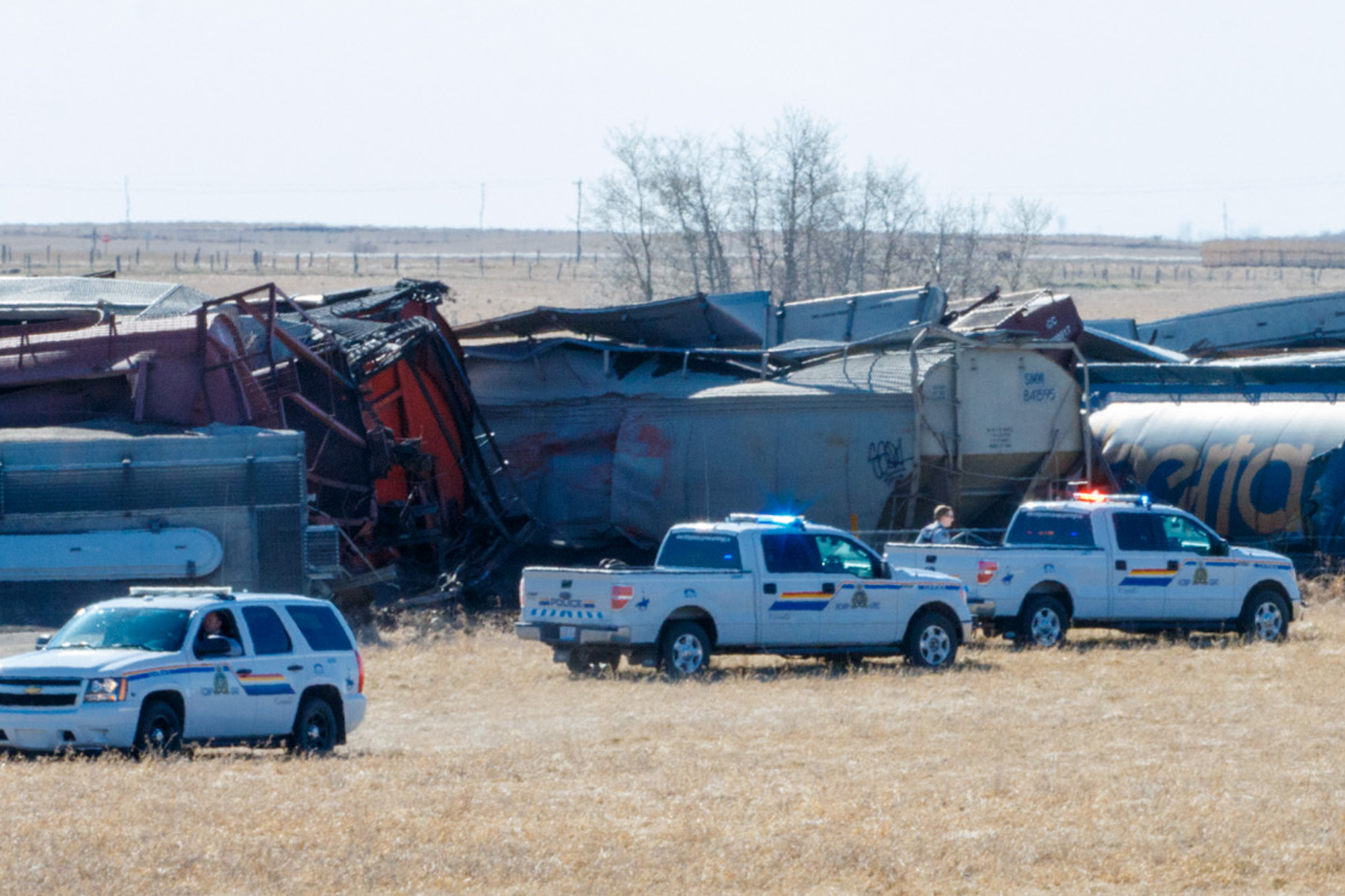 One of the more commonly-used aspects of the document is the emergency social services action plan. Any of the 32 hazards outlined by the province could require an evacuation, Laface said – whether it be due to a wildfire or a tornado touchdown, evacuation centres or reception centres will help Emergency Management assist residents who have been displaced.
"It's probably the most frequent part of the plan that we activate," she said. "In the past, we've had to set them up for large building fires, we've set them up when the highways closed due to inclement weather, and those types of things."
The plan categorizes incidents from type one, which are major events that require a specific, co-ordinated response from multiple agencies, to type five, which Laface described as "a regular day at work for the police department."
"Our paths cross at around that type three," she said. "In 2010, there was a significant train derailment just north of our city and there were 13 anhydrous (a substance containing no water) cars. It required the activation of our emergency operations centre for five days."
If the contents of the train cars had breached, Laface said, the incident would have become a type two or a type one, but because the product was offloaded carefully over the course of the five days, the threat was contained.
"Sometimes, a tornado happens and you have very little warning – Environment Canada might put out some warnings, but people have very little time to do anything and it could be just instant," she said. "But other times, you can start to put things in place and mitigate it from getting worse, and you can help keep it from becoming a cascading event."
One of the key ways Emergency Management helps prevent incidents from becoming catastrophic is by notifying residents of potential hazards before they hit. In Airdrie, the Alberta Emergency Alert system is used to communicate with citizens through the app or radio broadcasts. Additionally, the MyAirdrie notification system allows residents to sign up to receive alerts via text or email.
"The nice thing about that is that they can pick their neighbourhoods," she said. "Let's say they work in Airdrie but live in another area, like Calgary for example…so if something happens there and there's an evacuation, that alert will come to their phone."
The feature is also particularly useful for parents who have children at schools or childcare in different areas, or elderly parents who live in other communities.
Another important thing for residents to be aware of are muster points, Laface said.
"People will see these signs in parking lots or in public areas, or even for private businesses," she said. "Those are meant for those buildings, if something happens and people have to evacuate out of those."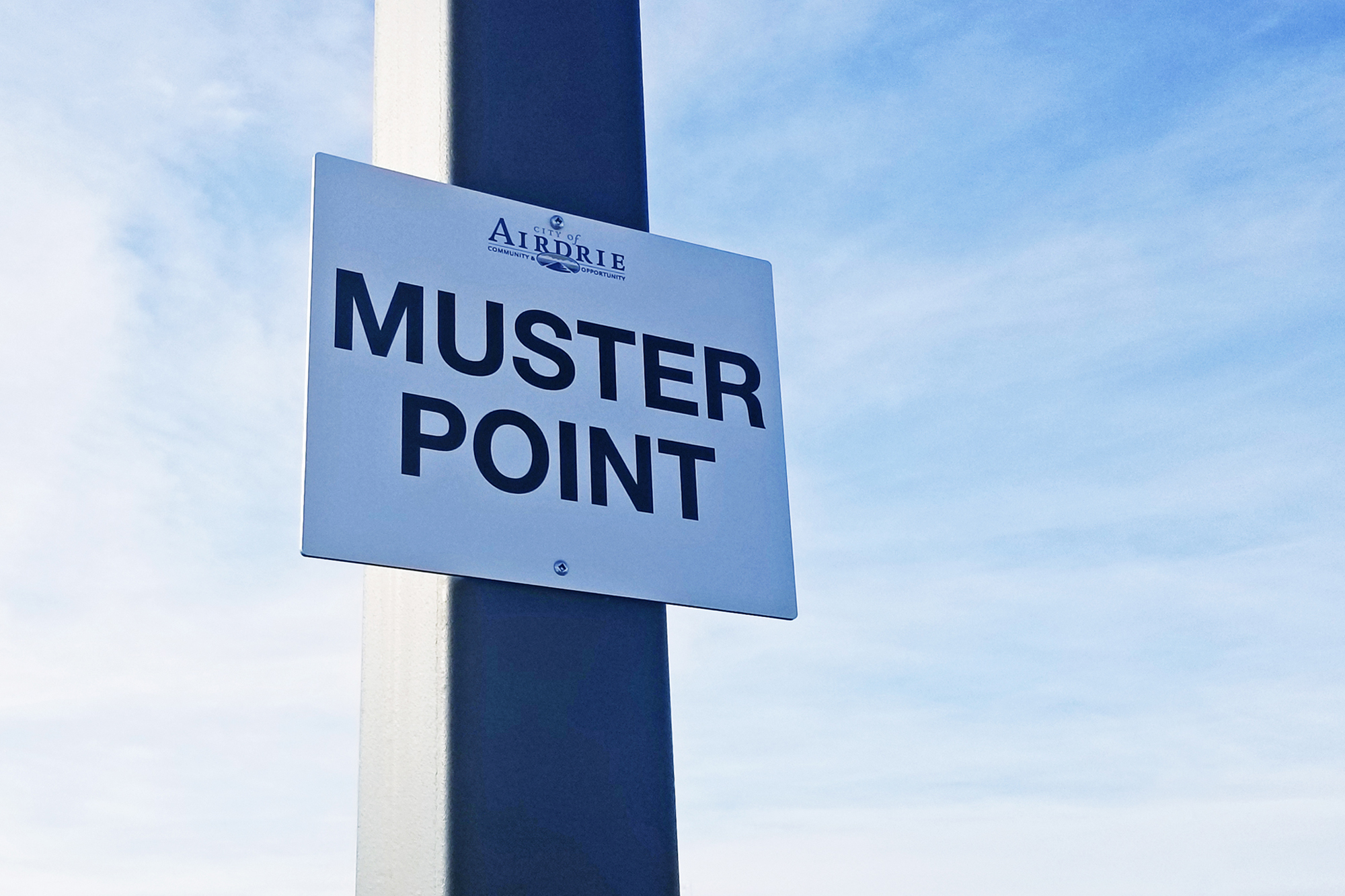 While there is no city-wide muster point, these areas will help Emergency Management locate the residents of a particular building or area and then ensure they follow the evacuation route outlined in the City's Emergency Management Plan. According to Laface, the City's evacuation plan is "robust" and breaks the municipality into manageable areas using census data to ensure every citizen is taken care of.
"If we have to send an evacuation team to door-knock and make sure everybody's out, they have specifics," she said. "Even if they've seen or heard a pet – right down to those details in the neighbourhoods."
However, even with an efficient, effective plan for managing emergency situations, Laface said Alberta's weather conditions are always a cause for concern – particularly as the climate changes.
"There's a lot of inclement weather and it's not getting better. In fact, it seems to be getting worse. We have more hot days, more cold days and more extremes," she said. "Things go from zero to crazy really quick."
Residents can be prepared by installing the Alberta Emergency Alert app, setting up notifications for the people they are responsible for and developing a plan to look after themselves for the first 72 hours, in the event an incident occurs.
"If something happens and emergency responders are tapped out and they're dealing with life-threatening situations, we need to know that other people can take care of themselves," Laface said. "They need to be prepared and listening to those cues to keep themselves and their families safe."