Despite a relatively mild winter this year, the arrival of spring undoubtedly has many residents itching to get outdoors. Though the temperatures might not yet be ideal for a backyard barbecue, it is the perfect time to start planning an enviable outdoor space that's up to the task of summer entertaining.
Gone are the days of flimsy plastic patio furniture. Today, you'll find durable mixed materials such as teak, wicker, cast iron and aluminum, topped off with stylish weather-resistant cushions. These lounge sets are all about style, comfort and extending your living area, and are available in everything from rocking chairs to sectional couches.
"They've really come a long way with making outdoors like indoors," said Colleen Mccaughan, Greenhouse and Seasonal department head at Fulton's Home Hardware Building Centre.
Dual-purpose furniture, such as storage bins and coolers that double as benches, have also evolved. Instead of the unsightly plastic bins of the past, today's storage solutions are made of resin with weather-resistant finishes that look like wood. Available in a variety of sizes and colours, storage bins help increase the lifespan of patio furniture by providing a convenient spot to store cushions over winter.
"I didn't store my cushions last year and they got so sun-faded, like instantly, because I'm south-facing," said Jammie Glasier, Fulton's purchaser/merchandiser.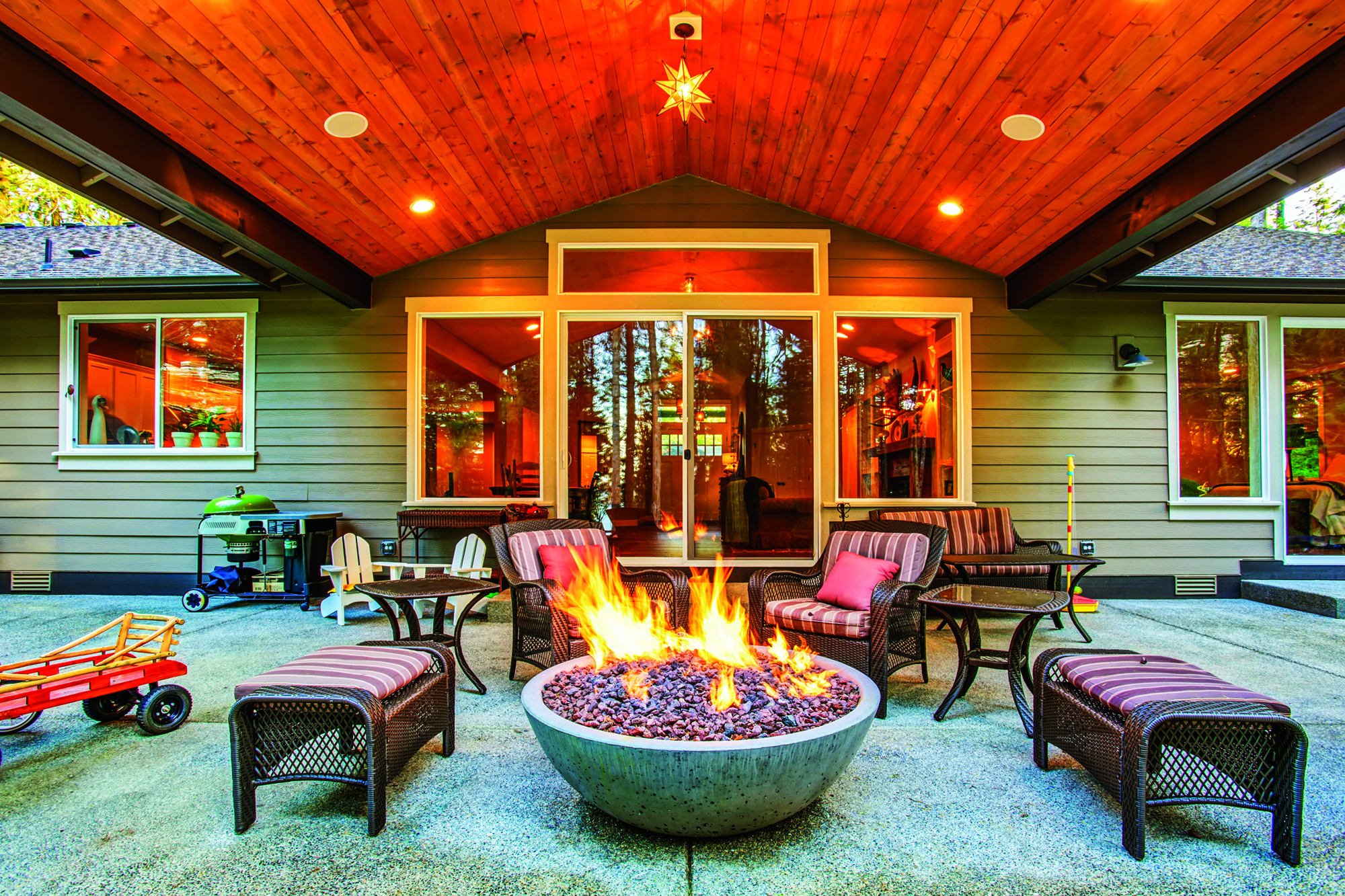 Though furniture covers are also on the market, Mccaughan said she prefers storage bins because the covers are "all by specific sizes," requiring you to measure the furniture and, in most cases, place a special order.
Outdoor rugs, available in a variety of patterns and sizes, add a pop of colour and provide welcome relief from sun-baked decks.
"A rug pulls your area together, too, and gives you a nice, defined space," Glasier said.
Though sectionals and bistro sets are the store's most popular sets, creating a cozy space around a fire is another option.
"We sell some heavy-duty Adirondack chairs that are super comfortable to sit in and they're not damaged by the weather at all – they'll last a lifetime," Mccaughan said.
She added the chair's polymer composite is tough enough to withstand hail and won't fade in the sun.
If you're looking for seating that is easy to fold up and store, Glasier suggests the line of Kuma chairs.
"These come in heated chairs, so you can plug them in when you're around the fire so your back doesn't get cold," she said.
Of course, a fact of outdoor entertaining is exposure to the elements. At some point in the day, most backyards will be fully exposed to the sun. Though sunshine is a part of any quintessential summer day, roasting under it does not result in an enjoyable experience for guests.
Patio umbrellas are a classic way to create shade and are available in a range of shapes and sizes – some even come with built-in lighting.
Basic umbrellas have a straight pole, but premium poles are capable of tilting to change the angle of coverage. Offset patio umbrellas removes the pole from the centre of the table and places it off to the side. These free up legroom, include support footing to prevent the umbrella from tipping over and allow you to tilt and rotate it as the sun moves.
"There's also the big umbrellas that have the mosquito netting that attaches all around them," Mccaughan said. "You can sit underneath there and they're really quite huge, you could easily fit eight people around a table underneath it."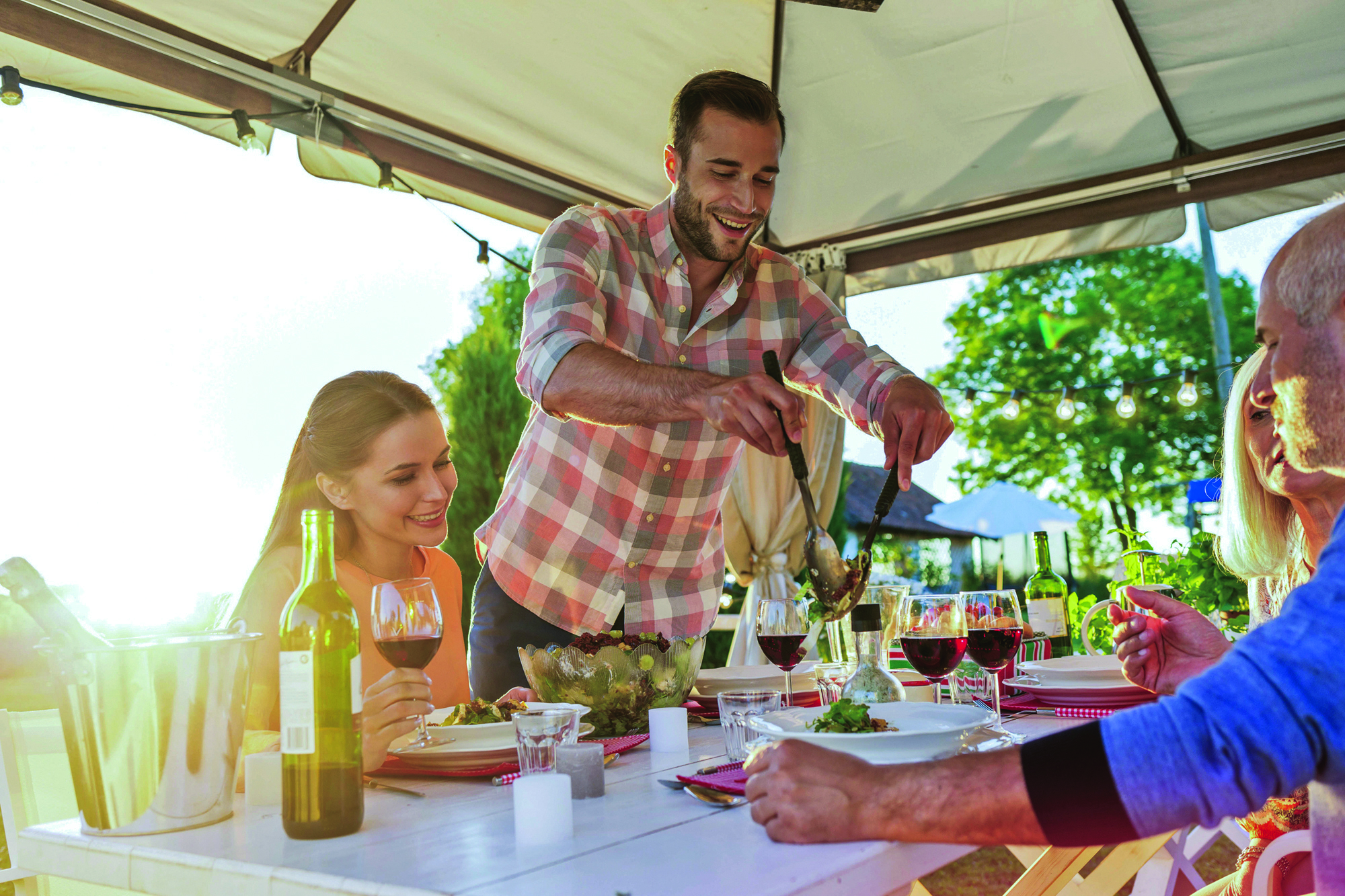 Pergolas and gazebos add even more sun coverage and are available in classic wood or modern options such as vinyl or aluminum. A fully enclosed gazebo will provide an outdoor space that can be used year-round, but is an expensive project.
Other sun-blocking solutions include roll-out awnings and curtains that will shade the deck area.
Trees can double as shade-enhancers and privacy screens, while also offering protection from the wind.
"Cedar is always a good thing," Mccaughan said. "They don't take up a lot of room and, if you position them, you can get three or four together and create a living wall."
Though, she warned cedar doesn't always do well in Alberta.
Another issue to address is keeping unwanted bugs at bay.
"Last year was horrendous with the mosquitos, you couldn't go outside and enjoy the outdoor space," Mccaughan said.
"It's a perfect way to ruin a nice evening when you're sitting outside."
There are zappers, light bulbs, candles and even salt guns that let you shoot the tiny invaders, but turning to your garden can help ward off these uninvited guests.
"They don't like the smell of pretty things," Mccaughan said.
She recommends rosemary, lemon-scented geranium, lemon verbena and lavender.
"Anything that has a scent like that, you just put it around where you're sitting," she said.
If you have a more substantial insect issue, Mccaughan suggests products that exploit bugs' aversion to garlic. These repellents attach to a hose and are sprayed on the lawn to "keep the mosquitoes and everything away," and claim to last up to three months.
"It's like fogging, and the smell of garlic will dissipate over time," she said, adding hosts should apply the product at least a day in advance of guests.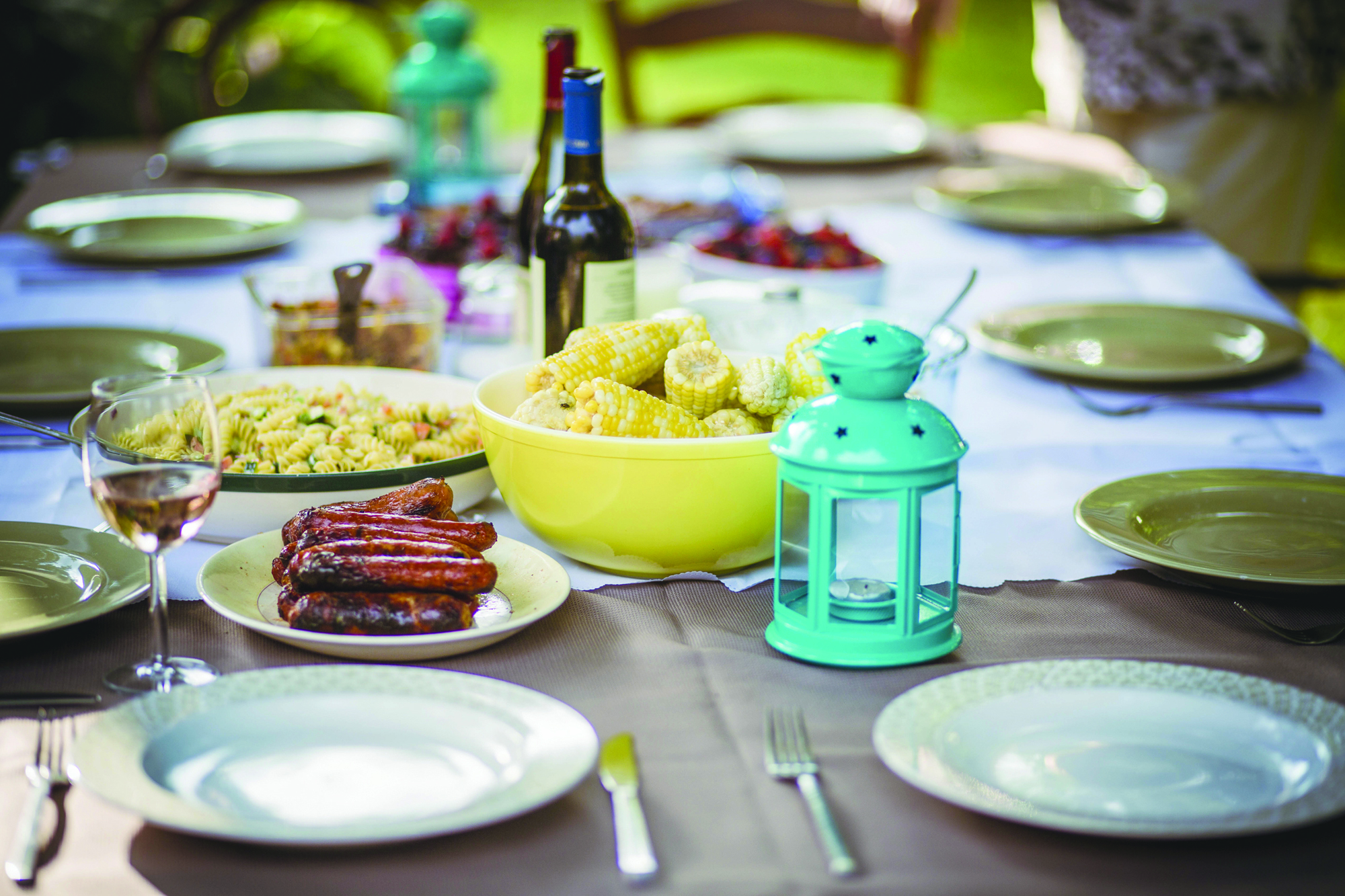 Of course, mosquitos aren't the only pests buzzing around. Wasps have a tendancy to put a damper on any outdoor activity and their thirst for sweet liquids such as pop or beer can ruin even the best-laid plans for dining al fresco.
Though there area a number of basic catchers on the market, Mccaughan said she is particularily found of a frosted-glass jar version that comes in a variety of colours and is less unsightly than some of the utilitarian alternatives.
"You don't want to have something hideous sitting there, and it can just sit on your table," she said. "Once wasps go inside, they can't get out. So, these are things that you can use year after year. You just wash them out and they're gone."
Keep in mind these devices are intended to draw in the wasps and they should be placed slightly away from where your guests are gathering.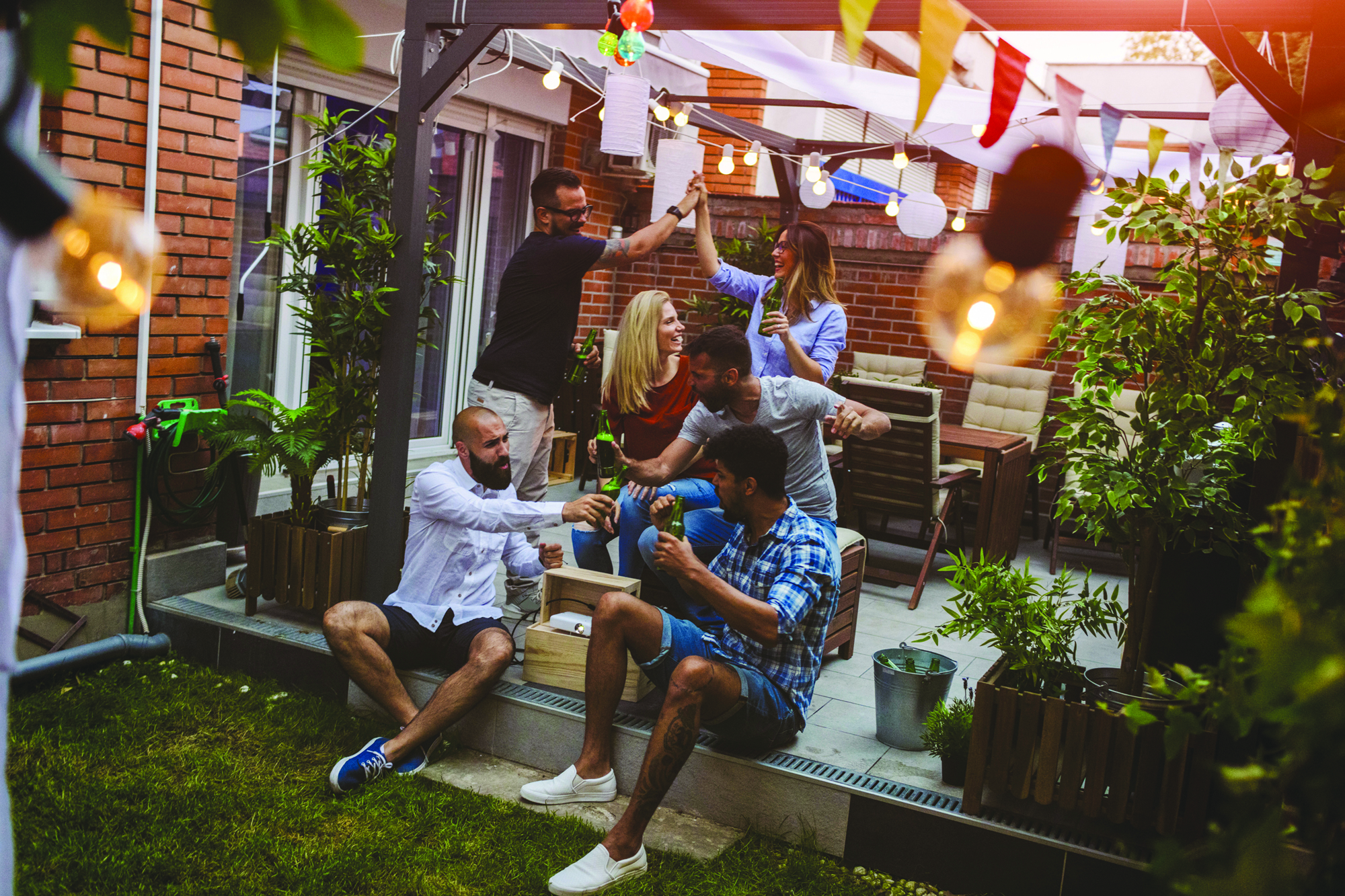 Lighting is another essential component of outdoor entertaining, especially if there are stairs. Fire tables and heaters add light and warmth, while lamps and tiki torches can be filled with citronella oil to keep bugs away.
Hanging string lights will transform the space into something you'd see on Instagram, and many are heavy-duty and shatter-proof.
Solar lighting is another popular option and comes in a range of styles.
"A new thing, as well as solar lighting, are shadow casters," Glasier said, adding these utilize solar lights to cast shadow designs. "The shadows are really pretty."
Once you've addressed seating, shade, insects, heat and lighting, your space will provide the perfect backdrop for any summer entertaining event.