Voters in the Bow Valley had their chance to hear from Banff-Airdrie's candidates in the lead up to the federal election on Sept. 20.
Candidates in the Banff-Airdrie riding participated in the Bow Valley's lone election forum at the Canmore Seniors Association building on Sept. 13, with more than 50 people in attendance and more watching via livestream.
Questions dealt with Truth and Reconciliation, education – which Liberal Party candidate David Gamble noted was a provincial issue rather than federal – creating a national proof of vaccination system to allow for travel, reinvesting tourism dollars into the Bow Valley for infrastructure, climate change, affordable housing, labour and COVID-19 economic recovery.
For the Bow Valley region, which includes Canmore, Banff and Lake Louise, tourism continues to be a driving economic for residents, which featured prominently in the forum as COVID-19 continues to impact businesses.
"International travellers spend far much more money than a typical domestic traveller and the tourism industry is suffering as a result, so what we need to do is [figure out] how we can safely get back to having international travellers here," said Blake Richards, the Conservative Party's incumbent for the riding.
"Tourism businesses aren't like other businesses where you flip on the sign. It needs planning and time to be prepared."
Though tourism businesses are itching for borders to be reopen and the industry in lobbying levels of government to allow international travellers, Maverick Party candidate Tariq Elnaga highlighted it needs to be done safely.
"When it comes to COVID-19 issues, it should not be your politician who tells you what the most appropriate health measure. It should be your health official. That comes from an expert in public health," Elnaga said.
The discussion turned to potential ways to reinvest the tourism dollars to stay in the valley and assist with the infrastructure needs that come with several million visitors each year.
Richards touted funding the Bow Valley received during the Harper government years, while Elnaga emphasized the need to keep money generated locally in the community.
"We have to recognize that though Canmore isn't part of the park, it is part of the park ecosystem and not just in terms of nature, but also the economy," Gamble said. "We have to find ways to pay for the things that are federal, like wildlife corridors, and take some of the pressure off the communities to fund these so they can focus and building their own economies and integrating them.
"We definitely have to invest more federal dollars into this region to maximize revenues for all of our businesses and our communities, and ensure people have affordable housing."
The environment and climate change has long been a fixture for Bow Valley residents. As temperatures warm, the topic has gone from being a low priority to among the highest for voters. Green Party candidate and Canmore resident Aidan Blum emphasized the necessity in taking action.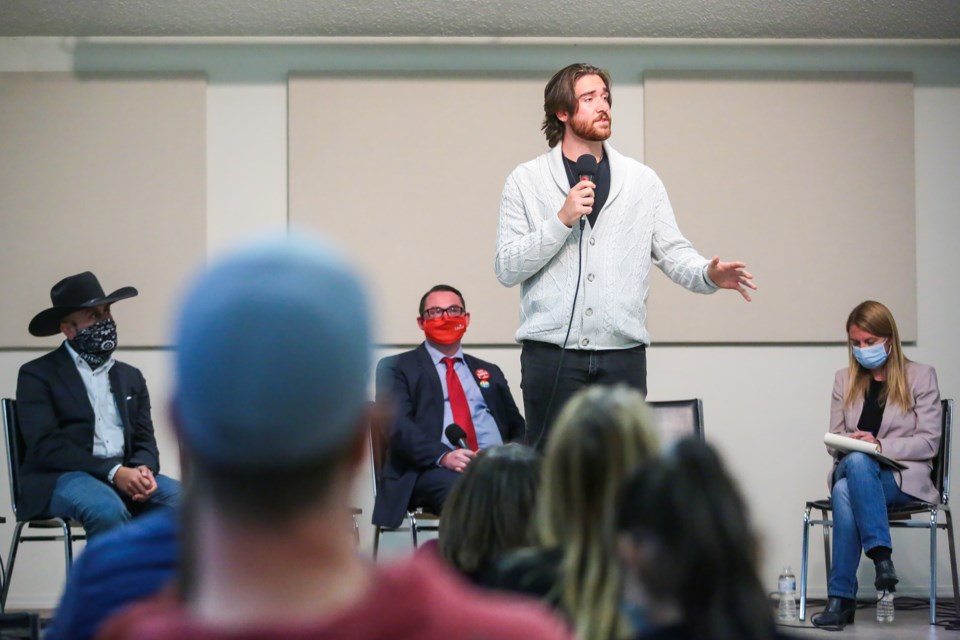 "This is a crisis that Alberta's very fortunate that we have one of the best skilled labour forces on the continent and being one of the richest countries on earth, there's no excuse that we cannot transition each and everyone one of those skilled workers away from oil and gas in an appropriate timeline to be able to transition our economy to be 100 per cent renewable," he said.
"This is possible and there are countries with far less wealth than us that have been able to tackle this at a much more urgent pace. We have an amazing opportunity in Alberta with our labour force and we just need a government that is willing to act with the urgency that's necessary to transition families into secure wages, so families do not have to cut back because they're [in] transition. There's no excuse this country cannot offer every single worker the training they need to have a positive impact on this crisis."
Canmore has also been significantly hit by the dramatic increase in housing costs, leading to affordability issues and potential ways to assist with people purchasing homes.
"We need to have our different levels of government actually working and developing sustainable strategic plans. Housing is one of these main critical categories," independent candidate Caroline O'Driscoll said. "If we look at housing development, it's great to say we want five houses or this many at this point in time, but you need infrastructure in place to make that feasible. How many developments get built where the houses come first and the infrastructure in afterwards? There's no logical coherent plan happening."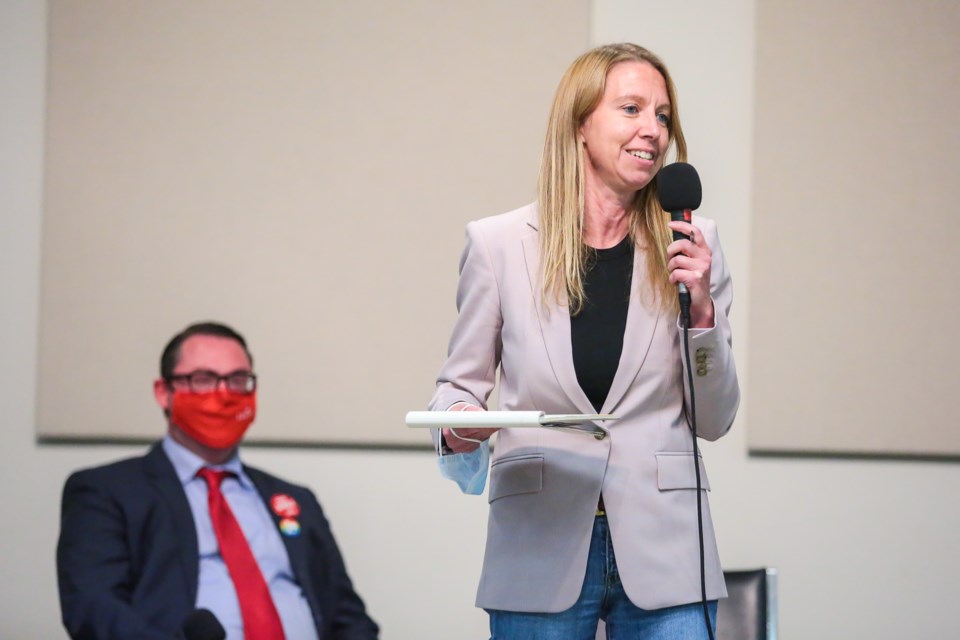 The forum was delayed by about 15 minutes after independent candidates Derek Sloan and Ron Voss, as well as the People's Party of Canada's nominee Nadine Wellwood, declined to participate since they would have to wear masks due to COVID-19 public health guidelines in Alberta.
Sloan and Voss were each in the building wearing masks prior to the debate, while Wellwood had a medical exemption but asked to only participate in the opening remarks. Wellwood and Sloan remained in the parking lot with a combined 20 supporters to speak with attendees as they left the building, but none remained by the end of the forum.
While some candidates occasionally took aim at what the governing Liberal Party hasn't done in the last six years, the majority of the evening gave candidates the chance to highlight what their parties would do if elected.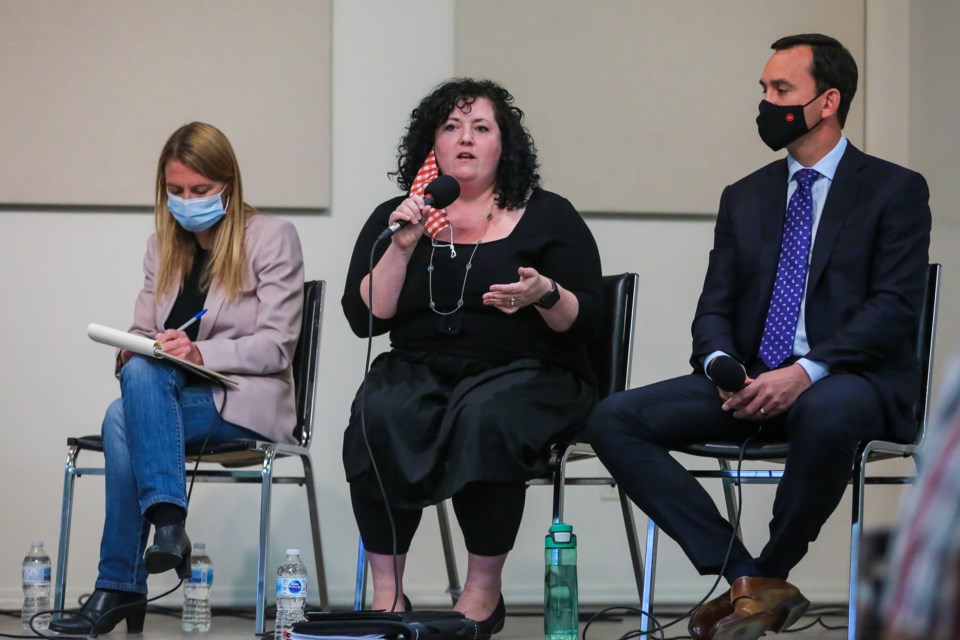 At multiple times, Gamble and Richards exchanged verbal jabs about their respective parties, who polls suggest are likely to form the next national government.
Candidates were allowed opening remarks of two minutes to inform attendees and viewers on their platform and priorities for the riding and ended with one minute for closing remarks.
The Banff-Airdrie riding is one of the Conservative Party's strongholds in Canada, but has nine candidates vying for office this election.
Richards, the incumbent, is seeking a fifth term and has yet to receive fewer than 63 per cent of the vote in any of his prior elections.
The geographical size of the riding is significant in stretching from Banff and Canmore to the west to Airdrie and Cochrane to the east. The two areas are politically different than one another, with the Bow Valley traditionally more left-leaning and Airdrie and Cochrane typically voting more conservative.
While the Bow Valley largely focuses on tourism and the environment, the eastern side of the riding's economy is more based on industrial and manufacturing. However, the bulk of the population is on the eastern side.